Just yesterday, our spring co-op ended, and when I asked my oldest son what he might like Mommy to propose teaching next year, he replied, "Can we do a class on myths?" I dare say his request was a direct result of our recent opportunity to review
D'Aulaires' Greek Myths by Memoria Press

. Of all our family's read-together of late,
D'Aulaires' Greek Myths
as been among is most requested.

For our review, we received:
The D'Aulaires' Greek Myths Book, which is a large, softcover book with wonderfully captivating illustrations. In truth, it is the part of this review product that drew my children in and kept them asking for more. It also impressed me as it told the story of the major Greek gods and some minor gods as well in a gentle, yet complete way.
The Student Guide, which is a consumable workbook, contains 25 lessons with five review lessons in between, plus mapwork, a pronunciation guide, and more. Each main lesson covers specific pages of the D'Aulaires' Book with:
Facts to Know, which are the names and places that will be introduced during the reading
Vocabulary, which presents vocabulary words from the book in context and has space for a definition to be written
Comprehension Questions, which check students understanding of selected readings from the book using 5-10 questions
Activities, which vary from examining the book's illustrations, to thinking deeply about discussion questions, Greek myth vs. Christianity comparisons, etc.
The Teacher's Guide, which contains all the answers to the Student Guide, of course, as well as suggestions to help you on your way.
Greek Myth Flashcards, which are perforated cards perfect for those who need a tool to help with memorization.
Our Approach: Read-Together, Plus...
Because we are homeschoolers that love to snuggle up together to read and chat, the actual
D'Aulaires'

book worked quite well for us. My oldest quickly became fascinated by the stories of the major and minor Greek gods, while my middle child found them "weird" but engaging. My youngest found the stories somewhat interesting, but, more so, loved the illustrations in the book. In fact, all my children liked to pour over the illustrations and, so, for me, the "activities" in accompanying Student and Teacher's Guides that had to do with illustrations were quite helpful.

I also liked to go over vocabulary and comprehension questions from the Student Guide aloud with my crew at some sittings and to reference the mapwork, too. One thing I loved about the book is how rich is language is. With the Student and Teacher's Guides in hand, I could quickly key into this language, to introduce it to my children before reading passages on some days, and after on others, depending. That is, when my children did not pick out vocabulary on their own to ask questions and chat about.

I also appreciated how the Student and Teacher's Guides brought simple comprehension questions into focus, as well as presented deeper food for thought, including Christian connections. Not only did these make a sort of "oral narration" easier for the children and me, but, to tell the truth, the questions sort of "saved me" as well.

You see, my oldest often asks for parts of the book to be read aloud during our bedtime routine and, lately, I have been so tired that, at times, I find myself reading aloud without really digesting what I am reading. I know it's "terrible" and "weird", but I seem to have developed an ability to read with expression, as if I were truly immersed in something, when, in reality, I am a blink away from sleep. Thus, I forget what I have read by the next day, whereupon, those Student and Teacher's Guide questions sure do come in handy! They quickly bring me back up to speed while also recapping with the children.

The written work has also offered me a way to attempt more independent work with my son. He was so into the book and so forthcoming with our oral discussions about vocabulary, comprehension, etc. as guided by the Student Guide pages, I thought that his excitement might transfer to doing actual written work without complaint. It did to some degree.



My oldest has done some of the pages in the Student Guide that we did not do aloud as a family and has tackled some that we did as well. At times complacent, at other times begrudging, he has worked independently on the written work (which I deem a success!) However, he has yet to be enthused by it (which is less due to the material or how it is presented and more due to the fact that my oldest is just so far from being a workbook type of kid. He truly has an aversion to pen-to-paper comprehension questions, vocabulary exercises, etc., so the fact that he willingly did any is exciting to me!

As for the memory cards, well, I admit, my children and I chose not to utilize them much. We do work on memorization, but none of us feel it is important to focus time and energy on memorizing information about Greek myths. Instead, we seek familiarity and engagement, and, I can honestly say that between the book and our oral discussions based on prompts and work in the Student Guide and Teacher's Guide, we are getting just that.

We may not be conventional in our usage of this product, not taking full advantage of the memory-aid flashcards nor of the well-organized written work. However, we are enjoying the Greek Myths set anyway. The illustrations, rich language, and stories in the book draw us in. The Student and Teacher's Guide keep us focused, chatting, and learning.
Would It Be Right for You?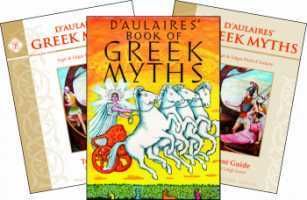 If you'd like to turn just reading a fabulously illustrated and told version of the Greek Myths into a deeper opportunity for learning, I'd recommend
D'Aulaires' Greek Myths. If, like me, you have children who do not like written work, the Student Guide can still guide oral questions while also acting as a source for occasional written work. If you are a more Classical homeschooler, or just one who likes traditional "workbook" learning, the set may be particularly interesting to you.

Even as homeschoolers who are less conventional, the set has been a welcome addition and, as I said at the beginning, has my oldest boy asking for more. He wants to read more of the
D'Aulaires' book, but also wants to learn and write other myths. To me, that screams, "Success!" Current learning prompting a desire for further learning is always a good thing, and that has what
Memoria Press has brought my family. I bet the same might ring true for you.

You can access sample pages on the Memoria Press website.



Learn More



You can also find
Memoria Press
on: