Wow! I literally exclaimed when I opened our box of review materials from
Zeezok Publishing LLC. Their
Music Appreciation Book 1: for the Elementary Grades is amazing!



Truly,
Zeezok's homeschool music program is a living-books-and-music-appreciation heaven
for families like mine that enjoy an eclectic homeschool style loosely inspired by Charlotte Mason and largely focused on family time. Components of the program include:
6 softcover living books and one hardcover one about Bach, Handel, Haydn, Mozart, Beethoven, Paganini and Schubert, which are written oh-so-well-and-accessibly by Opal Wheeler and Sybil Deucher and are illustrated with engaging black-and-white pictures by Mary Greenwalt

. (We chose to begin with the Beethoven one!)
5 CD's with musical arrangements by Bach, Handel, Haydn, Mozart, Beethoven, Paganini and Schubert as well as supplemental music that ties into the life and times of each composer.
a cd filled with directions and templates to create lapbooks about each of the seven composers

.
a full-color, 350+ page, 3-hole punched, student activity book replete with lesson plans, comprehension questions, character qualities, music instruction, puzzles, tidbits of interest, and hands-on learning activities, such as lapbooking pages and recipes to make.
Geared for children in grades K-6, with aspects that appeal to visual, auditory, and kinesthetic learners, and elements that can be used by individual students or families alike, the program
looked perfect for us! And, it was.

Our Experience


If there is one thing I am not, it is a "boxed curriculum" sort of homeschooler. Even back when I used to teach at brick-and-mortar schools, no matter how good a prescribed curriculum was, I rarely followed it to a "T" in a conventional way. My students, their needs, my moods... any number of factors played into how I approached and adapted pre-written lesson materials.

As a homeschooler, my pechant for adapting curriculum materials has grown stronger. In fact, I dare say, no matter how beautifully a curriculum provider designs and orders its materials, my children and I never manage to use them "as intended". Rather, we dig in and let delight and the needs of our days lead us.

This is exactly what happened with the well-ordered, comprehensive
homeschool music program by Zeezok Publishing LLC that we received. I quickly noticed that Zeezok Publishing LLC took the time to carefully lay out 4-week lesson plans for each composer that beautifully knit together the living books, CD's, activity book, and lapbook portions of the program. However, I also recognized that the way it was knit together (which would be perfect for most families!) would not perfect for mine. My children simply do not like to stop books we are reading to do "lesson" work. Writing, cutting, pasting, etc. are things they will and do attend to, but they prefer to do so after immersing themselves in one of their first-loves - read togethers - and I am okay with that!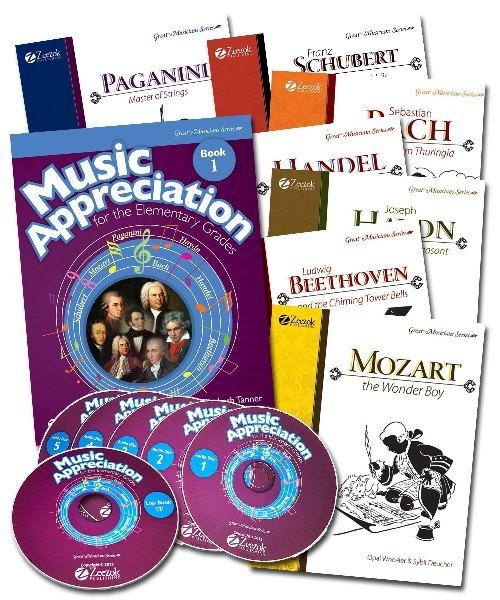 So, right from the get-go, I began (easily!) adapting our use of Zeeok Publishing LLC's music appreciation program, and, in doing so, found the materials a perfect fit for us even if we were using them in an "imperfect" way.

Basically, I asked the children what they wanted to read first, as they are already slightly familiar with some composers due to an AMP (Art-Music-Poetry_ club we have been doing with friends this year. Likely because we'd spent an afternoon chatting about Beethoven shortly before taking this review, they chose Ludwig Beethoven and the Chiming Bell Tower Bells as the first book to read together. So, we snuggled up, and immediately, were all hooked!

Over the course of several consecutive snuggled up sittings, we read the entire book. Then, I began hearkening back to it by sharing related information from the student activity book with all my children and encouraging my oldest to complete puzzles and exercises in the activity book.



Meanwhile, my children and I also began listening to the musical CD's in our minivan and at home, and sometimes found ourselves going back to the music written in the book as we did.




Finally, we reviewed what we'd learned about Beethoven by printing out lapbook minibooks, completing them, and affixing them to cardstock for a composer binder we are building as a family.




This method worked well for us and, so, we've begin repeating it with the Haydn book.



The Children's Thoughts


When I asked
my five-year-old what he'd like to share about the music curriculum I am so excited to have in our home, he said:
I liked that it (the Beethoven book) has pictures, because most chapter books do not have many pictures and I like pictures. The CD is mostly just music, and I like words (lyrics), but it is okay.
I know Beethoven was deaf. He turned deaf. That was hard, because he could not hear the music he was composing, so he did not know if it sounded good or bad. It sounded GREAT!

Of course, my five-year-old knows the music sounded great, because, because he listened to it on the CD's, and, even if he says he likes lyrics (which is true), he also obviously liked "just music". If you could have seen my youngest's little head "dancing" in the back of our minivan or his sister and him "conducting" in our living room, you'd be able to attest to this fact as I can.

My oldest son, at 10, had this to day about the program:
I think it (the music appreciation program) is fun. I like doing the lapbooks. I don't really like cutting, pasting, and stuff, but I like the ideas - how they make the books for the information.

I also like the (activity) book. I liked how I got to choose how songs made me feel and how the book is in color. I also liked the puzzles, but I do not like the writing part. So, my mom does things out alouds sometimes.
The (Beethoven) book is great! Once we started reading it, we read it a lot, because we liked it so much. We did the work for it after.

We also read Haydn. I thought it was interesting that he started off as a peasant and, then, became a well-known person. We have not done any work for it yet, but I want to.
I like the CD's, too. I like all the music. I like being able to hear what the notes in the books say and how they add other songs like battle marches.
I think lots of people would like this program, because the stories are fun. The CD's have a great selection of music. The lapbooks are easy to do, except when you have to say what quotes mean. The workbook has a lot of fun activity choices in it. I think it's great!
The fact that we could adapt this music appreciation program to be light on writing and conventional schoolwork (which do not appeal to my oldest son), while still being heavy on learning and enjoyment (especially through the CD's and read together time), made it a hit for us. My oldest son is enthused about it and has begun pre-reading the other composer stories and randomly reading parts of the activity book before we get into them together as family studies.
My daughter, eight, had said:
I loved it - the whole program. I like the music. There are all different composers so there is all different music mixed into one CD series. I like that it is just music without words. It helps me hear how it (the notes in the books) would sound.
I like looking through my big brother's workbook, because I like the pictures. Some are in color and some aren't. There is a mix of real pictures and cartoonish ones. I like them.
I like how the books go from when the composers were kids all the way to their adulthood. There are a lot of pictures that help you picture how things were. The pictures help you imagine things more than just the words. I like the words, too. Mommy read them to my brothers and me. When she finished a chapter, I often asked, "Can we read another?" We read Beethoven, Haydn, and even a little of Bach.
I like doing the lapbooks as a review. I like that there are little books and that there is a little bit of freedom in them. You can arrange everything the way you like. You can choose to color them in or not. Plus, there is not a lot of writing.
I like (the curriculum) and I am glad we have it. I want to keep reading all the stories, finish all the lapbooks, look through my brother's book a lot more, and listen to the music more. I think people who like music would like it. It is different than other ways of learning about composers, because it is interesting and fun. It is not just a bunch of dates and names. It makes the history and the music come more alive.
My Take

If I could only offer one soundbite about the
Music Appreciation Book 1: for the Elementary Grades, it would be just what my daughter concluded her thoughts with: "It makes history and music come alive."

The living books drew us into our studies through their charming age-appropriate text and illustrations. The CD's brought the music to life for us, since neither my children nor I can read music. The activity book filled in details about history, character, music, and more. And, the lapbook wrapped our learning in a neat little package we could reflect back upon.




As someone who was not taught much about music/composers when growing up and who thought history was dry and lifeless, I do not have much expertise in either area to pass onto my children. Thus, I depend on finding resources created by those with a passion for these things so that I can ignite music and history learning for my children (and me). It is clear that those at Zeezok Publishing LLC have such passion and expertise. Their homeschool music appreciation package is fantastic and has deepened our appreciation for music and love for history. I could not be more thrilled with how wonderfully comprehensive the program is and, yet, how easily we have been able to adapt it to fit our homeschool style.

The only thing I might change about the program - and more for other families than for mine - is the presentation of the activity book. The activity book is a lesson plan book, text, and workbook rolled into one and is well-designed and beautiful with its full color presentation and 3-hole punched perforated pages. However, for families that like to have all of their children do written work, it would seem that having an option for smaller supplemental "workbook" with only the consumable pages of the activity book, or simply granting permission for families photocopy consumable pages for family use only, would make sense. Because the books and CD can be used by the entire family at once or over and over with separate children, and some of the information pages in the activity book can, too, it would make sense to me to make the consumable pages more family friendly as well.



However, honestly, this is a small "could be improved" point when weighted against all the "how awesome" things there are to say about
Music Appreciation Book 1: for the Elementary Grades:

Gentle, yet comprehrensive.

Engaging and geared for a visual, kinesthetic, and auditory learners.

Easy to appreciate even if you know very little about music.

Cross-curricula with literature, music, history, and even things like character/virtues and cooking.

Family-friendly/user-friendly for multi-age groups.

I could go on and on with what I like about this music appreciation program. It is ideal for our eclectic homeschool family, but could also fit perfectly for those following Classical Charlotte Mason, Unit Study or other styles of homeschooling.



Learn More





If you'd like to hear what other homeschoolers thought about it, or find out about some of the other books in the program, be sure to click over to Schoolhouse Review Crew to see how 60 families have been using
Music Appreciation Book 1: for the Elementary Grades

.



You can also find Zeezok Publishing LLC at Facebook and Pinterest.