Our family had never heard of the
Kwik Stix 12 pk by
The Pencil Grip, Inc. prior to being offered a chance to review them. Now, not only do we enjoy creating artworks with them, but we've also introduced them to many friends, who consistently have commented on how awesome these handy paint sticks are.
Easy for anyone – toddler to grown-up – to use.
Bright and bold to paint with.

Kiwxk Stix quick-dry tempera paint sticks have become a staple item for creating art work wherever we go. They pack easily into our bring-along bags, are a cinch to use (just uncap, twist up, and paint away!), and clean up in seconds (just re-cap, put bag in the plastic tray that comes in their box, and you're done.) There's no need for smocks, drop cloths,brushes, water, etc.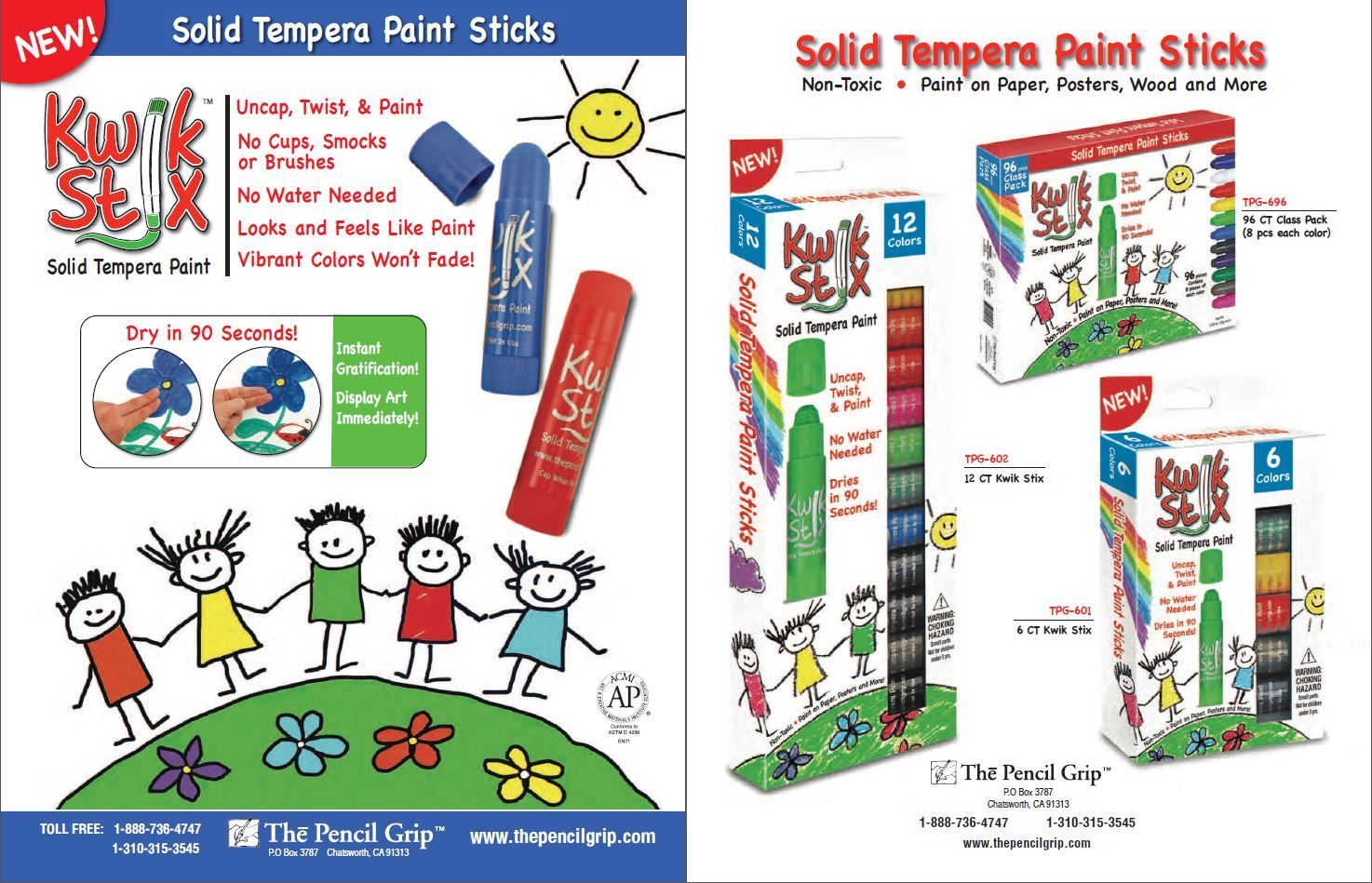 Truly, we've used our Kwik Stix in so many places:

… out in the woods during an Art-n-Nature adventure so our youngest participant could paint alongside siblings without fussing with the watercolors and brushes they were using...
…during a last-minute playdate when a friend's parents had an emergency and we wanted to send cheerful messages home to the family...
…at a co-op class during a create-a-world maker time when of all the supplies I had available two different children chose the "cool new pant sticks"...

... at co-op during a break time when the children were making get well cards and gifts for a friend of a friend who is in the hospital and a gaggle of girls discovered
Kwik Stix were perfect for making flowers to go in origami cup "planters".
…at home to make wrapping paper, birthday cards, get well messages, and just plain old fun artwork…

Yes, just about any time my children have been wanting to create lately and I have wanting clean up to be quick and easy, our Kwik Stix and a pad of paper have come out. Sometimes we add stickers, too, just for fun.



Some Reasons We Love Kwik Stix

We love
Kwik Stix for many reasons. Among them are:

Bright, bold colors paint on smoothly and dry super fast.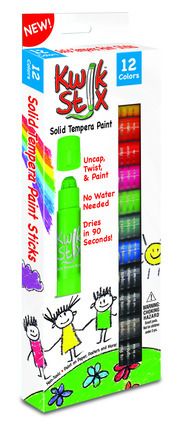 The box and plastic tray they come in make the paint sticks easy to access from our kitchen table, our living room table, our art box, or our bring-along bags, wherever our Kwik Stix happen to be finding a "home" for the moment.

The design of the sticks, which my children say is "like glue sticks, but it's paint", makes the sticks easy to hold and use.

Each of my children and I have used our
Kwik Stix and enjoyed creating art with them. As you can see from our pictures, our friends have, too. Thus, I do not hesitate to recommend them to you. Toddlers, bigger kids, grown ups, those with pincer grip issues, and those with typical grips…just about anyone can enjoy these handy, no-mess, quick-dry paint sticks!



The Kids Thoughts on These Awesome Art Tools!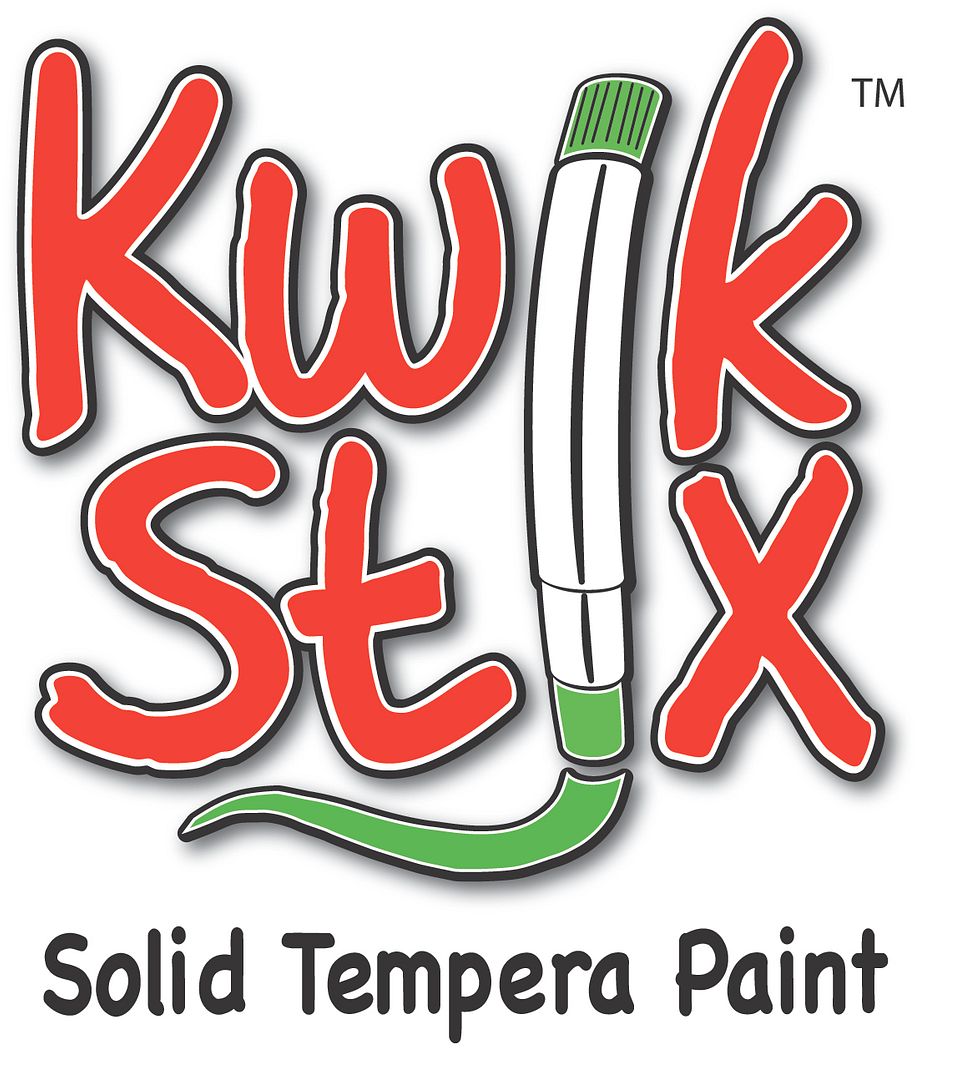 My five-year-old son had this to say about
Kwik Stix when I told him I was sitting down to write my review:
I painted battles and boats by myself and one with help. I also painted one flower with my sister. (Kwik Stix) were fine to use. I like that they dry fast, because other paints dry slower and I don't like that, because sometimes they get stepped on or get all blodged up. (Kwik Stix) dry after a few seconds and makes my pictures not as bad. I want to make more pictures.
My ten-year-old son had this to say:
I used Kwik Stix once with my sister and brother and twice by myself. With my sister and brother, I made a battle scene about a video game I like. On my own, I made a horse running away from a chest that was on fire and a carrot with cool colors around it.
I like that they dry fast, so I can add other layers to my pictures fast.

Also, one of my friend's little sister painted with them and painted her fingers. It was cute.

I want to use them some more. I wish they had metallic colors. That would help me paint battle scenes better, and I like metallic colors.

After my son shared all these thoughts, I showed him the
Kwik Stix page
, where he saw there are not only metallic color ones, but neon ones. He was so excited! He got painting right away again with our current set or
Kwik Stix and asked if we can get the additional "cool sets".
My eight-year-old daughter, who was our most frequent
Kwik Stix user, excitedly reported:
I love these! They were easy to paint with and I like that they are like glue sticks, because that makes them easy to hold. I also like that they have the primary colors and other bright colors, because I like bright colors. (Bright colors can also make dark colors if you add a lot of them together, but dark colors cannot make bright colors so well.)

I painted a lot of flowers, and I also painted a big poster for my daddy that says, "I love you," on it. I made cards for two little babies, and I made wrapping paper for them, too. I also made wrapping paper for a four-year-old. My friends and I used them to make get well cards for a little girl in a hospital, too.

I like using these with friends, because they are not messy and they clean up really fast, unlike a lot of paints.

I also like that they dry really fast, because, then, I can add second layers. Or, if I am done, I can put them somewhere without worrying that they will get little bits and pieces in them, because they are not dry and will smudge. They are like pencils because they dry so fast, but they are paint. So, you can mix them and make bright, cheerful paintings.

I am going to keep using them until they run out of paint. Then, I will want to replace them!

People that like to paint should buy these. So should people who like to paint, but who do not like to wait forever for things to dry or who do not like to hold brushes. They would be good for special needs people, toddlers, little kids, adults, and, really anyone except babies. Everyone who uses them with us says, "They are cool!" I REALLY LOVE THEM! They are awesome!