What a delight it has been for my daughter and I to have found Reading Eggs - an online program filled with reading lessons, activities, games, and books

that teach children aged 2–13 needed literacy skills

. Seriously! I could not be happier about our experience with
Readin

g Eggs, since it has accomplished three goals for us in the month or so we have been using it so far.


(1) Independence: After a couple sessions with help, my daughter was able to use
Reading Eggs 100% one her own. This has proven a welcome blessing for our family, because it enables my daughter to progress with reading lessons even when Daddy, Big Brother, or I are unavailable to help her. For us, this is HUGE, because my daughter has often struggled with literacy skills and has rarely cottoned to online reading programs enough to succeed with them on her own, but now can.

My daughter likes
Reading Eggs and gets how it works, so more days that not, she voluntarily logs in, set a timer and completes ELA lessons before I even suggest she does so.
She enjoys being able to learn and practice reading skills on her own, and I appreciate the opportunity her doing so gives me to have 1:1's with her brothers, to prepare other lessons, or to simply witness her sense of accomplishment and confidence grow as she moves through the
Readin

g Eggs program.

(2) Sound Learning: My daughter typically does not care for online learning programs, because she finds them too fluffy, too busy, too boring,

too difficult or, too you-name-it. Such is not the case with

Reading Eggs. Somehow, the way Reading Eggs presents its "bells and whistles" - colorful animations, fun music, motivating rewards, etc. - perfectly suits my daughter at her current stage and, likewise, the way the included lessons, games, and activities present phonics, phonemic awareness, vocabulary, comprehension, and fluency

works for her, too. She remains engaged and, more importantly, she keeps learning! Already, my daughter has completed lesson number 106, proving knowledge of phonics skills and sight words along the way.
A reading test at the start of the program placed my daughter at an appropriate lesson to begin with and carefully designed, self-paced lessons have kept her moving right along helping her to gain
proficiency which is beginning to transfer
into
her journal writing, letter writing, and more. She even surprised me the other day by beginning to write an essay on our computer and reading it back to me. It would seem that
Readin

g Eggs has come at an ideal time for her personal reading and writing development.

(3) Joy: As I have previously mentioned, my daughter has long struggled with reading and spelling. Often, this has caused frustration, tears, and lack of self esteem.
Readin

g Eggs is helping to change that. When my daughter has been doing her
Readin

g Eggs lessons, there has been laughter, enthusiasm, and a desire to keep going. There have also been brothers peering over my daughter's shoulders wishing they could have a login with

Readin

g Eggs, too!
But, enough about my thoughts. Let me share some of my daughter's by offering a transcript of a brief interview I did with her:
What is Reading Eggs?
It is a program for all different ages. First you can take a test or you can just go to your age. What I did is take the test. I was placed on a level and, then, I took lessons online. For each lesson section, I got eggs which I could use to buy stuff for my virtual house. It was fun.
Did you like Reading Eggs when you first started?
No, because I could not understand it. I got confused, but, then, you

helped me understand the program, and I actually liked it afterall. It's a fun program and it's helping me to read and spell.
Is there anything else you want to tell me about Reading Eggs?
You can also use something called Math Seeds. It is for ages 3-9. It is okay. It is mostly below my level, but is good to reinforce things. I like it and use it a lot, because i,ts fun and when you use it, you can tell it is based off Reading Eggs, because it is for math, but the things you do - the activities - are a lot like the Reading Eggs ones. You get acorns instead of eggs and buy stuff for your virtual treehouse with them. The things for your treehouse are cheaper than the ones for your house in Reading Eggs.
Oh, Reading Eggs program has parts for ages 2-4, 3-7, and 7-13.
Would you recommend Reading Eggs?
Yes. It is a fun program. It's good. What I like is that I read a story in each lesson, but, at the end, you get something fun for all your work. For example, you can get an insect or a person that hatches out of an egg and they do something based off the lesson.
Anything else?
Yes. I don't usually like online learning, so I was mad when my mom made me try this, but it's actually a really fun program. I want to keep using it, and my older brother is jealous, because he wants to use it, too. Now, can I do Reading Eggs, Mom?
And, there you have it - her thoughts and her departure from our interview. Did you catch it? She asked, "Now, can I go do Reading Eggs, Mom?" Yep! She was asking to get online to begin her reading lesson for the day, did so, and went extra time- again -doing so. That says A LOT.
Readin

g Eggs has proven itself a worthwhile resource to her and to me. I am so glad to have found this "easy button" for my daughter to be independent with reading lessons when I am busy, to succeed in learning and practicing literacy skills, and to enjoy herself while learning. I would not hesitate to recommend others give this program a try with their reluctant readers or developing readers.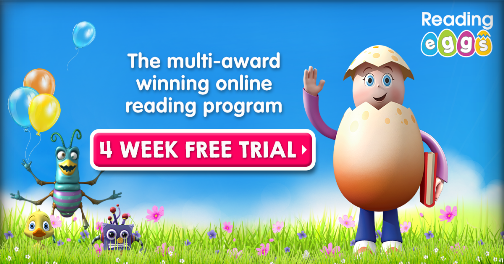 If you would like to do so, you can click through for a FREE 4-WEEK TRIAL
,which should give you plenty of time to see if
Reading Eggs is as good a match for your child as it is for mine. (Offer expires on November 30, 2017.)
Learn More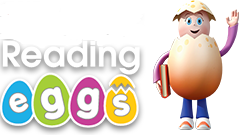 Reading Eggs
is not just effective and enjoyable for children, it is designed to make things easy for parents, too. D
etailed progress reports let you know how your child is doing. Hundreds of downloadable activity sheets that correspond with the lessons in the program can offer offline reinforcement. Over 2000 online books for kids – each ending with a comprehension quiz that assesses your child's understanding - are available as part of the program (so library fees don't add up!; ;) ) And, now, there are helpful new week-by-week homeschool guides for kindergarten through second grade!

The homeschool guides can be downloaded for
free from your online parent dashboard and contain week-by-week overviews to aid you in introducing and and tracking learning for children in Kindergarten through 2nd Grade.

The guides provide a 36-week sequence for Language Arts, Mathematics, Science and Social Studies, mapping online lessons, books, quizzes and assessments, and listing reference books in the Reading Eggspress library to help expand ideas and concepts. These guides really are a great resource!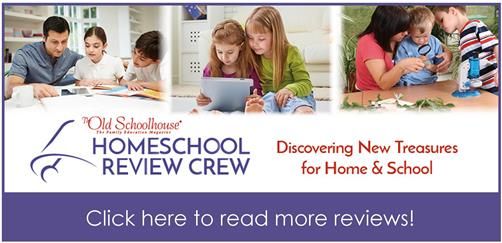 Seventy-five Homeschool Review Crew families reviewed
Reading Eggs. Click through the banner to find all of our reviews.

Find
Reading Eggs on social media at: