It was a no-brainer for us to offer an enthusiastic "Yes, we'd love to!" when we were offered an opportunity to review another book by ARTistic Pursuits Inc. We'd fallen in love with their fabulous homeschool art curriculum while doing two prior reviews and were eager to check out what their more advanced offerings might be like through using Sculpture Technique Construct.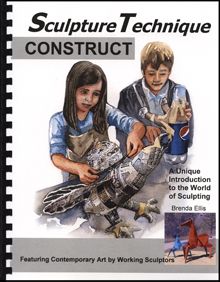 The sculpture book, we knew, would be a bit different than the
first ARTistic Pursuits Inc. curriculum book we'd reviewed, Early Elementary K-3, Book 1: Introduction to the Visual Arts, which offered 36 complete lessons on what artists do, what they see and where we can find art. That book encouraged children to explore clay, drawing, painting, paper art, and more through lessons that follow this format:


First, parents (or children) read the lesson.

Then, all participate in short observation activities or discussions about art works by masters.

And, finally, everyone creates original works of art about subjects of personal choosing.

Likewise, we knew
Sculpture Technique Construct would be a step up from the second
homeschool art curriculum we had previously reviewed,
Early Elementary K-3, Book 2: Stories of Artists and Their Art. That book offered
36 lessons, which started with Cimabue, an artist from the Gothic period, and progressed through Millet, an artist from the Realist Period.

In
Early Elementary K-3, Book 2: Stories of Artists and Their Art, units of work included:
stories about specific artists that can be enjoyed as read togethers
art appreciation pages with full color reproductions of famous artworks
project ideas that use a variety of media and connect to artist biographies and reproductions
full color examples of art works created by other children
special projects, such as creating a color wheel
technique tips
Sculpture Technique: Construct
In fact, when
we signed up to review
Sculpture Technique Construct., we knew that it would be a BIG step up since the book is aimed at children ages 11-18 (and, in my opinion and experience, novice adults like me, too!) and focuses on just one aspect of art: creating 3-D sculptures and using techniques in:
papermaking,

papier-mâché,

cardboard,

and wire.

With such a narrow focus, the 83-page, spiral-bound book includes only four units, each focusing on 2-4 projects that center around a single art "goal" related to sculpture:
Unit 1: Creating Form in Papermaking

Unit 2: Creating Planes in Cardboard

Unit 3: Creating Motion with Papier-mache

Unit 4: Creating Volume with Wire
Now, when I say "goal", I do not mean a cookie-cutter finished product. Rather, I mean sculpting an original creation while exploring form, planes, motion, or volume. Indeed, this is one thing that I love about the way author Brenda Ellis presents lessons in her art books. Instead of using follow-me-exactly-this-way instructions, she enables you, the student, to create original artwork after studying:
technique tips,
illustrated and photographed examples of artworks,
and helpful instructions on how to go about creating your own artwork using techniques taught.
In other words,
ARTistic Pursuits Inc. books provide you with the background, knowledge, and instructions you need to create your own artwork based on subject matter that is relevant or interesting to you instead of demanding that your create monkey-see, monkey-do projects that someone else has envisioned.

The way Brenda Ellis does this, specifically, in
Sculpture Technique Construct, is by first providing information on the elements of sculpture. Then, she explains:
the properties of materials that you will use,

an introduction to tools and equipment,

safe handling,

and basic art project instructions,
She also includes color examples of both professional and student artwork to inspire you and an evaluation at the end of each unit so you can assess your artwork. (The book is actually written so that high school students can use it as a course for credit. Thus, the handy evaluations.)
Our Experience
I had intended to begin
Sculpture Technique Construct with its cardboard unit, since the supplies needed for it were all things we had on hand. However, after my children paged through the book and we realized we had a herring run field trip coming up, I changed my mind. Our family decided to begin with wire sculpture first, since in the wire unit, there is a project related to fish.


To prep for the wire unit, we had to go out and purchase wire. Unfortunately, the craft store that we went to did not have a lot of the specific gauge wire we needed since students from a local school had just bought them out of it. So, I tried a hardware store, where I found only galvanized wire. We quickly found out that galvanized wire is not as malleable as non-galvanized wire, however, between the wire we purchased and some jewelry-making wire I had around, we managed to create basic sculptures using our imaginations, inspiration from our field trip, and techniques taught by Brenda Ellis.



Since friends came by after our herring run field trip, we decided to try the fish project with them. The group had a wide variety of ages in it - from my friend's four-year-old and my six-year-old to my forty-five year old self. With such a wide span of ages, we thought our small gathering would be a good opportunity to test how far the "suggested age range" for
Sculpture Technique Construct could stretch. In doing this, we discovered the 11+ suggested age that
Sculpture Technique Construct is designed for is nearly spot on. In our small group, the 9+ year olds found working with wire the easiest and most engaging, while even our youngest artists were able to get creative sculpting wire fish with a little bit of help. No matter what our ages were, we all had fun, and, okay, a bit of frustration, but that goes along with trying new things, doesn't it?

Frustration did not outweigh our concentration nor our fun, though, and, after sculpting fish, one of my children's friends paged through our copy of
Sculpture Technique Construct and voiced an interest in cardboard construction. So, we got together another time to work on planes together using cardboard.


My own children also enjoyed reading about other sculpting ideas, trying out some techniques, and planning to do more projects together. Better still, I discovered that even though my children have been wanting to jump around from here-to-there in the book without completing any single unit yet, techniques and elements gleaned from the book have been finding their way into my children's self-driven art project.

For example, my son is in a Create-a-World class at our local co-op, which he conceived and helped me design. Going into the class, he planned to draw every element of his world with his favorite art style: quick colored pencil drawings. I had told him that was fine if that's what he wanted to do, but that I would be providing materials for other student to create drawings and models of their worlds using other media, techniques, and styles, too, providing a basic maker space for the class.

As the co-op weeks unfolded, and our home experience with sculpture did, too, my son continued to like to draw. However, he was also inspired to make basic sculptures.


In fact, earlier this week, when our class was focusing on creatures of the sky and sea for the children's imagined worlds, my son grabbed paper, scissors, and other supplies and made 3-D models of his world's creatures. I smiled at this, knowing that even if
Sculpture Technique Construct did not have a unit directly tied to what my son had created, his creations were, indeed a direct result of our family's experience so far with Brenda Ellis' well-designed art curriculum.

My oldest child, inspired by projects we have already completed in
Sculpture Technique Construct and also by lessons he has "read ahead" and dabbled with, has begun to transfer knowledge and skills to make sculpture an art language he is more and more comfortable expressing himself in.
To me, that shouts,
"Success!
Sculpture Technique Construct brings success!"
My Final Take
I am excited to have added
Sculpture Technique Construct to our art resource shelf and, once again, am delighted with how easy Brenda Ellis makes teaching art to children (and myself!)
Of course,
Sculpture Technique Construct is different than previous books by Brenda Ellis that my family has enjoyed, because it is based on just ONE type of art (constructing sculptures). So, while it does change up media between paper, wire, cardboard, as well as concepts, such creating form, planes, motion, or volume, it does not have the variety of project types that the books we have used for younger students do. That is okay, though, in my opinion, because the book is geared for older students, and the older you get, often, the more in depth you might wish to go with a singular area of study. This book most certainly provides opportunity for you, or any parent or student with only rudimentary knowledge of sculpture, to become more expert at sculpting and encourages you to get started right away.
In short, then, although
Sculpture Technique Construct is different than the other art books we have reviewed by
ARTistic Pursuits Inc.
since it is geared for older students and has a more narrow and in-depth focus, it is of the same high caliber that we have come to expect and enjoy from Brenda Ellis' work.

My children and I are looking forward to becoming increasingly proficient and creative in our sculpting efforts as we complete the units we have yet to finish in book. Plus, we are confident that we will not struggle while doing so, since Brenda Ellis makes appreciation and creation of art so accessible in her
ARTistic Pursuits Inc. series.


I would not hesitate to recommend any
ARTistic Pursuits Inc.
to families that wish to better understand art appreciation, art history, elements of art, art technique, and art creation. The series demystifies art so even novice artists and those with limited knowledge can understand and begin creating right away.
Learn More
Other Schoolhouse Review Crew families have experienced how wonderful
ARTistic Pursuits Inc.
books are at making art easy to include in homeschool adventures. Families used many different books in the series, so head on over to check out what they did.


Also, as I mentioned before, friends joined us for a few of our projects as we reviewed our most current book by Brenda Ellis. In doing so, they were as impressed by
ARTistic Pursuits Inc.
as we have always been and, now, one wants to use
ARTistic Pursuits Inc.
for her children's art curriculum next year, too. To me, this speaks volumes. When a small taste of something makes someone want to feast on the entire delectable delight, you know a product is good! Such is the case with ARTistic Pursuits.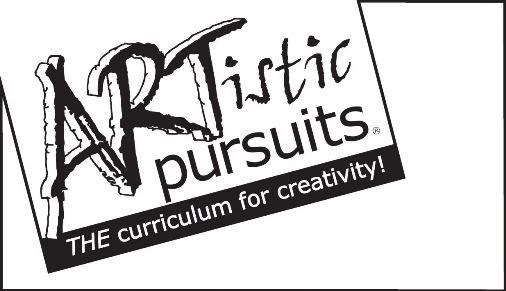 Would You Like a Small Taste, Too?



If you, too, want to see what
ARTistic Pursuits Inc. is all about, I encourage you to take a peek at sample pages of Sculpture Technique Construct to see if it may be a good fit for you and, then, click around to check out each of the art books geared to children from preschool through high school If you click on the "contents" sample page in the Sculpture book, you will find a list of the materials you will need to complete all the projects in the book. (None of which that hard to find.) The other sample pages will give you a clear idea of how Brenda Ellis presents art appreciation and technique. We love the way she does and think you will, too!

You can also find
ARTistic Pursuits Inc. on Facebook.

Enjoy being inspired to add more art to your homeschool endeavors through easy-to-use books that get you creating right away!