"Mom, please, can we do it?" were the words that came out of my history-loving son's mouth when I told my children that we might have an opportunity to review
The Story of the Thirteen Colonies & the Great Republic Set and 200 Questions About American History Set from
Memoria Press.
"Sure!" I responded, "Do you understand, though, that if we do, it you will need to commit to trying the written work that comes with it?"

"I will, Mom," my then eager-child affirmed. "If the only way we can do it is if I write, I will."

Fast forward a few weeks, and my son was happily burying himself in the pages of
The Story of the Thirteen Colonies & the Great Republic Set
on a regular basis, but only completing Student Guide pages when reminded to. Still, he complied with my multiple-days-a-week reminders, proving he could be a young man of his word -- one who is willing to persist with portions of study that he does not prefer in order to enjoy the pay off of having a history book that he thoroughly enjoys to continue to dive into!

Plus - bonus - my son likes the flashcards set and the 200 questions book, too (when we approach the latter orally), and so do his younger siblings. They also like main story and want to catch them up to the place their big brother has independently read.

Two Sets - One Great Year (or More) of Learning

Our family is not a follow-the-schedule sort of gang that schools for x amount of hours on y amount of days throughout the school year. If we were, though, a handy 34-week schedule at the start of the Teacher Guide for
200 Questions About American History Set
would keep us on track with American History studies and 32 lessons in
The Story of the Thirteen Colonies & the Great Republic Set, complete with written work and suggested enrichment in the Student Guide and tests in the Teacher Guide would flesh out our studies.

Instead, the well-apportioned, thorough, open-and-go nature of these sets, which are designed for use in an classical education style, work perfectly with our on-the-go eclectic style. Slim, paperback teacher and student books slide nicely into a carry bag. So does a

small

er paperback text (or, American history "storybook" as we call it) and a handful of the flashcard set wrapped in a rubber band.

These things, a pencil, and a timer are all my middle-school aged son has needed to work through parts of the curriculum independently. (He needs the timer to focus him on the student book pages, which he does not relish doing.) They are also all all three of my children and I have needed to readily dive into American history whether sitting at our kitchen table, enjoying a warm day in the yard, or hanging out in a waiting room. Interesting facts and stories make
The Story of the Thirteen Colonies & the Great Republic Set easy to pick up and get into in but a moment. Sort chapters make it just as easy to quickly wrap up with for the time being when life gets busy.
Likewise,
200 Questions About American History flashcards work as well during long, relaxed morning basket times
(or Together Time Bag periods as we call them here) a they do when there's but a few moments in a day to touch on history.

Flexibility is key for our family, and I just love how these two sets combine to offer a complete, chronological curriculum that can be used for long stretches of time or short ones with nothing else necessary, while still leaving room for rabbit trails should we choose to hop down them. Independent readers and writers can move ahead with self-study, while busy parents can quickly check on work using the answers in the The Teacher's Guide. Reluctant readers and writers can glean fruit, too, as the story and flashcards are used together -family style - and questions from the teacher and/or student books are chatted about orally.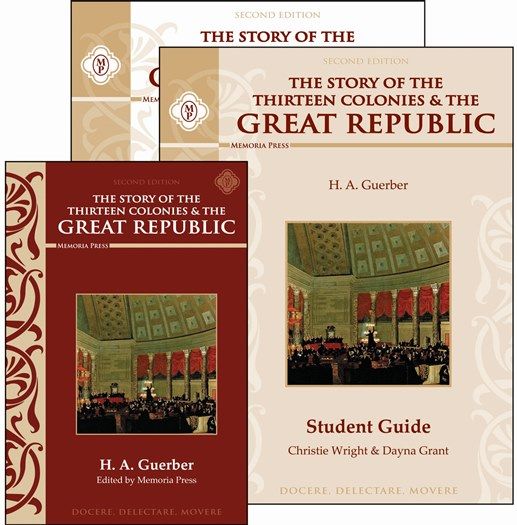 The Story of the Thirteen Colonies & the Great Republic Set
comes with a text, Teacher Guide, and Student Guide, which includes:
an American history timeline to be completed

notable quotes (Who said it?)

comprehension questions

map work

writing prompts

research assignment ideas

a colonies timeline

the Mayflower Compact (photographed and typed out)

Paul Revere's Ride

a typed copy of a letter from George Washington to his wife Martha

the Declaration of Independence (a photo and and a typed version)

the U.S. Constitution

excerpts from Thomas Paine's Common Sense

the Gettysburg Address (photocopied and typed)

Daniel Webster's 1830 Senate Speech

Yes, that's a lot of history in just three slim paperbacks. So easy to access, too!

The
200 Questions About American History Set
consists of a set of flash cards, a Student Book and a Teacher Guide. It is meant to be used in conjunction with
The Story of the World by Susan Wise Bauer and Everything You Need to Know About American History Homework by Kate Kelly and Anne Zeman, but, we found it worked perfectly well as a supplement to The Story of he Thirteen Colonies & The Great Republic by H.A. Guerber.

The flashcard set includes
:
drill questions

timeline dates

44 U.S. Presidents,

notable quotes
The Student Book contains
words to the Star Spangled Banner, Old Iron Sides, and Captain 'O Captain for memorization purposes.
What the Children Had to Say
My eleven year old son, who was the one who used the written work portions of these sets, said:
I wanted to do this review, because it is history-based. I love history, and even though I don't like workbooks, I thought I would give it a try.





I didn't end up liking the Student Guide at all. I don't like how it had workbook pages where I had to write out answers.
I prefer multiple choice. I had to answer questions about vocabulary and then answer questions about who did blah-blah-blah and that sort of thing. I didn't really like this and got some wrong. I could have probably answered everything right - except the vocabulary - if it were oral and you did not have to write in full sentences to explain things. (I think Mom made up that you had to answer questions in full sentences.)
(I laughed when he said that last bit, since he's right on one account - it was me who required full sentences and is likely right on the other, too. My oldest son can narrate history aloud well. Having to go back to a text he's read to answer specific questions in detail, though, is not his strong suit.)



I learned I am not as good at vocabulary as I thought I was. I understand when words are in a story, but sometimes it is hard to explain them with other words.

I learned this about my son, too. With all the reading and listening to audiobooks we do, his vocabulary has always seemed to bloom. It was only through looking at the more traditional vocabulary exercises contained in the Student Guide that I realized my son can understand and even use "big words", but, often, cannot define them using other words .



Now that the review is over, I would not like to use the Student Guide again.
Ah, but he will - most likely in a casual, oral manner, which is more his style of learning, and, therefore, increasingly how I teach.

I like the cards because they are easy to do anywhere and help me learn. If I get something wrong, Mom tells me the answer, and I know I need to learn more. We talk about the question more. I want to master all the questions using the cards and use the Student Book orally.
How my child can be workbook-averse but flashcard-friendly, I don;t know, but that's part of the beauty of this history set. Parts can appeal to a variety of students - readers, listeners, workbook writers, and card users. Taken together, the compnents can help stretch a child, too.



I like the book, because it was historical and the names of the chapters told you what you were going to learn about instead of being just like 1, 2, 3...





Mom read some chapters to my brother, sister, and me, but I read ahead on my own. Each time, I read until I wanted to stop. Sometimes, Mom made me stop to do the workbook. I did not want to stop. I wanted to keep reading.



The book is great, because it is pretty descriptive and tells you about American history. Some things I learned were that:

The Spanish were looking for a city of gold. (I had only known about the Fountain of Youth.)

Hudson, some men, and his son were sent away on a boat and never again.

Roger Williams did not like how the protestants opposed their faith on other people, so he started talking about it and got in trouble.


I knew a lot of other things, because I am so into history, but I want to finish the book, because I like it and I might get a little more knowledge. We do a lot for history, but not always chronologically. This book helps me put things in order.



I also want to try reading the original version to see how this one was modified to fit people's modern preferences. I think it would interesting to see the differences.

(When my son said this, I was surprised. It appears the read some of the pages prior to the first chapter, which explain that the original text has been slightly modified for today's readers.)

Of course, my son was not the only one who used product. Yes, he was the only one who used the Student Guide, but his younger siblings enjoyed the book and cards, too.

My nine-year-old daughter said this about them:
I like the book. It's like a chapter book, but it still has pictures in it. I like how the pictures are mostly in black and white and are mostly realistic. They help me imagine what it would be like in the times that this book took place.



I am learning about American history.





I like how Mommy reads and, then, a few days later, challenges us with the cards.

My six year old enjoyed these sets, too, and said:
Mommy questioned us with the cards. I wish she did it more, because it was fun. I liked guessing the answers. I knew most of them.



The book is very long. We have not finished it. It is good so far. I like how it is like a picture and a chapter book. I like to look at the pictures when Mom reads to us.





I learned that Henry Hudson and his son were put in a boat with seven sick men and set adrift. The ship went back to England, but Hudson was never heard from again. I learned other things, too.





I want to finish this book.
I echo my youngest's final words about the book: I want to finish the book, too - and use the cards more.
Some Final Thoughts
I find the textbook such a delightfully easy read that it is more a living history book than a text. It packs plenty of history into brief chapters without letting each chapter get too dense. Illustrations and black and white portrait reproductions help my children picture the times discussed in the book better and give them something to look at as we gather to read together.
The flashcards offer quick study and review. The student books - though not faovored by my children - are well laid out and, I am sure, will transition well to conversation tools now that my son and my agreed upon period of "giving the writing a try" is over.

I am excited to continue using this resource set to give my children a firm, chronological grasp of American history (and to remind me of some history I've forgotten, too.)

The set is geared to be a one-year course of study at the middle school level, but, I think works quite well for elementary level family studies, too.

All of us would recommend The Story of the Thirteen Colonies & the Great Republic Set and 200 Questions About American History Set from
Memoria Press to others.


Learn More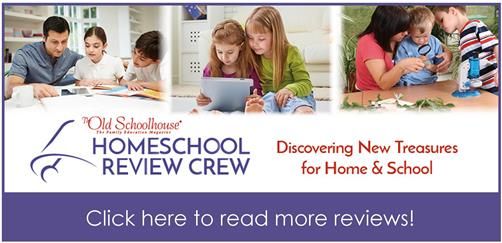 You might also like learning about another
Memoria Press product we've enjoyed:
You can also find this popular vendor of
classical Christian homeschool curriculum
on:

Classical homeschooler or not, Memoria Press has much to offer!