(Disclaimer: This post contains affiliate links for
Linguistic Development through Poetry Memorization by Institute for Excellence in Writing, because we enjoyed the resource so much upon reviewing it that we know we will be recommending it often.)

At the beginning of this school year, my children and I invited some of our friends to join us in a newly hatched AMP club initiative in an effort to include more regular Art, Music, and Poetry study in our lives, while also enjoying learning and exploring alongside friends. Thus, I was thrilled to receive an opportunity to review Linguistic Development through Poetry Memorization by Institute for Excellence in Writing (IEW), since I had a feeling it would dovetail perfectly with our AMP club endeavors.

Was I ever correct!

At the beginning of last fall, when my children and I kicked off our AMP club, we were so excited that we collected loads of poetry books, poured over them, picked out some poems to memorize, and set to memorization efforts. However, as the weeks and months went by, more and more often, we found ourselves too busy to repeat our eager search-and-memorize process and ended up hosting a few gatherings with no poems to share.

Enter
Linguistic Development through Poetry Memorization, and our memorization efforts are back in full swing. From the first day we cracked open the
Linguistic Development through Poetry Memorization student book and read its first poem (the cute and quick Ooey Gooey), my children began exercising their poetry memory muscles again with ease. Since then, between listening to the CD's we received that accompany the book, and simply reading and reciting the other poems in the first section of the book on our own, the kids' mental muscles - and my own - continue to get a work out.

Since we've had
Linguistic Development through Poetry Memorization at our fingertips, we have not missed being prepared with memorized poems for our AMP club. Bonus, by reciting select poem from the program at our meetings and offering others a look at our student book, we've also drawn friends' attention to
Linguistic Development through Poetry Memorization and are, currently, considering using it as a collective "spine" for the poetry portion of our club next year.

One mom thinks
Linguistic Development through Poetry Memorization looks great and another mom, who was absent at our last gathering, is going to take a peek at our copy of the program, too. Then, if she and her children are as excited about it as we are, we might make
Linguistic Development through Poetry Memorization our club's official "spine" for 2016-2017.

If our club does not elect to use
Linguistic Development through Poetry Memorization, however, the curriculum will still
remain the go-to source our family's club preparations. The program just makes selecting and memorizing well-written poems so easy and engaging. We value its simplicity and its selections and the children enjoy reciting poetry learned from the program on the "stage" of our front porch during AMP gatherings.



Complete and Easy
Linguistic Development through Poetry Memorization
came to us nicely packaged in a sturdy box that contained a 200-page, soft-cover, spiral-bound teacher's manual, a 172-page, soft-cover, spiral-bound student book*, and a leather-bound case with five CD's and one bonus DVD in it. Within these materials, we found quick access to:
poems and speeches divided into five different levels which are presented in large font with illustrations in the student book, are written in smaller font in the teacher's manual, and are also read on the CD's, thereby giving both visual and auditory learners easy access to the selections.
clear instructions for smooth teaching of the awesome selection of poems and speeches. Better still, the teacher materials included not only how-to's for teaching poetry memorization, but also answered the question of why. (Isn't it always easier to approach something when you know why it is important and how your investment of time and energy may bear fruit?)
memory charts for tracking progress. These are perfect for parents and chidlren who thrive on checklists and can be ignored by those who don't (even if that's not officially recommended.)
certificates for noting when student's complete each level of the program. These can work as effective motivators for some children.



brief

poet biographies

. These are listed

in an alphabetized format for easy access.
suggestions for connecting poetry memorization to related studies across various curriculum areas. Areas include history, music science, and even topics like nutrition and Latin.
information for accessing seven audio MP3's and a 170-page student book in pdf format. (Who does not love information, tips, and encouragement to feed parent's souls and intellects?)
a bonus DVD of Andrew Pudewa's conference talk called Nurturing Competent Communicators. (Again, feeding the parents!)
When you add up all the components of
Linguistic Development through Poetry Memorization, you get a simple system of poetry memorization that acts as a fulfilling feast for children and parents alike. With this feast on the table, my children and I been learning poetry, and I have been getting some virtual homeschool conference time in, too. Love it!
When I get free moments, I enjoy "Mama conference time"
through the DVD's and MP3's.

Then, in the minivan, my children and I practice poetry review and memorization using the CD's. Likewise, during many of our daily read aloud times, we open the student or teacher books to review poems we've mastered or begin new ones. Finally, at our AMP club (and sometimes just for fun, too), we test ourselves by delivering the poems.

I also browse the notes next to the text of each selection in the teacher's manual and the lesson enhancement ideas towards the back of the manual to prompt chatting points or further exploration when we have time. And, the children and I sometimes make up our own poetry modeled after that which we read.

Oh how many vegetables can be stewed to develop jaws and how many creatures can become ooey gooey when imaginary mishaps happen as we create our personal poetry! And, oh, what fun we've been having adding more poetry to our daily diet of food for our brains.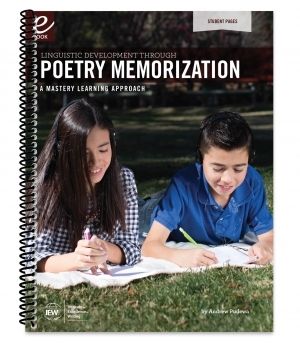 (*Please note: For our review, we were blessed by the generosity of IEW when they sent us a printed copy of the
Student Book, which is typically only available as an extra purchase when ordering the
Linguistic Development through Poetry Memorization package. However, even in the typical package, you receive a handy pdf version of the student book, which we received access to as well.)



Final Thoughts
I think it is pretty obvious that
Linguistic Development through Poetry Memorization
is a hit here. I especially appreciate that th

e program:
is family friendly. With five levels of increasingly difficult poems and passages to memorize, the collection works for both young and older here. Plus, IEW's generous policy allows families to photocopy student materials for the entire family's use. So, families with multiple children need not worry about the burden of buying extra materials.
comes with CD's. Listening to the CD's in our minivan helps us memorize and recall poetry selections. The CD's also give strong examples of oral communication skills. For it is one thing to read a poem and another thing to deliver it with clear vocal choices.
offers excellence in writing through diverse styles. With selections ranging from 4-line Ogden Nash poems, to Lewis Carroll's Jaberwocky, to orations from Shakespeare plays, to famous historical speeches, children develop a mental library of excellent examples of vocabulary use, purpose in writing, strength in style choices, etc.
And What Do My Children Think?

Each of my children appreciates how IEW has made poetry selection and memorization a breeze for us. Truly, it's been our "easy button" for our AMP club preparations and also has provided us with general reading fun and listening times together. Without question, we have all been enjoying memorizing poetry together in just a few minutes at a sitting.



Should You Consider This Program?



In a word: YES!
Linguistic Development through Poetry Memorization
has been a win for us and, I dare say, could be for you, too! If you've been wanting to include poetry in your homeschool endeavors or if you have been seeking a simple way to exercise memorization muscles, I'd definitely recommend this program! It's ideal for:
families inspired by Classical or Charlotte Mason philosophies of home education
families with multiple children
those seeking to enhance their writing skills
those who need to practice oration
those who are looking for one-stop shopping for excellent poetry and speech selections to focus on.
If you'd like to see parts of the program yourself, be sure to go to the IEW website to access samples.



Learn More

Learn what 100 Schoolhouse Review families thought about this wonderfully easy poetry memorization system that also helps with reading readiness, provides a writing foundation, and centers on
mastery learning.

Find IEW on Facebook, Twitter, Pinterest, and YouTube.