In a traditional Montessori school the practical life work of sweeping as a part of caring for one's environment would go something like
this
. One recent morning here at Jammies School, it looked more like this:
Notice out the kitchen window that the back deck is absolutely covered in pine needles. Recognize that Luke and Nina's activity choices are becoming less sound as the morning goes on and recall the adage "to change the behavior, change the environment". Thus, decide it's not only time to change the kids' environment, but to get some outdoor time and exercise while checking off a Mama to-do as well. How?
Grab the Montessori kids' push broom and the adult one and offer the kids a challenge: Can we find a good way to remove all the needles from deck and steps?
Running here, there and everywhere?
Fun and good proprioceptive work, but leaves too many needles behind.
Pushing carefully in one direction?
Yep, much more effective!
But what about all the needles and leaves that get caught at the edge?
Simply bend down and use your hands to toss them into the wetlands. (Or, as Luke later discovered, try a Swiffer without a pad. It can lay down flat to push that debris needles right under the rail.)
And what about the steps?
Hmm, maybe using the big push broom this way is not so effective (nor safe!) So, camera away, brooms in Mommy's, Luke's and Nina's hands and some good, old-fashioned team work will do it!
Thus, it was that we closed a crisp autumn morning enjoying the satisfying sensory experience of pushing pine needles, scaling stairs and breathing in – deeply – cool autumn air, all while attending to the care of our environment.
Indeed, challenging behaviors changed into purposeful pleasure as we embraced the "chore" of sweeping our deck and steps. Practical life work yielded exercise, smiles and satisfaction. And, best of all, we then had newly cleared area to stomp, skip, gallop, and play on before having a picnic lunch.
On many occasions here at Jammies School we find spontaneous chores – done in snippets of time – can revamp behavior and revive a day!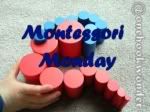 What small jobs and chores do you encourage the kids to take the lead with in your home? How do you use just minutes here and there to make your home sing? We'd love to hear about it! Leave a comment and check out the links at
Montessori Monday
and
Making Your Home Sing
, where this post is being shared.