Quick! Before the color is gone, zip up, get your shoes on, grab a camera and get outside!
I was just browsing some of our pictures from last year around this time when I found ones the kids and I took on our Orange Color Walk. I don't know why I have forgotten so far this year to repeat this fantastic autumn activity, but rest assured, I know we we are doing for out outdoor-nature study-proprioceptive-visual input-color spotting fun this afternoon!
It was just so much fun last year strolling along, then running to be the first to point to, touch or photograph something orange. Balancing on stone walls. Asking strangers on the street if we could photograph their sweatshirts. Ambling along sidewalks and wooded trails. And, then, coming home to classify the pictures -- Montessori-inspired style-- into such categories as living and non-living things, large and small things, etc. so much fun and learning tied into one simple fall outdoor activity. We simply must do it again!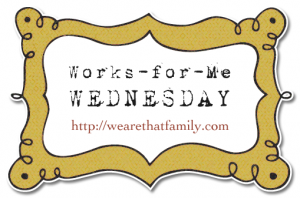 Autumn Orange Color Spotting Walks sure work for us! How about you? What grab-and-go autumn fun have you been having? Do share in a comment and be sure to visit
We Are THAT Family
to see what works for others this Wednesday.