Cheddar Chowder
. It's such an adaptable recipe. You can add in extra vegetables; toss in ham, chicken, sausage, hamburg and any kind of seafood (except clams, which just don't work well); and swap out parts of the milk for yogurt or other dairy products you have on hand. And, the measurements need not be exact. So, it is a perfect recipe for the kids to help with -- and that will help them practice
practical life skills
with success!
Here's how:
Work on
Washing and Scrubbing
by cleaning
:
4-5 medium potatoes.
a few stalks of celery (to equal about one cup, chopped).
a few carrots (to equal about one cup, chopped).
Then, if old enough, work on
Peeling
by taking the outside layers off:
1 medium onion (to equal about one cup, chopped).
the carrots that have already been washed.
If too young to use a peeler, observe and learn or help by placing the peelings in a bowl for composting.
Then, work on
Chopping/Cutting
the potatoes, celery, carrots and onion mentioned above.
And, now, try some
Measuring
and
Pouring
by putting
about 1 cup of each of the the vegetables mentioned above in a pan along with
2 cups of water.
Set the pan on the stove top and cook the vegetables until
just
fork tender, not mushy.
(Do not
drain the water from these.) Meanwhile, work on
Grating
:
2 cups of sharp, white cheddar cheese.
And, focus on
Slicing
by cutting:
2 tablespoons of butter off a stick, which should be gently melted in a pan over low heat.
At this point, revisit
Measuring
and
Pouring
while adding
Stirring
by putting:
1/2 cup flour in with the melted butter, stirring it in, before adding
2 cups of milk, slowly, stirring all the time to avoid lumps.
Then, add the cheese to this mixture, letting it melt in, but keeping the temperature low since boiling will make the chowder a gloppy mess.
If you want at this point, add salt, pepper, cooked meat/seafood, soft vegetables (such as spinach, lefotver broccoli, etc.)
Finally, practice
Mixing
, by stirring the potato-vegetable-water mix and enjoy!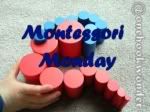 This post is being shared at
One Hook Wonder Montessori Mondays
. Check out the links there to be inspired by other Montessori-friendly activities and ideas.