This post, 3 Resources for Your Homeschool, was made possible through our review of Timeline of Classics,
A Word Write Now, and Teaching with Games Set by

Institute for Excellence in Writing (IEW)

.
A fan of read-togethers.

A believer in games.

A lover of words.

An admitted resource junkie.

A mom who still prefers to pull a printed resource off my shelf rather than having everything be digital.
All of these statements describe me and offer insight into why I chose to review IEW's resource set, for the set speaks to all of these facets of me. Further, I was impressed by another IEW product I reviewed earlier this year and, so, was excited to see more of IEW's well-lauded curriculum resources.
Just What I Have Been Wanting
Among the three resources I received for my second review of IEW materials,
Timeline of Classics was my favorite.

When
author Gail Ledbetter put together a chronological list of living books and other resources
for her family, she did exactly what I have been hoping to do, but have yet to pull together the time, focus, and notes to make my vision a reality. What a delight for me, then, was it to discover that Gail Ledbetter had not only done what I have been wanting to do, but blessed others by publishing her work. Now, I can use her work as a jumping off point, simply adding to it with my own family's fun and useful finds as we move along through our home education journey.

Thank you, Gail! Having your
87+ page, spiral-bound index of tried-and-true resources broken in hand saves me so much time, energy and thought.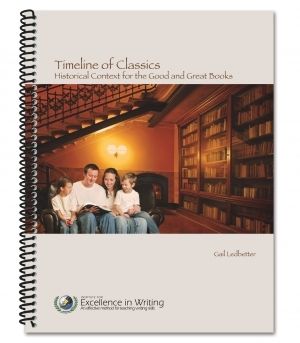 Timeline of Classics is broken down into the following sections:
Ancients (5000BC- AD400)

The Middle Ages (AD400-1450)

Renaissance and Reformation (1450-1850)

The Modern World (1850-Present)

Each of these sections is then further broken down by more specific historical topics, making it a breeze to find ideal literature, biographies, plays, recordings, and films that correspond to whichever particular historical period you and your children might be exploring.
Of course, not every possible resource is listed; only the ones that Gail Ledbetter and her children came to treasure. What is better than that? A vetted list of resources that help bring together the people, places, and events of the past in engaging ways!

Well, I'll tell you what's better: The list is an especially helpful one, because it is not not just titles and authors. Rather, it contains a brief descriptions of the resources and a key to determine if specific resources are appropriate for elementary, middle school or high school level students. Further, every page of the index has a quote taken from one of the mentioned sources. Oh, what a practical feast for a mama like me who loves learning about history alongside her children, discovering new resources, digging into classic ones, and being inspired by quotes that can come in handy as copywork for the kids.
Further, because
Timeline of Classics is a printed resource, it is uber-easy to pull down from the shelf to consult as particular historical periods pique my kiddoes' interests or come up in our homeschool adventures. The book is also easy to pop into our library bag so I can browse for new titles to take out as the kids do their thing at the library. And, because the index contained in it is printed on the front side of each page only, the blank back sides can be used for me to expand the list with my own notes and finds. So handy!

Save one tiny detail, I would say that
Timeline of Classics is a perfect resource for my needs. What is that detail? The fonts that the quotations sprinkled throughout the book is printed in. In a future publication of the book, I would encourage the publishers to reset that font as the current one, although readable, is a bit small and tough on eyes like mine. But, as I said, this is but a tiny detail. Even just as the book stands now, I love it!

I have been happily consulting
Timeline of Classics and consider it a gem. I can see it proving so for Charlotte Mason, Classical, Unschooling, and Eclectic aficionados alike. Any person interested in history and living books will likely appreciate this treasure trove index!
Concise, Practical and Inviting
A Word Write Now was my second favorite resource among the collection I received. Loranna Schwacofer certainly packed a lot of practicality into the
glossy-finished, full-color pages of this spiral-bound resource.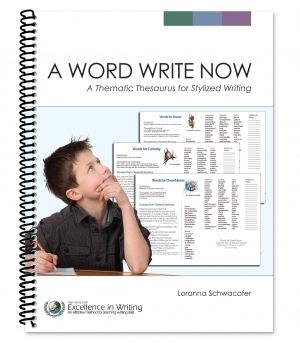 The book begins with an introduction and two pages that offer simple definitions of parts of speech. Then, it continues on with three sections of theme-based word lists and an appendix that contains common literary devices with sentences examples, as well as teaching tips, games ideas, and lists of words for transitions, prepositions, and literary genres.

The theme-based word lists center on:
23 character traits and related words categorized by nouns, adjectives, verbs, phrases, etc.

words to describe appearance, color, size, temperature, texture and shape

words to describe movement and senses
Many of the pages also contain definitions for traits, thoughts on the traits, excerpts from classic literature, inspiring quotes, and blank spaces where students can write additional words. A complete bibliography is also included.

What a concise, colorful, inviting, user-friendly resource it is. My nine-year-old son enjoyed using it. Friends who saw it on the blanket at one of our art-music-and-poetry club meetings thought it was a useful reference, too, as we wrote acrostic poems.

My only complaint since opening its pages is one that is no fault of the publisher's. Because we like the resource so well, we left it on our kitchen table for ready reference. Unfortunately, one day a vase got tipped over onto it and large portions of the book got soaked. Because I had a geography club to run at my house minutes after the accident, I did not have time to deal with the spill right away and, by the time I took it outside to dry in the sun, many pages of it were already sticking together.

Thankfully, a friend who came early for geography club helped me to try to pry the pages apart without ripping too many. Then, we had our kids collect small, clean stones so we could put them between each of the 106 pages of the book to prevent the pages from re-sticking as they dried in the sun.

By the time our club activities ended, all of the pages dried and I laid the book under a mattress for several days to flatten everything out a bit. That worked to some degree. Some pages did re-stick and rip when I pried them apart. Other pages are stained from the dirty water in the vase. Most, however, are still usable, thank goodness.

My son still appreciates our copy of
A Word Write Now and references it. In fact, one day I was incredibly humored when I found in in a towel referencing the book. It seemed he had thought of something in the shower and wanted a better word for it...

Some of my tutoring students have used the book with me, too, finding it helpful when doing writing exercises and projects.

Everyone who has looked at my copy likes it. I just wish it was still as crisp and inviting as it was before the vase accident!

My recommendation? Of course, if you get a copy, do not allow fluids near it, because the glossy pages do stick together more than non-glossy pages do when spilled upon, and it's too good a resource for such a mishap to occur. User-friendly inviting, compact, yet complete,
A Word Write Now, in my opinion, is a quality resource for any student homeschooled or otherwise.
Helpful for Those Seeking Read-to-Use Adaptable Game Ideas
Oddly, the
Teaching with Games Set, which I expected to be my favorite among the resources, was the one that left me least-wowed from a personal standpoint. It was also a resource, however, that I have already recommended to friends and will continue to recommend to people.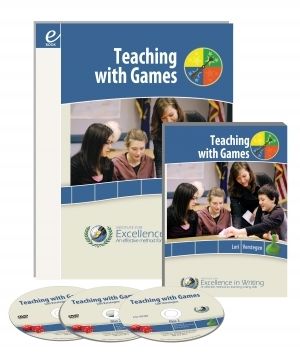 Now, why would I recommend something that has not wowed me as much as other things? Simply put: because it is a fabulous resource for the right person!

What makes it great?

In short,
the

Teaching with Games Set is a 3-in-1 tool for teaching parents and educators how to enliven home and classroom learning through purposeful games.

The set I received came with two DVD's, a CD-rom, and a-117 page spiral bound book that all have one aim: to make teaching with games a regular part of how you teach and review content across subject areas. Each component of the set helps folks do this in a different way.

The DVD's show author Lori Verstegen teaching other parents how to play 20 different kinds of games in a seminar setting. Although I did not learn much in viewing these videos, I enjoyed watching them. They reminded me of workshops that I used to offer when I taught ESL in Japan and was asked to teach both Japanese and fellow foreign teachers of English how to utilize games in classrooms: interactive, practical, and filled with ideas that teachers can go home to apply right away. In watching the videos, I appreciated how Lori Verstegen clearly explained and demonstrated a wide variety of learning games and can see how viewing her presentation could help those less expert at the use of learning games come away with the motivation and confidence to make games a part of everyday learning.

The CD-rom compliments the DVD's with clearly written instructions for the games demonstrated on the videos, read-to-go sample games, and blank game boards all in e-book format. It also contains some bonuses, including a game called Synonym Sheninagans which I have never heard of before and have adapted as an oral game until my younger children become stronger spellers.

Many of the other games on the CD-rom are similar to those already in my repertoire of teaching ideas. However, there are, of course, new twists on them and helpful ready-made samples, which inspire me. Further, for folks who seek simple templates that can be printed to customize games for current studies and age levels, this CD-rom is quite handy. The digital format makes printing a breeze so that folks can use ready-made games and templates right away.

The soft-cover, spiral-bound book offers basically the same materials as the CD-rom, minus the bonus materials. Having this hard copy of the book in conjunction with the digital version on the CD-rom is super handy. Parents and teachers can take the book down from the shelf to page through it, and, then, choose to photocopy games from the book, print them from the CD-rom, or create them freehand, modeled after ideas in the book and on the CD-rom.

Just what kind of ideas?

Lots!

Game ideas are broken down into five categories:
"No Prep" Games

Matching Card Games

Question Games

Math Facts Games

"Make as You Teach" Games

Some of these are variations of games most people are already familiar with, like Academic 20 Questions, Lotto, Bingo, Tic-Tac-Toe and the like. Others are more unique, but also known in one variation or another to experienced teachers. Think Lightening, Avoid the Card, etc. Still more are ones I had not played any version of before seeing the resource. Number Line Tug of War, for example. All in all, there are a wide array of games included that appeal to all different ages and styles of learners. Better still, the games are adaptable to almost any curriculum topic and setting. They can be used by family, co-ops, religious education classes, etc. I always love games like that!

Regarding the ready-to-go samples of games included on the CD-rom and in the books, a number of have engaging hand-drawn images on them that I appreciate for their authenticity. No cookie cutter clip art there!

Other sample games contain more "boring" textual materials according to my kiddoes. However, this is because two of my three children are not strong readers yet. Children that read well know that not everything has to have a graphic and textual game pieces and clues can still be fun.

A small portion of the sample games included in
the

Teaching with Games Set have a "photocopy of a photocopy" quality which surprised me. These pages reminded me of hand-made and many-times-copied handbooks that I created and shared with colleagues when teaching in Japan over two decades ago. These handbooks, like the sample game pages in the resource that I refer to, are useful, but not up to par with today's highly visual world with laser-quality printing. Thus, I did not expect to see such homemade quality mixed in with the typical modern-quality of IEW materials. That aside, I want to emphasize that, although the quality of such pages surprised me, it did not disturb me. The pages may not be contain the clear, crisp, sharp visual quality that the rest of the pages in the resource and those in most IEW resources do, but they are still chock-full of use!

As someone who has been playing learning games with children for decades now, I appreciate that the
Teaching with Games Set promotes a passion of mine and makes what comes naturally to me more accessible for others. Yes, many of the games in the resource are variations on ones I was already familiar with, but I still found inspiration in the presentation of the book, CD-rom, and DVD's. Further, in browsing the materials with others, I discovered that many of the games that are "old hat" to me are new and "wow"ing to others. With tried-and-true examples of how to engage students with learning games, this resource set is quite worthwhile. Parents and classroom teachers who are novices at learning through games can easily become more experienced. "Old timers" like me can discover new tweaks.

Surely, my
Teaching with Games Set, is a resource that I will continue to share with home educators and classroom teachers who ask me about games and learning. I love that I now have it on my shelves to offer as a resource when fielding homeschool support questions and appreciate that it offers some interesting tweaks to favorite games that I already use as well as a few new ideas to add to my "bag of tricks". I'd recommend the resource to others, especially those who lack confidence in creating and playing learning games.
Sample Pages

You may view sample pages of Timeline of Classics and A Word Write Now, as well as see a game sample from Teaching with Games on the IEW website. Once you do, I think you may see why
Timeline of Classics,
A Word Write Now, and the Teaching with Games Set by

Institute for Excellence in Writing
are three resources you may want to consider for your homeschool shelves. I know I am thankful to have them on mine!
Learn More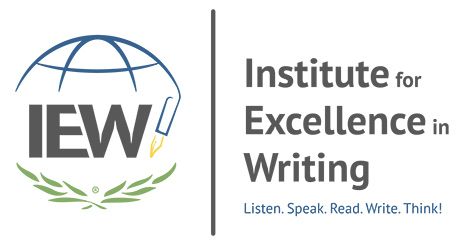 What resources are you seeking to keep handy on your homeschool shelves?