We have been quite lucky for the past month or so to test out Skin Clear Cream, Manuka Honey Propolis Soap, and Emu Oil Shampoo and Emu Oil Leave-in Conditioner by

Koru Naturals

.

Regular readers might recall how the last
Koru Naturals
products we tried had us smiling:

I particularly loved how the Emu Oil that we tested out worked to tame my oft frizz-monster-mess hair. Unfortunately, no body products can tame my mile-a-minute brain, nor the fact that, sometimes, my personal mean-to-do's don't get done. You know, things like ordering a refill of the Emu Oil.

Thus, when the opportunity to review
Emu Oil Shampoo and Emu Oil Leave-in Conditioner came up, I jumped at it. A summer of swimming in pools, ponds, and oceans with the kids, coupled with failing to get regular trims, had my hair looking even worse than usual. I hoped the
Emu Oil Shampoo and Emu Oil Leave-in Conditioner might help.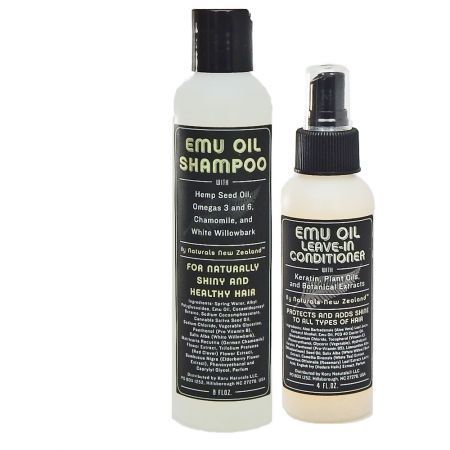 Did it?

Yes and no.

Since beginning to use these products, my hair has definitely felt clean and has not gotten any worse. However, I think the sheer number of split ends that I developed when abusing my hair throughout the summer has simply been too much even for the "magic" of emu oil and keratin to repair. The long and short of things is that I need to book a hair appointment for a trim, but, until I do, I am happy to have the
Emu Oil Shampoo and Emu Oil Leave-in Conditioner to keep any further damage at bay. I also look forward to seeing what the products can do for my hair after all the current dead ends have been trimmed away.

I am confident that using the rest of our
Emu Oil Shampoo and Emu Oil Leave-in Conditioner will help keep further split ends at bay despite tight pony tails, winter swim lessons with the kids, dry indoor heat, etc. Part of my confidence comes from the fact that the conditioner is a leave-in one. That means the keratin, which can help prevent breakage and split ends, does not simply get washed down the drain. Instead, it sprays on and stays. Plus, the handy spray bottle it comes in allows me to take a moment or two to put extra concentration on the worser parts of my curls (the ends!)

My daughter likes the spray bottle, too. Perhaps a little too much. When I fail to remind her not to be too heavy handed with it, she sometimes goes to town spraying away, and, although the product label does suggest using a generous amount, I don't think anyone is meant to use as much as my daughter sometimes does. Doing so leaves her hair looking less than stellar some days. However, when she uses appropriate amounts of the conditioner, it shows... in a positive way!

My boys tend not to use the conditioner, but do use the shampoo without complaint and with good results. Their hair (when they shower and shampoo) gets "squeaky clean" and looks great.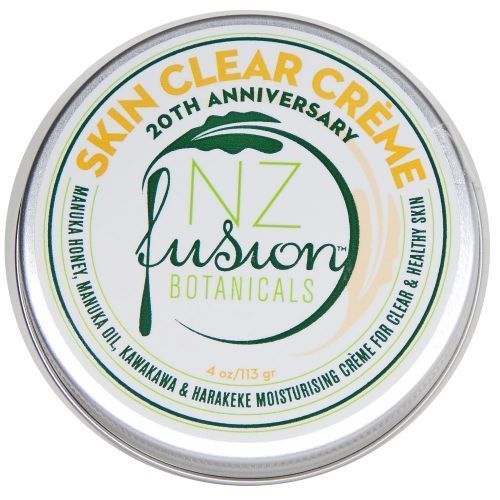 My hair was not the only part of me that took a beating this summer. My skin did, too. As I age, it gets drier and drier, it seems, and, summer surf and sun does not help.

I have never been one to use skin products on a daily basis, but am trying to get in the habit of using them more. At my last physical, in fact, the nurse practitioner commented on how dry my skin is and on how I could use a more consistent regime for moisturization. Enter
Skin Clear Cream.

This product contains:
raw, unpasteurized Manuka Honey

pure steam-distilled East Cape Manuka Oil,

Kawakawa and Harakeke (which are two traditional Maori remedies for many skin conditions)

Burdock Root (which is a Chinese root traditionally used for skin conditions that is rich in several minerals)

T

hyme (a natural astringent and anti-inflammatory extract from leaves)

and

Canadian Aspen Bark (a natural preservative).

Better still, like all the products in the NZ Fusion line, it contains no parabens, artificial colorants, or fragrances. It does, however, contain something that causes it to be labeled with a warning not to use the product on young children or pregnant moms.

I know that many herbs, remedies, and natural products contain similar warnings and am not exactly sure which ingredient in this product acts as the catalyst warning. However, since I am not pregnant and am also aware that children, pregnant moms, and nursing moms must take care when using many herbs, natural remedies, etc. I have yet to prioritize researching this point further.
Instead, I simply try to remember to make using the
Skin Clear Cream a part of my daily routine. "Try" is the key word here since routines are hard for me to change. So, I admit, instead of using the creme twice daily as recommended, I end up using it once every few days. Happily, even with such sporadic use, I find the product works well moisturizing my skin. A little goes a long way and, now that I am used to its scent and texture, I am simply working on the habit of actually taking a moment each day to put it on. My skin will thank me for doing so, I know. It already does when I remember to put the creme on.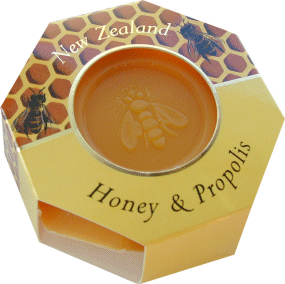 Now, what is that old saying: "save the best for last". Oh, yes, I have! Can I say how much I love the
Manuka Honey Propolis Soap?

It comes so cutely packaged and looks so inviting once it is in the shower, with its opaque creamy texture on one side and a more see-through color on the other, plus that cute little bee imprint. And the scent? Oooo, the scent is divine! I tell you, the first time I used the soap, I came out of the shower wanting to eat something that smelled just like it. (Thank goodness I might be the first person in history to blame weight gain on a bar of soap!)

The soap not only looks and smelly wonderful, though. It cleans skin gently and has natural anti-bacterial properties. It also seems to be helping to moisturize my children and my skin instead of drying it out like some soaps do.

The bar is a good size and seems to last despite being well-loved. When it does disappear, I must prioritize re-ordering some... and getting more Emu Oil while I am at it.

Again, I am impressed with
Koru Naturals

products. It feels good using natural products to keep hair and skin healthy
and I would recommend any of the products we have tried. Our positive experience with six products so far makes me confident that other Koru Natural products would be easy and effective to use, too. If you'd like to learn more about some of them, please check out other Schoolhouse Review Crew reviews. One hundred families each tried some of the following products: