I just love when we're offered an opportunity to review a product that dovetails perfectly with our planned homeschool activities for the year. Such was the case when we were offered an e-copy of

Drawing Around the World: USA by Brookdale House.

This year, the kids' monthly geography club is focusing on regions of the United States. Between meetings, the children choose their own special interest topics and put together five minute "expert reports" to share with friends. To supplement club meetings, we also read related books, sometimes watch videos, and, now, with thanks to Drawing Around the World: USA

, gather to:
learn the names, shapes, and placement of each state.

memorize the names of state capitals.

and create information sheets about each state.
Wonderful!
We loved our geography club experience last year, but I came away with wishing that I'd been better about having the children document their learning in a form which they might look back upon in years to come. So, this year, I am
determined to be more consistent with geography notebooking between club meetings and
Drawing Around the World: USA makes that easier!
What's in Drawing Around the World: USA?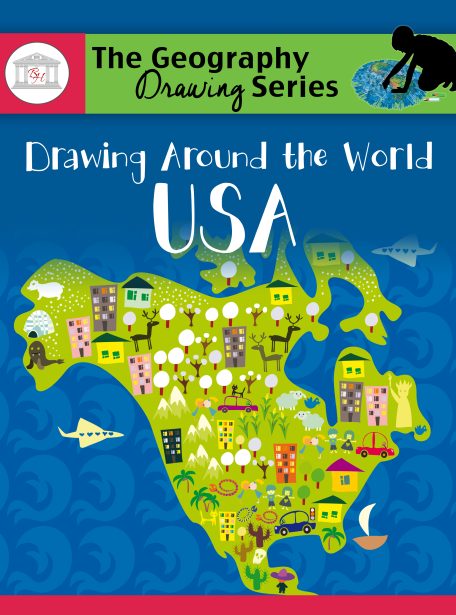 We received Drawing Around the World: USA as a digital download that opens with Adobe Reader into a 282 page e-book.

The first pages of the e-book offer straightforward instructions about how to use the curriculum as well as tips and links for further explorations. Then, the bulk of the book is made up of printable pages that will carry students through becoming more familiar with the United States and being able to draw, from memory, each state in relation to the other states. In fact, if the materials are used as suggested, four times a week for 5-20 minutes a session, students can learn all 50 states, their capitals, their shapes, and their positions in just 27 weeks.

To use the curriculum as directed, on day one of any given week, your child:
traces an outline of a particular state (or several states , depending on the week)

draws another outline freehand

learns and writes down state facts (such as the state capital, the state's abbreviation, the date the state entered the union, the state bird, the state flower, and industry within the states)

traces the state on a large map of the United States

and draws all the states learned to date.
Then, one days two and three, your child, again:
locates and labels each new state on a black and white dashed-line map

and draws all the states learned thus far on an outline.

Finally, on day four, your child:
lists, from memory, the states studied to date

uses a blank textbox to draw, from memory, states learned

or completed optional timed tests.
Our Start with Drawing Around the World: USA
After receiving
Drawing Around the World: USA, I printed out the full color state and capital maps, which the kids cut and glued onto cardstock to place in their geography notebooks for reference.
Then, because I noticed that many of the day 2, day 3 and day 4 pages were almost identical, I opted to save ink by printing out only one of each style of page per child, which amounted to a single:
dotted-line map of the USA

frame map

and lined page for listing the states and capitals.

I helped the children slip these into page protectors and put them in their notebooks.

I, then, printed out the first six state information pages for the children to complete and mount on cardstock for their geography notebooks. The children used regular and colored pencils to trace, draw, and color the states on these. Then, depending on each child's ability, they either researched information in library books, on state flashcards, and online to complete the pages, or simply copied what Mom and big brother had found and written down.


After that, we used dry erase markers to locate, draw and label the states on the maps we had put in page protectors and also wrote the names and abbreviations for the states.

Thus, we were off to a strong start on integrating the resource materials into our geography notebooks...
Our Continued Approach and Thoughts



The children agreed that
Drawing Around the World: USA
came into our home an an opportune time and are happily willing to use it, although not at the pace and with the repetition recommended.

Together, we have decided to take the states in a slightly different order than they are presented in the book so as to match them up with the regions which we are focusing on in geography club. We have also opted to speed up the pace of our studies during months when our club focuses on regions that have more states and to slow down when we study regions with fewer states. Due to this, the daily rhythm of repetition inherent in the program gets a bit lost for us, but we're okay with that. We appreciate that we are still able to do a little bit several days a week and to integrate the program into our overall geography studies for the year.

As we have been using the program, I have noted the convenience of the e-book format: I can print only the pages we need and can print as many copies of them as I want for my three children to use.
However, I have also thought it would be nice to have a pre-printed copy of the book, especially for my nine-year-old. I know he could progress with the materials at his own pace if he had the entire thing printed instead of waiting for me to print pages. I also think it would be interesting to see how his drawings, handwriting, etc. developed over time on pencil-on-paper pages that we could look back on as opposed to on dry-erase marker-and-page-protector pages that we wipe clean after each use. (Yes, I know I could just print and bind him a copy, but 200+ pages requires a lot of expensive printer ink!)

I have also thought, more than once, that I'd like to see hints or associations for drawing the states, such as "Vermont is shaped a bit like the letter that starts its name," or, "Brrrr. Maine gets chilly in the winter, Doesn't it look a bit like a mitten?" Putting hints like these in graphics or callouts would add interest to pages that begin to look and feel a bit rote after a while to kids like mine. They would also help the children remember each state's shape. Since such tips are not already on the pages, I encourage my children to come up with their own associations. It's not always easy, though, and I'd sure like some ready-made ones!

Even without helpful association and memory hints,
Drawing Around the World: USA is a resource we are happy to have at our fingertips now. It supplements our geography club activities well and is helping my children and I become familiar with the states, their shapes, their locations, and more. I cannot wait until we can all draw the United States from memory! That will be quite a feat for us.


Learn More

View sample pages of many Brookdale House materials.Find Brookdale House on social media:
Read what 100 Schoolhouse Review Crew families thought about a variety of Brookdale House's wonderful collection of Charlotte Mason-friendly digital and print homeschool resources, including:

Would a Brookdale House curriculum resource fit well into your learning adventures this year, too?