When I was offered the opportunity to review
Primary Arts of Language: Reading Complete Package
and Primary Arts of Language: Writing Complete Package from
Institute for Excellence in Writing (IEW), I was thrilled!
Nina worked happily with this curriculum whenever we did it together. Sometimes, we adapted the directions on printable consumables to suit her desires on a given day.
For years now, I have suspected that my daughter has dyslexia. However, rather than investing time running around to appointments and therapies to pursue an official diagnosis, my husband and I have opted to invest time and energy in areas of her strengths while also continuing to seek resources and strategies to help with her challenges.
IEW's Primary Arts of Language (PAL) packages, which are aimed at chidlren with reading levels below grade two, are just such resources!
"Complete" is an appropriate word!
Nina hardly needed to begin with writing basic letters, but she did. Why? Because she wanted to! I like to let her make choices and lead sometimes even when approaching "boxes" curriculum. Speaking of "boxed" curriculum, I am absolutely delighted with how comprehensive and easy-to-use this one is!
Although I had read online about what my family would be blessed with in our PAL packages, I must say that when I opened the box and began diving into
Primary Arts of Language: Reading
and Writing I was wowed. There was just so much there!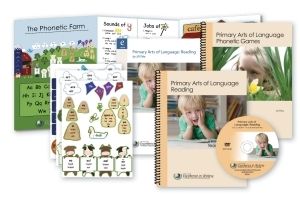 Primary Arts of Language: Reading came with:
a Primary Arts of Language: Reading Teacher's Manual, which I began reading right away, found straightforward and easy-to-follow. This manual is spiral bound and well laid-out, which makes it easy to reference during lessons. It contains specific, simple-to-implement instructions for presenting poetry, phonetic rules and games. It also has pages and pages of cut-and-go cardstock word cards. (Can we say easy-peasy prep?!?)
a Primary Arts of Language: Phonetic Games book, which is also spiral bound and includes game boards, which are meant to be cut out and mounted on file folders, and game pieces, which are pre-printed on card stock and can simply be taken from the book and cut apart. I just loved that all of this was pre-printed which made setting up the games a breeze. However, I admit, I did not use all the games each time they were suggested in the plans because we already have other games we play.
a Primary Arts of Language: Reading DVD-ROM, which I only accessed at first for the Primary Arts of Language: Reading Student Book (e-book) which includes printable pdf files. I later took more notice of the other helpful portions of the DVD-rom:


an instructional video by Jill Pike, which makes the complete -- and, perhaps, seemingly overwhelming to some -- program easy to understand and get started with

four informative MP3 audio talks: Nurturing Competent Communicators by Andrew Pudewa, The Four Language Arts by Andrew Pudewa, Poetry as an Integrator by Anna Ingham, and Intro to the Blended Sound-Sight Program by Anna Ingham.

a Primary Arts of Language: Phonetic Farm folder with stickers, which I dare say fits well with the description "simply genius". The full-color folder and stickers are visually appealing, easy-to-use and oh-so-helpful in helping children remember the different letter combinations that can make the same sound. My daughter said it was her favorite part of the program!
To get an even better idea about each of these package components, head on over to the IEW website to download samples, listen to audio clips and view video excerpts. When you do, though, be aware that what you'll find is only a taste of the comprehensive program that will land on your doorstep if you order this product. As I said before, I am wowed by it! It has poetry, letter stories, games, activities and more. Better still, like many other IEW products, it is especially written to be as helpful for special needs students as it is for those without specific challenges. To me, this is HUGE! I love that it can help my struggling learner and that later, because of the printables on the DVD-ROM, I can use it with my youngest. It holds appeal and purpose for both.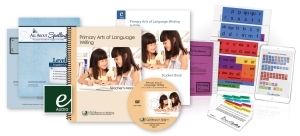 Primary Arts of Language: Writing Complete Package is fabulous for special needs learners and others, too! And, like the PAL reading package, it is oh-so-comprehensive! In it come:
a Primary Arts of Language: Writing Teacher's Manual, which is spiral bound and not only contains complete daily and weekly instructions for presenting printing, copywork and composition lessons, but also has a 72 page appendix filled with posters, charts and more to make prep easy!
.
a Primary Arts of Language: Writing DVD-ROM, which includes the Primary Arts of Language: Writing Student Books (e-book) that allows you to print out consumables as needed (for multiple children in your family if you intend to use this curriculum with one sibling, then another. So handy!), a helpful instructional video and five useful MP3 audio talks:
Dictation, Narration, and Public Speaking by Andrew Pudewa
The Four Language Arts by Andrew Pudewa
Units I/II in the K–2 Classroom by Shirley George
Unit III in the K–2 Environment by Shirley George
The K–2 Writing Environment by Richelle Palmer



an All About Spelling Basic Interactive Kit, which contains letter tiles, magnets, spelling divider cards and a downloadable sound app to help children learn through sight, sound and touch while making mom and dad's prep so easy!
an All About Spelling Level 1 Student Pack and teacher's Manual which make taking this customizable, multi-sensory program from package to child so, so easy and successful! (I have long been debating about if I "need" All About Spelling (AAS) for my children, and, now can attest that even if no one ever really needs any specific program, some make it so much easier for children to master spelling. AAS used as a part of IEW seems to be just such a program!)
My Bottom Line
I was delighted when my daughter, inspired by this curriculum, asked me to write out a poem she had composed and, then, proceeded to copy it so beautifully!
I had heard about
IEW's fabulous reputation before being selected for this review. Now, I know firsthand why they have it.
Primary Arts of Language: Reading
and Writing, if used together, step-by-step, piece-by-piece, exactly as intended can, undoubtedly help children learn to read, spell and write with confidence, proficiency and even fun! It can be equally helpful and enjoyable if used a bit more piecemeal in order to adapt to a child's existing knowledge and skills and a family's schedule.
Truly, if you are looking for a comprehensive curriculum with well-written teacher's manuals, easy-prep games and activities, family-tested-and-recommended lessons and a heart for all children - including those with special needs,
Primary Arts of Language: Reading Complete Package
and Primary Arts of Language: Writing Complete Package could be it!
Learn More