When our family was offered a chance to review Happy Kids Songs Friends & Sharing (Set 1), Happiness & Attitude (Set 5) and Manners & Character (Set 6), as well as the companion
Happy Kids Songs Workbook: Hands-on Activities to Build Character, Social & Emotional Skills, I did not hesitate before saying "Yes, we'd like to do so!" For, although I have not written much about it lately, long-time readers might recall that our family was on a diagnosis road for a while, and literally driving between therapies for one of my children. So, anything that encourages strength is social skills and character development is always welcome here.
Of course, the child who could most use both the overt and subtle messages of the Happy Kids Songs sets is in a no-music phase, preferring instead to listen to audio dramas and books on CD. So, that meant my other children were the ones who really enjoyed the songs so far!
We played the songs in our home on my computer while doing other activities, and, as you can see in the photo above, at least one child sometimes just at and joyfully sung along with the songs on occasion!
What Are Happy Kids Songs?
At the risk of being redundant,
Happy Kids Songs are, well, happy songs for kids. Truly, the product is aptly named. For, the three downloadable MP3 sets I received, indeed, contain upbeat, cheerful songs for children
that emphasize positive attitudes, good manners, and desirable traits, such as sharing, giving complements, and honesty.
Some of the songs are sung by adults and others are sung by children. All are professionally recorded and vary in style and tempo. Each is only a couple minutes along with clear, easy-to-sing along with lyrics. Thus, the songs offer an opportunity for little learners to commit positive character messages to memory through the power of song.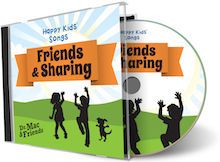 Friends & Sharing is perhaps the most mellow of the collections we reviewed, yet still has catchy tunes, which are:
Sailing on the Seven Cs, which is a song that names the ingredients of friendship as caring, consideration, commitment, communication, concern, curiosity and cooperation.
Everybody Wants to Find a Friend, which encourages you to reach out to others because everyone wants a friend.
Sharing Friends, which reinforces that it is okay when your friends want to play with other friends.
Happy as Happy Can Be, which is about how it feels good to be with a friend.
Together, which sends the message that you can be friends with someone even when you are not with them.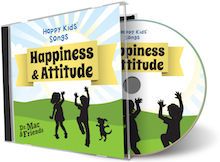 Happiness & Attitude
is an upbeat collection that features two songs in the kids rock genre and other at a little slower tempo. Songs on the album are:
Shake It Out and Dance, which encourages children to give things a chance before deciding they cannot do something.
Who Knows What's a Kudo?, which teaches the vocabulary word "kudo" while also exemplifying how to offer true compliments to others.
I Don't Understand, which emphasizes that it's okay to ask questions and that we all have different limitations and understandings.
Be Good to Yourself, which is about being good to yourself and others.
Better Together, which is a feel-good song about being together with friends.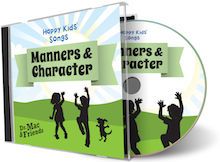 Manners & Character has spirited songs that stick in your head. These are:
H-o-n-e-s-t-y, which shares reasons why it is important to tell the truth.
The Magic Word, which, of course, is about saying, "please".
Quirks, emphasizes how we all have our differences and unique habits, but that's okay.
The Golden Rule, which focuses on doing to others what you would like them to do to you.
Six Little Kids, which uses a story to explain how even when people have different perspectives, all of the perspectives can be true.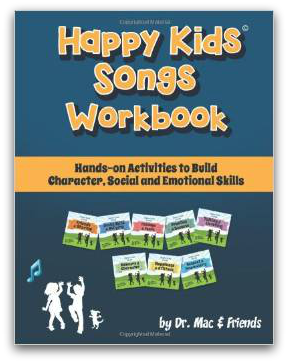 The physical Happy Kids Songs Workbook: Hands-on Activities to Build Character, Social & Emotional Skills
contains song lyrics, worksheets, coloring pages, puzzles, lesson plans and more for all of the songs in the entire Happy Kids Songs collection. Some of the materials are geared for very young children (coloring), while others are suitable for older children (crossword puzzles). The lessons included seem, to me, more appropriate for schools and day cares than homes, but still contain some worthwhile nuggets.
We used the workbook so far just to read the lyrics for singing along. I will likely use some of the activity sheets later in the year.
As an aside, some of the song lyric sheets and activity pages in the workbook are available for free if you subscribe to the Happy Kids Songs newsletter. However, to save yourself time and ink, as well as to get bonus lesson plans and activities, the workbook can be a great idea!
Do Happy Kids Songs make me happy, too?
While I certainly do not feel that
Happy Kids Songs are essential listening for home and homeschool, I do think they make a worthwhile addition. They include positive messages presented through upbeat, catchy tunes that two of my three, so far, have been enjoying. So, that makes them a win for me.
I also think the songs and accompanying workbook would be great for co-ops, classrooms and day cares. Because Happy Kids Songs are a secular product, they can be used anywhere.
For home or group settings, some things I like about Happy Kids Songs are:
Recordings are professional and contain a variety of styles and tempos.

Albums are affordable at $4.95.

Lyric pages make the songs easy to sing a long with and reinforce reading skills.

The songs are fun to listen to and have positive messages.

The workbook includes copyright permissions which allow you to copy pages for more than one child at home or in a classroom.
Further, although we love Catholic/Christian resources here, not everyone we know shares our faith. Thus, I like that we can share the clean, catchy, values- (but not faith-) based Happy Kids Songs tunes with anyone.
The only thing I do not like is that they only come as MP3's. Honestly, I prefer pre-recorded CD's.
Learn More
There are five other Happy Kids Songs
sets:
You can listen to sample clips of songs and sign up for free song and activity sheets.
All sets target children, ages 3-8.
Each Happy Kids Songs album contains five songs that can be purchased and downloaded for $4.95
. Individual songs can be purchased for $0.99.
Lyrics and activity pages can be downloaded FREE.
lyrics, activity and coloring pages are available as a FREE download for an added bonus! - See more at: http://chestnutgroveacademy.blogspot.com/2014/08/review-happy-kids-songs-tos-review.html#sthash.xgWaVhKm.dpuf
You can also purchase a physical copy of the Happy Kids Songs Workbook: Hands-on Activities to Build Character, Social & Emotional Skills

for $12.56.
See how 100 or so others are using
Happy Kids Songs in their homes by reading the reviews linked at Schoolhouse Review Crew.

Find Happy Kids Songs on:
How do you help your children learn and grow with social skills and character?