When our family was offered a chance to review Wizzy Gizmo's Audio Drama One: Who Created Everything?, I sat down on the couch my children and listened to an online preview of the audio. Before the preview was even half-way done, my oldest Luke smiled excitedly and said, "Get it, Mommy!"
Luke was thrilled when our Who Created Everything? CD came in the mail. His younger siblings, Nina and Jack, however, I think were even more excited when we listened to the CD on our way to and from summer adventures. Indeed, they sometimes got very silly as soon as the songs in the CD played!
What is Wizzy Gizmo?
Wizzy Gizmo, the company, is a publisher founded by two Christian fathers, a pastor and a music minister. It offers audio dramas, books and Bible study cards which help children explore
God's Word. Wizzy Gizmo products are designed mainly for children ages 4-12, but are layered in such a way that they can help entire families gain a better understanding of the Bible.
Wizzy Gizmo, the character, is a
genius inventor who loves God and exploring the Bible and who makes fantastic, fun gizmos to help other characters explore with him.
What is Who Created Everything?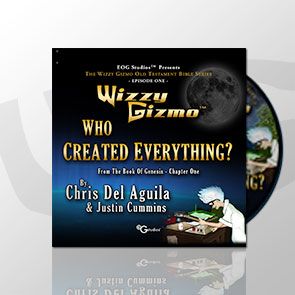 Who Created Everything? is a

physical

CD that contains a 36-minute audio drama of Genesis, Chapter One, complete with character voices, songs and sound effects. The CD also includes 24-minute bonus soundtrack of songs, both sung and instrumental.
In the audio drama, children named Summer, Thomas, Eli and Olive have been waiting for Wizzy Gizmo to complete his greatest invention yet - the Gizmovision machine, which can take folks right into the sights and sounds of a book.
When the Gizmovision is finally finished, it comes to life. There is a big flash of light. Then, the children find themselves in the dark.
Thus, begins the children's adventure, which takes
them back to the beginning-Genesis, where they are able to see and hear the days of creation unfold.
As the children explore, they are joined by two silly sidekicks, Qwacky (a robotic duck) and Pepe, (Wizzy Gizmo's dog, who can think and speak with the help of one of Wizzy Gizmo's other inventions). A narrator presents Bible verses. Songs add fun. And everyone comes to better understand Genesis, Chapter One.
How did we use it and what did we think?
As we are in a season of experiential learning, we are rarely-at-home-schoolers. Thus, we added
Who Created Everything? to our collection of minivan listening selections and ended up listening (and chair dancing) to it a number of times, sometimes twice in a row.
The children also enjoyed taking the oral quiz that is included right on the CD!
I, personally, liked the CD. Sure, it was corny at times, but it was also:
entertaining for the children.
punctuated by songs (that at first I thought were ridiculous brain candy that distracted from fun, focused faith learning, but which later grew on me as my children delighted in them).
sprinkled with strong vocabulary (like "auspicious").
layered with well-presented, engaging fun and faith.
When I asked Jack what he thought about the CD, he giggled. "I lie the strawberry song and the mango song!" Jack and his sister then broke out in song.
Once Nina and Jack were finished singing, Nina piped up that she would like even more songs on the CD, with the mango song being longer and more musical bonus tracks.
Big brother Luke then groaned. He said, "They should cut out the music at the end and make the story longer. They should include more stories, like about Egypt and stuff."
Luke went on to say that he especially liked the character Pepe and Qwacky, because they were funny, and that the Gizmovision was cool, but that he wished the kids in the audio drama could do more than just see and hear the action in Genesis. He wanted them in it!
Of course, the kids did not just lie the "fluff" of the CD's -- the funny characters and silly songs. They also benefited from hearing scripture narrated and illuminated. In fact, more than once wince
Wizzy Gizmo came into our lives, I have heard my children incorporating ideas from it in their own play as well as chatting about what they have heard on the CD.
Fun, faith-centered, entertaining and enlightening at a level the kids get. That makes
Wizzy Gizmo's Audio Drama One: Who Created Everything?
a win for us!
It will stay in our on-the-road repertoire of listening options for some time.
Learn More
Listen to a number of clips of the
Audio Drama One: Who Created Everything?

Visit the Schoolhouse Review Crew to see what other families thought about Wizzy Gizmo's Audio Drama One: Who Created Everything? as well as about these other Bible-based resources: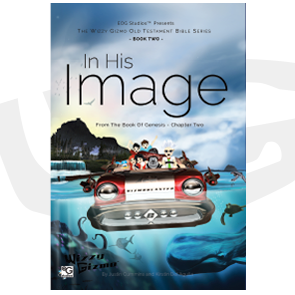 Find
Wizzy Gizmo at:
Current Special Offer
Wizzy Gizmo's Audio Drama One: Who Created Everything? (aimed at children aged 4-12) is typically $14.99, but right now all Wizzy Gizmo products are up to 10% off.
What are your favorite resources for faith and fun on the road?