As a child, I loved flashcards. My children? No so much. But they do love my laptop.
So, when I was given an opportunity to review UberSmart Math Facts by UberSmart Software with the kids, I took it. It seemed like an effective way to combine a childhood love of mine, a current interest of my children's and a necessarily step in lifelong math sills -- mastering math facts!
The Story Behind UberSmart Math Facts
UberSmart Math Facts is the brainchild of homeschool dad and computer programmer David Kocur. In a nutshell, he created the program for his own children, realized how well it worked and decided to share it with others.
As the story goes, one day David was sitting at his desk when his wife came to ask him to write a program to help their children master math facts.
David thought there must be an effective program out there already, so he looked around online. Upon finding everything he looked at unsatisfactory, he did as his wife had asked him to do and set about creating a program he felt would work.
Within months of beginning the program he wrote, his daughters mastered their math facts!
UberSmart Math Facts was a proven success. David was delighted by that, especially since he had been told that
his oldest daughter, who learning disabilities due to epilepsy, would always struggle to recall her math facts.
David then thought, "
"I need to put this thing on the market so others can use it!" And,
UberSmart Software
was born.
Don't you just love when need begets ingenuity, which begets success, which begets sharing, which, in turn, begets further success? I do!
So What Is UberSmart Math Facts?

In my experience,
UberSmart Math Facts
is old-school math flashcards and timed tests packaged as downloadable software that makes learning
basic addition, subtraction, multiplication and division easy for independent learners and t

rackable by parents.
In appearance,
UberSmart Math Facts is "no frills". With the program, there are no bells, whistles, crazy characters, catchy tunes nor distracting sidebars. What there is with
UberSmart Math Facts is one smart, proven program, that, among other things:
allows students to learn more facts in less time by reducing repetition of already learned facts and breaking down the addition and multiplication tables into small sections for children to master.
tracks student progress to the millisecond and allows students and parents to see progress on easy-to-read graphs
lays a strong foundation for math success by giving children a tool

that can ensure automaticity of math facts.
How Did We Use the Program So Far?
Since it has been summertime, we are out more than we are in, so any learning tools we use at home must be easy, effective and, well, fast!
Thus, I downloaded
UberSmart Math Facts
on my laptop, created usernames for each of my children, and, then, after testing the program out myself, decided to approach introducing it with a preemptive measure.
"Kids!" I explained. "I just got this great little program to review that can help you become math whizzes. It's not fancy, but it is useful! So, I will tell you what: Any day that you choose to use the program for at least 10 minutes, you can earn 15 minutes of free screen time with it!"
With that, the kids were off and learning!
After being a looker-on for so many of the things we have reviewed this year, Jack was happy and intent as the first UberSmart user in our home -- and one that had his own username!
In his first session, he surpassed the 10 minute minimum I had set to earn free computer time as he worked with dot cards and number typing practice.
In subsequent says, Jack, Luke and Nina all chose to use different features of the program on their own, and sometimes, helping one another.
In doing so, Jack and Nina tended to gravitate toward the dot cards...
...and number-typing practice.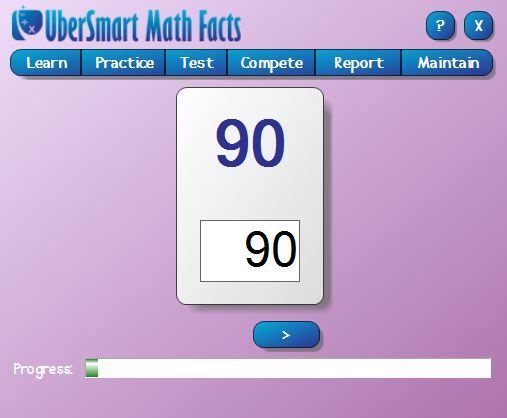 Luke used these, too, admitting to me that sometimes he did the easy stuff just to get his 10 minutes done instead of challenging himself with numerical addition or subtraction problems, or, lo, multiplication or division ones, like this: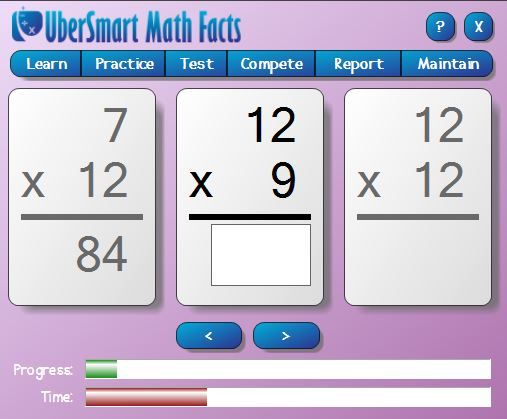 I was okay with that because it is summer time and I figure any practice is worthwhile. Come fall, I intend to check-in more using the parent tracking features and to encourage all the children to use the program at levels that will challenge them while also helping them become successful with their math facts!
A Balanced View
I am happy to have
UberSmart Math Facts on our laptop as a tool for helping my children. Some things I like about it are:
It is cost effective. An entire family can use the program for a single one-time fee, which, from September 1 through 30 will be 30% off using the discount code v4 Early Bird. That means that if children tire of the program and want a break from it, you can easily come back to it without paying additional subscription fees. Once you purchase and download the program, it is your to keep and use whenever you wish with your entire family!
It is basic. Entertaining programs have their place, but sometimes non-distracting, not-too-flashy programs hit the mark. UberSmart Math Facts does just that. It takes the proven effectiveness of flashcards and timed tests, adds interest and intuition to them through computer programing, yet forgoes distracting extras so children can focus on skills.
It is user-friendly. Children can use the program with independence and parents can track progress easily. Truly, my four-year-old was up and running on his own with the program after one session with me and his big siblings found their way around the program easily, too.
It is adaptable. Parents can make changes to time limits, difficulty of presented problems, etc. to tailor the program to children. So, the program offers the time-tested effectiveness of regular flashcards with the modern convenience of smart computer-generated tweaks.
One thing I would like to see improved about the program in future editions of the software are is t
he size of the flashcards. Although readable, they could be larger. I would love an option to make them full-screen size, as opposed to just making the blue box around them full-screen size.
Overall, I think the program offers a fair bang for the buck. It makes a worthwhile staple for a math fact mastery repertoire of choices, especially for visual learners who like computers!
Learn More
A family license to UberSmart Math Facts costs $24.95,

includes free upgrades and support

and allows you to run the program on every computer in your home so the entire family can use it.
The program is geared for K-6 grade level students but can really be used by younger or older children as well.)

What tools do you keep handy for helping your children master math facts?