If you would like to slip back in time to see what it was like to be a Gibeonite during the period when the Hebrews were entering the Promised Land, then
Shepherd, Potter, Spy--and the Star Namer from
Peggy Consolver - Author is a book for you!
Throughout this Lenten season, I've been reading the story aloud to my children and have been impressed with just how well author Peggy Consolver blends history, faith, and storytelling in this well-researched piece of historical fiction. I have also appreciated the inherit virtues demonstrated by the main characters: kindness, humility, obedience, honor, commitment, a strong work ethic, love for family and strangers alike, and a desire for truth.


Shepherd, Potter, Spy--and the Star Namer has certainly worked as an informal Bible study, a foray into geography and history, and a well-woven tale about memorable characters in my home this Lent. It has given my children a deeper understanding of a key portion of the Old Testament and illuminated even further the story of God's relationship with man and man's with one another.

For one of my children, it was the favorite family read together of late, earning an enthusiastic thumbs up. For my other two children, some of the chapters proved long, the story moved slowly at times, and the telling got confusing as it jumped between the Gibeonites and the Hebrews - using authentic names for the many people and places woven into the tale, which were hard for them to follow along with.

That said, neither of my younger children ever asked not to finish the story. (They just wanted to pause from it to read other books, too.) Their big brother, on the other hand, always asked "Please read more of it," and, even sometimes read ahead on his own.

By the time the rest of us caught up and we all finished
Shepherd, Potter, Spy--and the Star Namer
, we'd each learned some things and had sometimes found ourselves referring to Keshub (the main character of the book) and company in our daily conversations. We'd also noted some little thought gems.

For example, on the day we read in the book about integrity meaning "doing what is right and good no matter what the circumstances", I could not help but to pause to orally reflect on an earlier rough patch in our day and how a certain child might work on integrity (and, in fact, how we all might!) Then, later, when the words "Trust Babba" kept repeating in the text, it struck me how important it is for me, too, to "trust Father" - my Father in heaven. (Sometimes I lean too much on myself instead of on Him.)

I just love when a read together can prompt meaningful conversations and spirit-lifting affirmations. I also love when my children get into a book, and, w
ithout question, my oldest son absolutely got into
Shepherd, Potter, Spy--and the Star Namer
.
In the Words of a Big Fan

My oldest asked for
Shepherd, Potter, Spy--and the Star Namer every day until we finished it and had quite a lot to say about the book when I asked him to narrate his thoughts for this review.
Shepherd, Potter, Spy--and the Star Namer is my favorite book that we've read recently.

Our copy of the book is a 379-page paperback. It includes a list of characters and relationships, discussion questions, and a letter to readers that explains that a lot of the story is true and that we should dig deeper into the Bible and seek truth.

The story is great. It's about a boy named Keshub and another boy named Hosiah. Keshub is a Canaanite and Hosiah is Hebrew. The main story is about Keshub, but Hosiah is important. The story switches between these characters and their peoples to give interest and more background about what might have happened in the time of the Hebrew conquest of the Promised Land.

I thought it was cool that the author did not write from a Hebrew point of view at first, but gave that later. Almost everything else I have read about this time period is from a Hebrew point of view, so this made me think about how insane it would be to be on the other side. It would be terrifying when these people - the Hebrews - are destroying cities and murdering people. It would also be exciting and confusing. Walls falling down, rivers stopping their flow, whole impressive cities being turned to rubble one day and the next the same people who destroyed that city running for their lives...

It would be freaky, too, to see the cloud and the manna. We know about these things from the Bible and know that God can do these things, but the Canaanites didn't. It was interesting to see how it would be for them.
I really liked how sometimes when the story mentioned some things, it made me want to see if they were in my Bible. Sometimes, I looked ahead in my Bible to see what might happen next in the story. The author made me want to read the Bible more and more, and I was curious how she would include the Bible history in her book.

I'd recommend this book for everyone. My brother and sister liked it okay, but it wasn't their favorite, so they sometimes asked if we could read other books. This really annoyed me, because I wanted to hear more of this story. So, sometimes, I read ahead.

I also liked that the chapters were long and the story switched who it was about a lot, because it meant we could read longer and it was easier for me to understand what really might have happened between the peoples.
At the beginning, the peoples were totally separate. Then, one people spied on another and, when they saw that the other was powerful because of God, they tricked the other people. Then, some of the people mixed and the main characters met. It was such a great story.

Mom also let me see the Study Guide links online. I want to use these more. I liked watching the videos like How to Use a Sling. It reminded me of when Keshub hurt a bear and killed a lion.
At eleven, I think my oldest is at a perfect age for this book, which is targeted for middleschoolers through highschoolers, I would say. However, I can also attest that younger children can enjoy parts of the book and grownups like me can, too. Sure, the Middle Eastern names can trip a Mama's tongue up when reading the story aloud and some of the chapters seem long when the book - with its relatively small print - is read at bedtime, but the plot itself engages with its the blend of Bible history, geography, and compelling characters.

My Younger Children's Thoughts


My six-year old liked to try to decipher parts of
Shepherd, Potter, Spy--and the Star Namer for fun (as shown here), but did not love the book
much as his big brother did. Still, he still liked it well enough and stayed engaged most of the time when we read it together.

When asked for his thoughts on the book, my six-year-old said:
It was good. Now, I know why the title is

Shepherd, Potter, Spy, and the Star Namer

, because the main character Keshub was a shepherd, first, then, a potter, then a spy, and, then, he learned about the Star Namer.

I did not like that the story kept switching who it was about. It was confusing.

I liked that there was a battle.

There are there things I learned about:
the sun standing still

the Hebrews lost a battle because a guy brought home something for himself instead of for the temple

they stoned whole families




I would recommend this book to seven year olds to read with their parents and to nine and over kids to read on their own. My brother really liked it!
My middle child was the least enthused about the book, because she had a hard time following it and, sometimes, found it a bit slow, but she still appreciated parts of it. She said:


The book is okay. It is historical fiction and helped me picture what it would be like to live in Gibeon.





There were some things I did not like. The story switched places in the middle of chapters. That confused me. I didn't like that the chapters were so long. There were also too many characters, so it got confusing. It seemed like they switched which person's point of view it was a lot.





I liked the the actual storyline just not that it was so mixed. I liked Jho Ee's character. He was not main character, but I liked how he was put in.





I would recommend this book to people who do not easily get confused or to older kids.
When an Author Meets Her Mission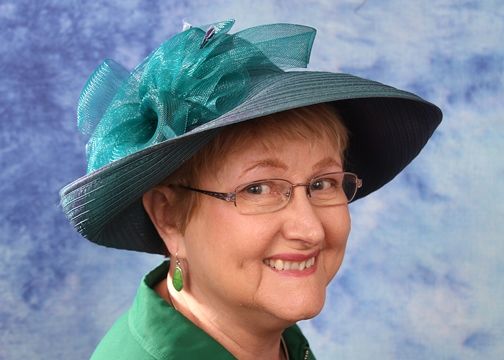 Author of
Shepherd, Potter, Spy--and the Star Namer

, P

eggy Consolver says that she was inspired to write
the book after wondering what it must have been like to be Gibeonites surviving destruction as told in the Bible

in

Joshua 9 and 10.

Peggy relat

es that when she started writing the book
,

she struggl

ed

to accu

rately

describe

its

historical and geographical setting

,

and, thus, quipp

ed

to her husband

that

she should go on location. Before long, that is exactly what happened.

Peggy

ended up

spen

ding

18 days researching in Israel with the Associates for Biblical Research as

described

in an article on their website. Th

is

experience, undoubtedly, helped Peggy

weave
Shepherd, Potter, Spy--and the Star Namer
to

gether

with

accurate Middle Eastern details

,

creating a story based on Biblical and historical truths, steeped in well-researched details of anc

ient times

, yet fl

avored

with som

e modern

language and themes.

Indeed, as I read the book, it struck me how true to the Bible the story

i

s

and

how many details it contained about the Ancient

Middle Eastern

landscape and lifestyle. Yet, the writing

i

s also flavored with seemingly anachronistic language at times, which, oddly, made the story accessible. As characters

occasionally

sp

oke

in

more modern language

, my chi

ld

ren "got them" a bit better. A

s

the

characters

faced modern issues - t

ha

t are timeless, too - such as bullying, coming of age, and wanting to better u

nd

erstand "what's out there" - they became more and more relatable. So, somehow, Peggy struck a b

alance between "ancient" and "engaging"

, telling a familiar-to-some Bible story from a different point of view, wi

th

a plot that keeps you rea

di

ng.

Enjoy a br

ie

f introd

uc

tion to the plot in this book trailer:


Moreover,
Shepherd, Potter, Spy--and the Star Namer does exactly what its author seeks for it to do - or at least it did for my oldest, and, following him, for his siblings.

Countless times as we read
Shepherd, Potter, Spy--and the Star Namer, I found my son perusing his Bible to compare the events told within it to the ones within Peggy's story.
Likewise, I found his little brother paging through his own children's Bible a few times, wondering why some of the parts in
Shepherd, Potter, Spy--and the Star Namer
weren

't mentioned in it.
And, even now, as I write this review, my three children are sitting on the couch comparing different versions of the Bible with what we've read in
Shepherd, Potter, Spy--and the Star Name

r
.
Peggy Consolver - Author from Four Rivers Media on Vimeo.
Having heard what

P

eggy Consolver

was aiming for when she wrote
Shepherd, Potter, Spy--and the Star Namer
(as described in the short clip

above)

, I'd say, her book is a success! I'd recommend it to history lovers, Bible enthusiasts, those who like living history books, and chi

ld

ren and adults who can handle a more complicated cast of characters and plot.

Learn More
Find Peggy Consolver on Facebook.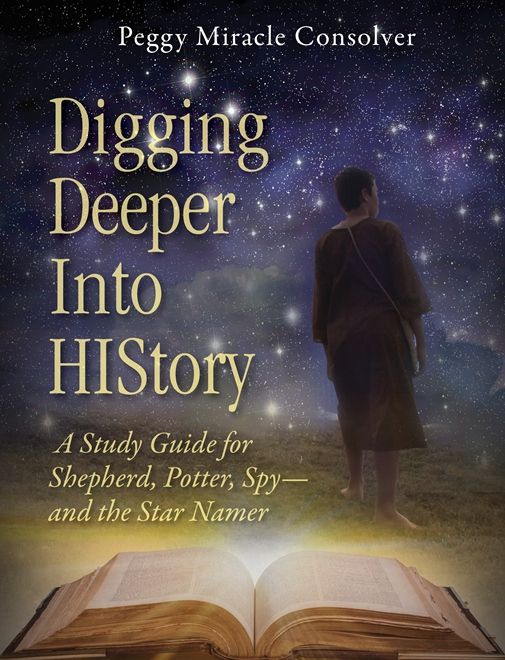 Online, you can find
research links, maps and YouTube clips to go along with this book. Then, if you want to dig even more deeply into the life and times that Keshub and Hosiah lived in, a written study guide is available, for purchase, too. You can find a free sample PDf of it at the author's website.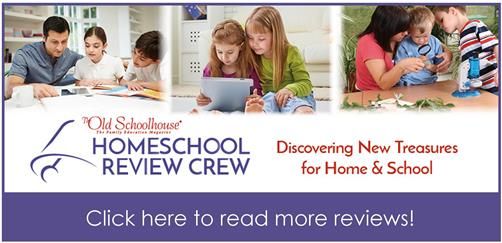 Eighty Homeschool Review Crew families reviewed this book. Read what they had to say about it.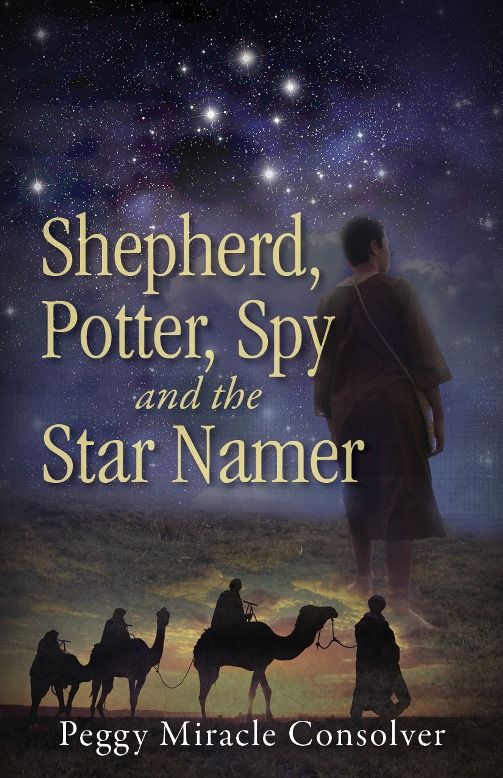 Enjoy seeing anc

ient times come alive with memorable characters with this book

!