When I told my oldest son about the possibility of reviewing Digital Savvy by CompuScholar, Inc., he was excited and begged to do it even though he is a year younger than the target age for the course, which is aimed at students in grades 6-12.
My oldest son simply loves computers and dreams of creating his own video games some day, so the idea of learning about coding with
CompuScholar, Inc. thrilled him.
The
Digital Savvy also pleased me. I do not like my chilldren spending long periods of time online each day and would prefer each of them to get into learning online rather than simply playing around. Thus, I hoped
Digital Savvy would be a win-win for us. My oldest son would get more daily time with his hands on our laptop as he made his way through the program, and I would know that he was immersed in something that would increase his knowledge and skills in an area he is interested in rather than in less purposeful computer-based pursuits.

Little did I know, the win-win would turn into a win-win-win.

How?

My oldest boy does not like putting pen to paper to write more than a few sentences at a time. However, I had told him that if we took the
CompuScholar, Inc. review, I would expect him to dive into
Digital Savvy enough so that he could write the bulk of our review of it.
Then, when it was time to write the review, we happened to be away from the house with no laptop with us. So, I handed my son a notebook and pen and told him to write out his thoughts.

Wow! He wrote several paragraphs. (I am just a tad excited here!) So, with no further ado, let me share what he penned.

In My Son's Words
I was really excited when my mom said I could do this! I wanted to learn more about computer programming, but forgot that I had to learn about other things first. So, Digital Savvy is not that exciting now, but I know it will get exciting when I get to coding.

The program's lessons come in three parts: video, text, and quizzes. You have to do all of the text in each lessons, but you don't have to do the video. I do both, but like the video best.



The video and the text have a lot of the same things, but the text has stuff the video doesn't. I wish that you could do the video, but not have to do the text, so you could choose if you want to do one or the other or both.



The chapters have three parts: lessons, projects, and tests. You can progress through the program without doing the projects if you want. I did this. I did not do the projects or a while, because I wanted to keep on going without asking Mom for help, and I did not want to do something on her computer and maybe mess it up and have her get mad. So, I am going to go back and do the projects later.

Three things I have learned so far are:


There was an operating system named GNU that changed to Linux when a guy fixed a problem with Linux.

All updates on Android are named after candies, treats, and sweets, like gingerbread.

The first computers that had operating systems only allowed you to type.



I'd suggest

Digital Savvy for boys ages 9-15 that like computers. This program could be good for anyone though. I think you should try CompuScholar, Inc. if you like my description.
Back to Mom's Thoughts
would like to add that
Digital Savvy is easy to use. My husband and I sat with our son and completed the first lessons together just to get a taste for the program, see how it works, and glean if we felt our son really could use it on his own.

At that time, my husband and I both found navigating the course easy, and felt the text and video were clear and easy to follow. Since our son had no problems with anything during our first foray with the course and did awesome on his first quiz, we simply let him "have at it" in 15-30 minute sittings several times a week, going at his own pace, completely independently after that. This is the approach our son wanted and it fell into line with a current goal we have for him - independent learning and responsibility.

So far, as my oldest has made his way though
Digital Savvy I have occasionally used my parent login to see how he progressing. In doing so, I noticed that he has not been excelling at all the quizzes (which are graded automatically) with the same stellar scores he had on the first ones, but, honestly, quizzes mean little to me at his point. What means more is that my son is practicing his independent learning skills in an area he likes.

Further, I know that there is a lot more to learning and retention than multiple choice quiz grades. The "Hey, Mom, did you know..." comments he has randomly called out when using
Digital Savvy and the occasional spontaneous narrations he has offered while taking the course so far have proven to me that he is learning things. The fact that using this program is giving him more knowledge and confidence also became apparent when he created a 2-D video game section prototype for a recent inventor/innovator fair he participated in:
...and also
single-handedly

created a short animation for a competitive team project:
I can only imagine what my boy will get up to once he finishes the
Digital Savvy course.
Of course, part of my son finishing the course will be doing suggested/assigned projects within it along with his independent ones. For, yes, I did realize when checking on my son's
Digital Savvy progress that we still have work to do with his becoming a responsible independent learner when it comes to preset programs. For while my son has been cruising through the videos, text, and quizzes with
Digital Savvy, he has been ignoring a key component of the program: the hands-on projects!

Indeed, at an earlier point,was all set to use included rubrics to score my son's projects when I realized that there was nothing to score yet. He had been skipping the projects in order to forge forward more quickly.

When I first noticed my son's missing projects, I waited to see if he would go back and do them on his own. Then, when he did not, I asked him during 1:1 study periods if there was anything about
Digital Savvy that he wanted to talk about or needed help with. He only mentioned some cool facts. So, finally, when I found that he still was not getting to the projects nor raising them during our 1:1meeting times, I simply called him on it, asking why he'd been skipping them.

Just like my son wrote in his review, he told me he did not want to "mess my computer up" trying to search for information or try things out. I told him I appreciated his concern, but that we could surely sit together while he did the projects and, then, I'd be right there and not get mad at him. He replied, "but that we have other things to do during 1:1's." I reminded him that we could spend time working through a number of different areas, including
Digital Savvy and that the hands-on projects were as important to his mastering the
Digital Savvy materials as the videos and quizzes were. I then asked if he had been trying to buzz through the current course materials until he gets to what he considers the "good stuff" - the stuff that will teach him coding to make his own video games. He gave that "you got me" grin.

My boy!

So it is we are now back on track with him making his way through the text, video, and quizzes and working on a plan for catching up on past projects and not blowing through upcoming ones.

I so appreciate, then, how
Digital Savvy has given my son an opportunity to explore a topic he wants to learn more about, while also learning to make his way through some of what he considers less exciting and more tedious work so he can lay the groundwork for "bigger and better" things ahead. Computer science, character, study skills, and a bit of writing have all been fruit so far for us in using
CompuScholar, Inc.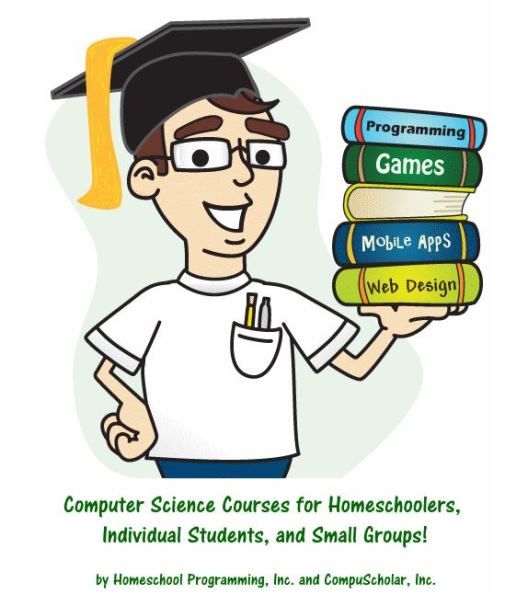 Learn More
All
CompuScholar, Inc. courses, including
Digital Savvy, Web Design, or Java Programming, are delivered online using any HTML5-compliant web browser and include free, comprehensive technical support.
Parents can opt to pay by the month or purchase a year-long pass to the class (with lower fees for additional students). There are also options to complete courses as through self-study or teacher-led classes.

One hundred Homeschool Review Crew families tried out either Digital Savvy, Web Design, or Java Programming. Find links to all our reviews by clicking through the banner.

You can find
CompuScholar, Inc. on Facebook and
Twitter.