Oh, the cheer that rang out from my children when I surprised them with the fact that our review copy of
Beric The Briton by
Heirloom Audio Productions had come in! We actually took a photo of them opening the package, which was precious, but it got inadvertently erased and could not be recreated. So, just trust me on how much joy was captured - however temporarily - in that photo!

For, yes, my children truly love
Heirloom Audio Productions and count the opportunity to review their "awesome audiodramas" as one of the chief reasons that we should continue being on the Schoolhouse Review Crew each year. Seriously, they wait and wait for
Heirloom Audio Productions
review opportunities to come up and, then, clamber, "Can we do it? Can we do it?" with total excitement!

This time, when we received our CD-set, we did things a bit differently than usual. Typically, I let the kids pop the CD into a player right away, we listen to it several times, then, later, we watch any video extras we have received access to, view other extras online, and chat about the content of the CD's loosely using the provided digital Study Guide. However, this time, after the children finished bubbling over in delight about the fact that
Beric The Briton had arrived, I told them that they could not listen to the CD's just yet. I knew we had a long ride coming up a couple of days later, and I wanted them to exercise patience until that ride, when we could all listen to the 2-hour CD-set with rapt attention (and, thus, peace and joy on our ride!)



Extras! Extras! Extraordinary Digital Extras!


Of course, my children were not thrilled that they had to wait to listen to the next CD set in their favorite series. However, their disappointment was quelled when I told them they could preview something about it, for they do love "the extraordinary adventures of G.A. Henty" and all that they entail.
Ever since we revie

wed the first
Heirloom Audio Productions adventure,
Under Drake's Flag, the kids have been hooked on the CD's as well as the digital extras that go along with them. They not only love listening to the radio theater-like on CD's
, but also enjoy browsing such things as e-books and posters and watching behind-the-scenes videos.

Thus, my children were delighted when I said we could begin our
Beric The Briton experience with the behind-the-scenes video that came with it. As soon as I pulled that video up on our computer, using the special link we received with our CD-set, my children
became immersed in it.

Later, my oldest said:
I like being able to see what the people making the audiodrama look like. I also like how in the beginning they say parts of what's on the CD's. They also talk about the story and the background. It's fun to find out how it's made.

All of my children enjoy seeing the actors and actresses, hearing their comments, and learning more about how
Heirloom Audio Productions takes G.A. Henty stories from page to audiodrama "stage" (studio, really), creating family-friendly CD-sets that are filled with:
adventure,

history,

excitement,

faith and virtues,
and, of course, engaging listening!

I do as well. I also appreciate the other extras that come along with the CD-sets and offer opportunities for extending learning should families want them. With the
Beric The Briton, extras included:
1 48-page digital study guide, which includes comprehension questions, thought questions, key vocabulary, Bible studies, and more, and which can be used orally or in writing. (Since the guide is full-color, we like to reference it on-screen so as not to use so much printed ink. We also prefer to use it as a source for conversation, not written work, but I can see it being super for independent written work for families that benefit from such pursuits, too. The guide is full enough and flexible enough to use casually or for sit-down studies!)
a Beric The Briton MP3 Set, which is helpful as a back-up and for those that have portable devices.
a Beric The Briton E-Book, which would be handier for us if we had a portable reading device, but is still appreciate
an official MP3 Soundtrack, which includes all the fabulously fun, adventure-filled music composed for the audiodrama
a Printable Cast Poster, which my children like to look at online
an Inspirational Verse Poster, which can make for good copywork
a Behind-the-Scenes Video, which, as I already discusses, my children love!
And the Main Event!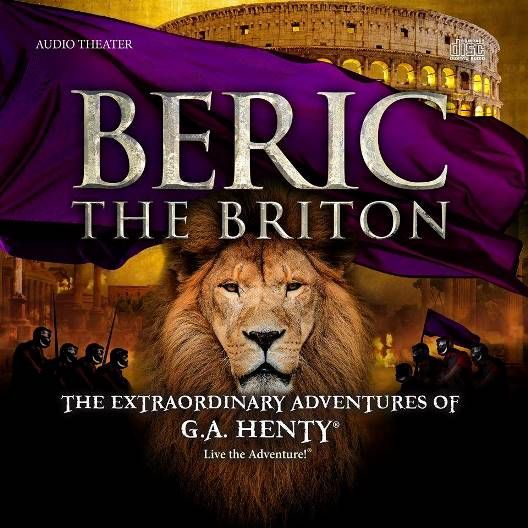 Of course, all the digital extras are excellent and enticing, but the main reason we love
Heirloom Audio Productions

is the physical 2-CD

sets we receive, which move with us from minivan CD-player to living room CD player, and back, depending on if we are taking rides, doing chores, or nursing sick kids. Indeed,
Beric The Briton has accompanied us on long rides, carried us through sorting socks and folding laundry, and kept children with fevers and belly issues contentedly staying still and resting. The CD-set has also inspired hours of conversation, loads of physical play and dramatization, and, praise God, also some self-initiated free writing for one of my children. Oh, how happy this adventure-packed, historical, Christian radio theater piece has made us!

Now, I know you must be wondering what exactly
Beric The Briton is about. To answer that question, I asked my oldest (at ten) to give a narration of the story without giving the entire plot away. He said:
Beric The Briton is about a Briton who battles the Romans and wins, but later is captured and turned into a gladiator. Beric and his friend train and fight to gain their freedom. meanwhile, a story about a strange man named Christus goes around Rome. Beric hears it and has to decide if he will become a followed of Christ.
My son's summary is accurate, but does not capture all the excitement inherent in
Beric The Briton. For a taste of that, see this video clip:



I think you can easily see why the cast's voices, the score, the sound affects, and the historical story itself which rings of Christian virtues captures our imaginations!



Highly Recommended!



When I asked my oldest about why he wanted
Beric The Briton and if he would recommend it, he said:

I wanted to get this CD, because I love all the Heirloom Audio Productions CD's. In this one, I liked the part where Beric fights against the Romans. I thought it was cool how he used fighting in formations to make an impact on the Roman line. I also liked that the story had a happy ending, and that it is a letter to Ned and Gerald this time instead of the man actually talking to them like in the other CD's.

Beric has adventure, romance, and humor. everyone should listen to it. Even little kids can handle it. My brother loves it!

My youngest son, six, said:
I liked it! The fire was exciting. Beric was brave. I want to listen to it again. I like to play gladiators with (my brother and sister) now.
My daughter, nine, said:
I like it, because I like the story. I like how Beric goes to Rome and becomes a gladiator. If you want to figure out what it was like to be a Briton in that time or if you like Rome, you might want this.

A funny part is when Beric says to his friend, "How can you lift that so easily...Is that because you have that extra muscle in your neck." His friend says, "Where?" Beric says, "right there." His friend says, "I don't feel anything." Then, Beric begins to laugh. he is playing a joke.

An exciting part is when Beric jumps into the gladiator arena to protect someone.

I also like that Beric sails back home and all his friends back home and him have a big feast.

And me? I just love how
Beric The Briton makes history come alive for my children, my husband, and me! It's been so much fun this time to witness my children making connections between past studies of Roman history and the story of Beric and talking to friends, family, librarians, history re-enactors, etc. about things they have learned from the CD's.

I have also appreciate how many faith connections
Beric The Briton opens up. It was so easy this year to discuss early Christian martyrs and Sts. Peter and Paul on their feast days with Beric's story so prevalent in my children's mind. It has also been easier to talk to my children about "touchy" current events they have caught wind of: People have been fighting over religions beliefs for centuries and standing up for Christ, too. Having a hero like Beric as a model and, in particular, this well-done and engaging story
Beric The Briton as a touchpoint for conversation, has enhanced our family's understanding of faith and virtues.Truly, many CD's that I pop into our CD-player during family rides do not "speak" to my husband, but ones by
Heirloom Audio Productions always do, and
Beric The Briton is no exception.
In listening, we have
found ourselves laughing, becoming empathetic, shouting at people in the story, etc. It is wonderful to share time like this. I encourage you and your family to try it out.



More Information

You can find out more about
Heirloom Audio Productions at:
Instagram @HeirloomAudioOfficial

One-hundred Schoolhouse Review Crew families had the pleasure of immersing themselves in the
Beric The Briton
audiodrama. Click on the banner to see if all of them loved doing so as much as my family did.

You may also enjoy
our prior reviews of Heirloom Audio Productions which can be found by clicking through each image below.
We cannot recommend these CD's enough! We listen to them over and over and talk about them a lot.