In the summer, there is one thing I want less of in our home: computer time! Yet, when I was offered a chance to review the Entire Level I program by ArtAchieve, I could not resist the temptation to add just a bit more time sitting in front a screen to our summer schedule. Mind you, however, that time sitting involves more than just sitting. Indeed, it wraps family time, creative pursuits, and a bit of professional art teaching all into one engaging half hour to hour to to hour, to, well, however long the last artist in our family wants to sit at our kitchen table polishing off a project.



Have Your Heard of ArtAchieve?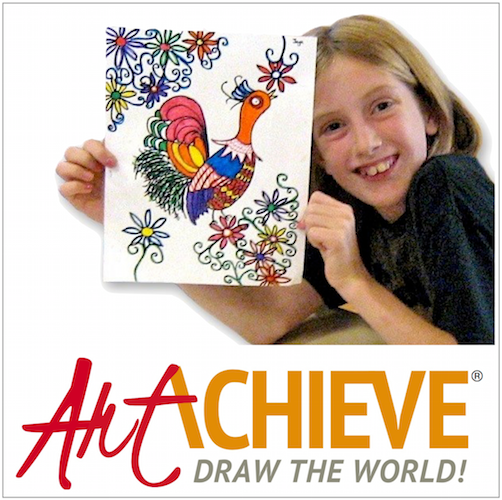 I admit, when I was offered the chance to review
ArtAchieve's
Entire Level I program, I had no idea what it was. However, as soon as I clicked over to the
ArtAchieve

website and read its mission

, I knew I wanted to review the
Entire Level I program. For the opening remark in the mission spoke of something I have witnessed but not experienced firsthand - that "
anyone can learn to draw."

You see, years ago, I was a child who liked to create, but who received little encouragement, and perhaps a bit too much criticism, for my (lack of) art ability. Thus, I thought, Some people just cannot do art well, and I am one of them.

Then, an experience in my twenties changed that thinking.

I was living and teaching in Japan and became wowed by the fact that every Japanese student of mine was a competent artist and that the average elementary-school child in Japan could draw, paint, and create art work on level with many junior and high school counterparts from America. At annual art days, when the entire school would go on outdoor excursions to create art, which was later displayed at schoolwide culture festivals, I realized that every individual is capable of creating beautiful art. When art is made a focus, basic techniques are taught systematically, and people are given opportunities to create on their own and in community, skills blossom!
As a homeschool mom, then, that is what I seek for my children as far as art goes:
teaching of techniques

time and space to create

community to create and share with
ArtAchieve
offers all that!

Its author John Hofland
is an experienced homeschooler, art teacher, and world traveler who makes art accessible to even the most novice child or adult and, in my experience, creates an opportunity for success right from the git-go! Better still, because lessons connect to art from around the world that Mr. Hofland has collected images of, lessons also
dovetail nicely with topics in social studies, literature, science, and other subjects -- with connections made even easier by the lists of supplementary links, resources, and ideas that are included in each lesson. Plus, since all you need for the art lessons are an internet connection, a printer, and basic art supplies, such as pencils, paper, watercolor markers, a Sharpie, and oil pastels, lessons are super easy to facilitate and won't break the bank nor have you running here, there, and everywhere for specialty art supplies!



How We Used Art Achieve
We began using
ArtAchieve with the free sample lessons offered on the site, and, then continued on with the ones we received access to with our one-year license to the
Entire Level I program, which consists of 11 projects (including the free samples) and their warm ups.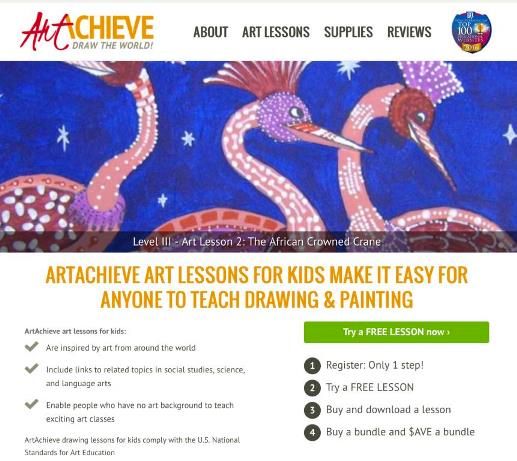 At first, we used the slideshow version of the lessons, but, then, quickly realized that we liked the video lessons better. So, to use the lessons, I'd sit down, download printables for a particular lessons, print them out, set the needed materials on the table, call the kids to the table, then, hit play on the video and set to creating artwork together. Easy peasy and successful!
Even on days when the kids were a bit grumbly, by the time we got to coloring our artworks, we were all smiles and chatter. (Mind you, Mr. Hofland suggests playing music when doing art and staying silent, but that's just not our style. We tried. We failed at the silence, but succeeded at the art - enjoying chatting about what we were doing and offering encouraging observations to one another.)
Thus it was that our summertime has become more filled with screentime, but also with smiles and creative fun!
What the Kids Have to Say
My youngest, five, has not always liked to create art as Mr. Hofland directs, but he does enjoy coming to the table to prepare himself to work as Mr. Hofland suggests (by rubbing hands together until they are warm and then placing them over eyes and breathing deeply). My youngest also enjoys creating alongside his siblings and I, even if his creations veer dramatically from the projects suggested (as the man does among the

suns below.)



When I asked my youngest about the Entire Level I program, he had this to say:

I like in the videos when they show the pictures, not the guy. I also like when my hands are smooth and I rub them and put them on my eyes. The art is okay. I like the coloring.

My youngest is not a boy of many words. His sister, at nine, however, is more loquacious.


During lessons, my daughter often began verbalizing self-critical frustration early-on despite hearing Mr. Hofland's constant encouraging reminders on video, which her brothers and I echoed. However, after a bit, her confidence and satisfaction grew, and, when I asked her what she thought of the program, she said:
I like (this program) so far. I like the man. He always has us do the exercise with our hands and I really like it. I also like how he gives us tips.
I REALLY like the sun picture better than all the rest I have done, but I am not sure if I will like it the best, because I have not done every project.

I liked how when we did the cat, we had more free will than in the bugs one, where you had to copy every detail or you would not get the right shapes of bugs. With the cat, you just had to copy a little. With the sun, all you HAD to do was the coloring and the circle. The rest was your FREE WILL (besides using cool and warm colors).

I made a big mistake with my sun, though. It said I was supposed to color the rays, but I did not get that correctly and colored outside of them. So my rays are all white now, but I still like it.

I guess you don't have to follow all the rules to get art you like. It's good to know the rules, because once you know them, you can figure out which ones you really want to follow and which ones you don't really need to follow to create the picture YOU want to create, not what someone else wants you to create, but what you want to. I like that the guy says, "Remember you are not coloring for your neighbor, your teacher, your mom, or me. You are coloring for yourself."

I hope you'll like the art program, too, if you do it. I think you should if you like art.
Yep! I'd say the
Entire Level I program is a success for my daughter.
ArtAchieve is a win with my oldest son, too. He has always liked drawing and creating, but often has not cottoned to set projects for any length of time. With
ArtAchieve
that is changing. He sits down excited to see specific projects and to remain focused until he completes them.

When I asked my oldest what he thought about the program, he said:
I like it. It's fun. I like learning about the different art from the different countries and being inspired to make my own art especially.

I preferred the videos to the slideshow, because they were more fun. I liked seeing what the man's art looked like. It showed me what was different between mine and his and gave me ideas.



So far, the bugs was my favorite project. I liked drawing the bugs and it was enjoyable coloring them. I enjoyed making patterns, coloring, and seeing them in the end.

I asked my mom if we can get Level 2 someday!

I think other people will like this, too. Everyone. Kids, grown ups,... It's fun!
Final Thoughts
I have been well pleased with my decision to try
ArtAchieve
out and with the focused, creative time doing so has encouraged my children and I to spend together. I am also now experiencing the art instruction and encouragement I never did as a child myself and find it so satisfying to create simple projects alongside my children.




"Oh, Mama, I love yours!" "Do you like how these colors pop, Mom? I do." "Look at mine! Look at mine!" "It's okay. You won't know what you like until it's done." "I think that's really good."

Hearing all these comments and more has made the moment many a time for me since we began using
ArtAchieve
. I am delighted with how using the
Entire Level I lessons have increased my children and my art skill and offered us opportunities to encourage one another.
Without question, I would recommend
ArtAchieve
to anyone who is not confident at art and wants to meet with success while creating, experimenting, and learning basic art skills.



Learn More

Almost one hundred Schoolhouse Review Crew families tried out
ArtAchieve
's Entire Level 1, 2, or 3. Enjoy reading what each had to say and browsing the different projects each family has chosen to share by clicking through the banner.