"YES!" my children shouted when I showed them our review copy of The Dragon and the Raven from Heirloom Audio Productions, a company that we have all come to love after having happily reviewed their top-notch productions of Under Drake's Flag, In Freedom's Cause, and With Lee in Virginia. Then, they immediately popped the first CD of the 2-CD set into our Cd player and remained riveted for the next two hours!

My children's laughter, gasps, cheers, and shouts intermingled with the creaking ships, clanging swords, bird call over ocean waves, dramatic narration and moving musical score of the
The Dragon and the Raven, and I knew we had another hit!
The Dragon and the Raven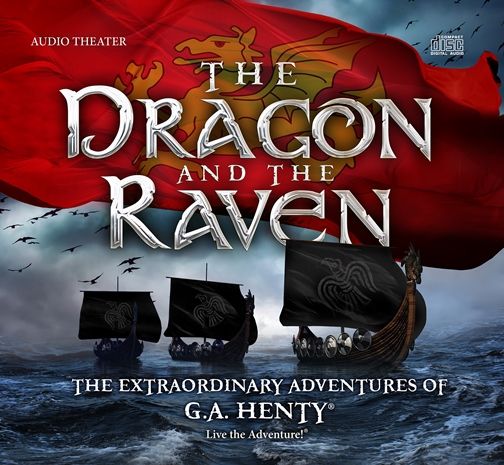 The Dragon and the Raven is a 2-cd, 2+ hour, dramatic adaptation of a G.A. Henty story by the same name. In it, a fictional young man named Edmund and his new-found mate Harold grow to manhood while making a difference in their country alongside the historical King Alfred. As Danes sweep through England destroying everything in their path, young Alfred, who becomes the king of Wessex after the death of his brother, comes to realize that England's only hope is to turn the nation and its people back to the God they have abandoned. Through battles on land and at sea, advances and retreats, and, ultimately, moments when all seems lost to invading marauders, faith helps Edmund, Harold, King Alfred and others stand strong

.



Romance and conversions unfold as well as exciting battles. Humor lightens the mood between intense scenes. A star-studded cast which includes,
Brian Blessed (Star Wars, Tarzan, and King Lear), John Ryhs (The Lord of the Rings, Indiana Jones), Sylvester McCoy (Doctor Who VII, The Hobbit), and Helen George (Call the Midwife), creates vivid pictures in the listener's mind through their expressive delivery. Sound effects add to the picture. And, an incredible score by Emmy award-winning John Campbell adds to the drama even further.
The audiodrama is recommended for children ages 6+ and familie

s and comes as a 2-disc, 2 1/2 hour CD-set. Depending on the package you order, it also comes as an audio download, and can be supplemented with such extras as:
a printable 49-page Study Guide and Discussion Starter
illustrated printable copy of an inspirational verse used in the story
an MP3 download of the soundtrack
an e-book of the original G.A. Henty story
a professionally designed promotion poster
a 50-minute behind-the-scenes documentary of the making of the audiodrama
and more.

Through the Study Guide and Discussion Starter, you can easily:
gain an overview of G.A. Henty and King Alfred
exercise listening comprehension skills through Listening Well questions
develop higher-order thinking and resoning through Thinking Further promprs
learn about 9th century Anglo-Saxon history and geography
learn about Viking (Dane) invasions and further study viking history, exploration, and culture
study the Bible in respect to God's Law and the Nations, Loving Your Enemy, and Literacy
study the character of Alfred the Great
Bible study of God's Law and the Nations, Loving Your Enemy, and Literacy
Character-building studies: bravery, courage, loyalty, perseverance, faith, etc.
The guide is wonderfully complete and enhances understanding and study inherent in the CD-set, opening opportunity for a cross-curricula study of history, faith, geography, literature, and more.
Our Experience



As I already mentioned, as soon as we received
The Dragon and the Raven, my children listened to it all in one shot. Later, we listened to the CD-set as a family multiple times in our minivan. And, the audiodrama also kept our children entertained when a winter bug hit and no one felt like moving much.

In listening to the CD's, we fell in love with the characters, learned some history, and were inspired by the drama. We also continually picked up on the Christian message of the CD's and I, personally, was delighted that the story dealt with a period of history when all Christians were still united. No "Catholic-Christians" vs. "Protestant Christians". Just Christians -- one holy Catholic unified church. Perfect! Oh for such a time again.

After having listened to the audiodrama multiple times, we dove into the study guide as a review. I was surprised by how accurately my children answered the questions posed in it and how much vocabulary they understood. I also am happy with how much in the guide which we can revisit at a future date when life allows for further research, etc.

Of course, the children also loved watching the bonus documentary we received. They get so excited seeing the actors in action portraying the characters and hearing bits and pieces of the behind-the-scenes production. I love their interest in such things and marvel at how engaged they become in the documentary when they watch it.
Our Thoughts About This Stellar Audio-Adventure!



My five-year-old said:
It's great. I love it. There are battles and a lot parts are funny like when they say, 'Do I look like a mighty warrior? I look more like a mighty worrier.'
I simply adored listening to his giggles in the back on our mini-van during all those parts and cracked up as he and his siblings re-enacted some of the battles at home, on nature trails, and out in the snow.


My eight-year-old, who could go on and on about this CD (albeit with random thoughts) said:
I like it, because I like the characters of Ned and Gerald and that there is humor, battles, funny parts, and not as funny parts.

Characters, like Edgar, the messenger, make things worse than they sound. It's funny how the other characters respond to him.

I like Siegbert's name and character.

And, Freya? She's bold and I like the way she says the line, 'That is the way of a boy. The way of man is to win a woman's heart and keep winning it all of his days.'

I like that Sweyn the Dane's name rhymes and how he acts when he says, 'Mark this day! You will pay for this!' Everyone pictures him as powerful and yet... SPOILER ALERT!... he falls to this man who is under his size.

I also like that Brian Blessed is motivated to really sound dramatic. He is a great narrator. All the actors make the story come alive, but Brian Blessed really helps.

I also really like the Danes' song and how the Saxons sing their songs back at them and the Danes get upset, because they didn't use to be able to do it. I like Alfred's song, because it is more about God than meanness.

I really, really like the part when Edmund's father jumps on the Danes and screams to Egbert to "fly, fly, fly to my son." Although Edmund's father does not have a lot of lines, the lines he does have are powerful and strong.

My daughter was truly impressed by the dialogue and delivery of it in this production and, more than once since the CD-set came into our home, I have been humored when hushing the kids at bedtime to discover the noise I am hearing is her in-character reenacting or continuing the story with her brothers. She also takes on Fraya and the other characters outside with her brothers.
My ten-year-old said:
I think that it's an amazing story. I like how, in the beginning, Edmund lives in a little swamp hut with his dog, father, and Egbert. Then, later on, he lives in a beautiful stone house with a best friend and wife. He changed so much over the years! He had been at sea, fought in land battles, found a smart tactic to defeat the Danes with only 90 men and a few animals against a thousand Danes... I like also how King Alfred became king even though he was the youngest in his family.
I like how in the first battle, the Danes sing, and, later on, the Saxons return with an answer. Edmund remembers the song and it brings back sad memories It's amazing. He had had so much that he went through, yet he remembers things...





What makes the story come alive for me is how it starts off in the 19th century and then goes back to to an earlier century. It's cool how they go back as the narrator starts telling the story. Then, they go into the time. It's no longer narrated, it's acted!





I think people of all ages would like this CD set, especially history lovers, people who love adventure, battle, and, near the end, a little romance. I can't wait for the next CD-set. I hope it's about the American Revolution. And it would be funny if it had Ned, Gerald, Dan, and Vincent.
He has been truly swept away by the storyline and its drama and it has inspired him as he writes and tells his own stories. Hearing him tell bedtime stories to his brother in sister with "Brain Blessed" narration and add vocabulary and drama to the original adventures he draws, writes, and relates to Daddy is awesome. He simply love this story and is so inspired by it.


And me? I echo the praise I have offered in past reviews of
Heirloom Audio Productions audiodramas and say:
This production, like all Heirloom Audio Productions appeals to every part of who I am:
As a Child of God, I LOVE how it integrates character, faith, and the concept of mercy into a riveting story about very human characters and historical figures who knew and loved the Lord.
As an individual who majored in Acting years ago and who currently is involved in teaching drama, I relish the distinct and dramatic characterizations each actor portrays in the audio to make the story come alive.
As a wife, I am relieved that my husband enjoys the CD's, too, so that when our children ask us to put them in, I do not cringe thinking, "Poor Daddy. He's stuck listening to this again..." I dare say, that is never with the case with this audio production. Daddy enjoys it just as much as the rest of us and has been known to practice the accents he hears on it.
As a homeschool mom, the fact that my children eagerly immerse themselves over-and-over again in living history, dramatic musical composition, vivid vocabulary, exciting storytelling, etc. through this audio drama makes me cheer!
Truly, The Dragon and the Raven is another stellar production that we have been enjoying for hours and will continue to listen to in rotation with the productions we have reviewed before:



I would also add the same caveat: The storyline contains battles and death, so, although our family thoroughly enjoys this CD-set, we would recommend that parents with younger or more sensitive children pre-listen to the story before sharing it. We also think that once listened to, the audiodrama will be revisited time and time again.

We love this audio production and cannot wait until the next production, The Cat of Bubastes, comes out! My children have been wondering when "the one from Egypt" would be made and we are all sure it will be another spectacular production.



Learn More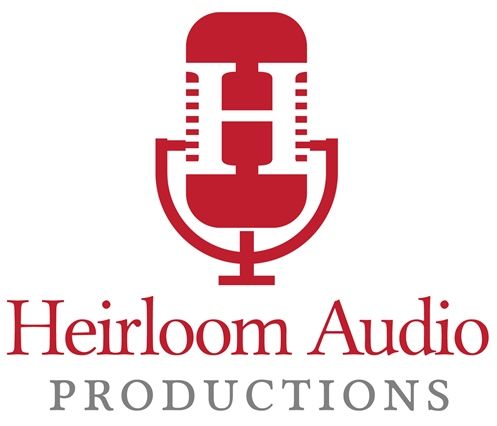 You can keep abreast of
Heirloom Audio Productions through their social media channels:
Twitter @Heirloom Stories #HeirloomAudio #DragonAndRaven

Several bundles for the CD-sets, ranging in price from $19.97-$99.97, are available in the Heirloom Audio online store.
Visit the store to explore the package options and to hear audio samples.

Also, visit the Schoolhouse Review Crew Blog to hear how 100 families have made The Dragon and the Raven by Heirloom Audio Productions part of their own learning adventures.
When was the last time an audiodrama had you sitting at the edge of your seat unable to stop the CD just because you stopped your vehicle? I dare say, order
The Dragon and the Raven and you'll have such an experience soon!