I had not heard of the Olim, Once Upon a Time in Latin, Reader I and the Olim, Once Upon a Time in Latin, Workbook I

by Laurelwood Books until I was offered a chance to review them.

Once I read a bit about them, though, I jumped at the chance to try them out with my children as I felt the reader and workbooks would dovetail perfectly with some of our current homeschool initiatives and goals, such as:
learning about Aesops' fables.

renewing efforts to learn foreign languages.

enjoying more learning time together as a family.

spending more learning time with concrete resources as opposed to computer-based ones.

Indeed, when I looked at the descriptions of the reader and workbook online, I was delighted to see that the reader contains the stories of The Three Little Pigs, The Tortoise and the Hare, and the Crow and the Pitcher. Two of these three stories were ones that my daughter explored in a recent creative dramatic co-op class I taught and, thus, I felt the reader would make a fabulous follow-up.

I was equally happy to see that the corresponding workbook would provide concrete exercises to go along with the reader's stories, hopefully offering an easy-going way to slip foreign language learning back into our family study times whether those occurred at home or on a break between things when out-and-about. For, in this season of life, we are often out-and-about so resources that we can easily toss in a tote bag and take with us from kitchen table, to couch, to minivan, to waiting area, to blanket in the sun are ideal. The
Olim, Once Upon a Time in Latin, Reader I and the Olim, Once Upon a Time in Latin, Workbook I are just such resources. Both are slim, portable soft-cover books.
About Olim
There are currently six readers and corresponding workbooks in the Olim series. Each non-consumable reader contains familiar fables, parables, or Bible stories in both English and Latin, with adorable black-and-white illustrations. Corresponding workbooks are consumable and contain exercises that go along with the vocabulary and grammar used in the readers.

Reader I, which we received, is 57 half-sheet-of-paper-sized pages long and includes:


a page on how to use the reader.
a 3-page Latin pronunciation guide,
a page of Roman Numerals,
the stories of The Three Little Pigs, The Tortoise and the Hare, and The Crow and the Pitcher, first written in English in simplified form, and, then, in Latin in a matching form.
sidebars with vocabulary notes on every Latin page.
geometric shapes to denote pars of speech with

each adjective in Latin denoted by a triangle next to it and each direct object by a square.

darling pencil-like illustrations, which are the same in the English and the Latin portions of the reader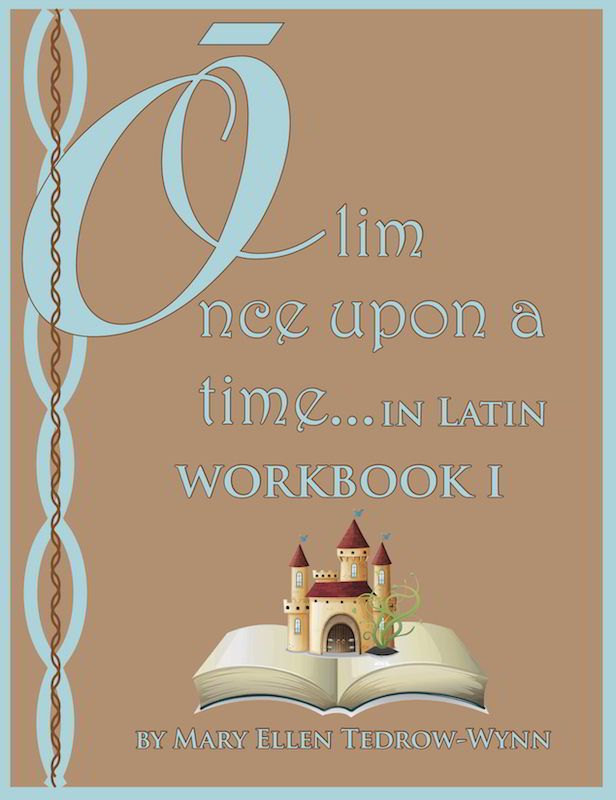 The corresponding workbook is 80 8.5 by 11 pages long. It starts off with some notes and a pronunciation guide and concludes with an answer key. In between, it is chock full of activities that correspond directly to the readers and include such things as:


fill-in-the-blank activities

sentence recognition and completion

matching

writing English definitions based on Latin root words

Digging Deeper sections

Digging for Treasure challenges
Some of the "deeper" sections are relatively challenging and include:
nominative and accusative cases,

etymology,

verbs,

singular and plural forms,

perfect and imperfect tenses,

infinitives,

adjectives and adverbs,

prepositions and negatives,

asking yes and no questions,

and derivatives.
Both the reader and workbook are written for a Grades 2-5 level, however, as you can see, they are pretty meaty, and, thus, I feel, can be used with older students, too.



Our Use and Thoughts



I first introduced Olim to my children on a blanket on our front lawn after breakfast by reading the English version of The Three Little Pigs, which my children immediately commented was different than versions they knew, and, then, doing my best to puzzle out the pronunciation of each word on the first page of the Latin version of the same story. We practiced the first couple words on that page and, then, paused to attempt the first page of the workbook, at which point, my children got frustrated. They simply were not ready for the written exercises, and no one wanted to make the workbook his or her own nor to be our family scribe. Thus, we put the workbook away and went back to page one of the story, giggling over our attempts to pronounce "parvi porci".

Later that day, we asked Daddy to guess what "Olim" and "parvi porci" mean and were proud to know something he did not.

Another day, we read each story in the reader in English, and, then went back to the first page of the Latin version of The Three Little Pigs to practice the words again. From there, we continued a such during different sittings, sometimes just using the reader and, at other times, attempting some of the workbook activities.


Although we enjoyed toting our Olim book and workbook about, and found ourselves breaking out the reader during picnics at parks and having fun with words we had mastered, we never (to date) did take off with the workbook or get super great with memorizing the reader as I had hoped we would. I dare say this is because we kept finding ourselves having to refer back to the pronunciation guide. So, in the end, we decided that we like the concept of the reader and workbook, but are not ready to use them to their full potential yet.

Without an audio of the reader for easier reference (as we are weak at using the pronunciation guide), and without the ability of two of my children to read and write fluently on their own and the desire of another child to do "book work", we the Olim materials have no yet proven as good a match for us as I had hoped they would be during this phase of our life and learning. For, yes, they do dovetail wonderfully with our fables study, provide an opportunity for family learning, pack nicely into a tote, have fun illustrations, come with handy vocabulary columns, etc. However, they do not contain a CD or link for an audio of the story and, without such a feature, we found ourselves getting "stuck". (None of us are gifted with languages!)

My youngest, at six , said:
I liked the English stories and the pictures. The Latin was too hard. I don't know anything, like how to pronounce it. The book and Mommy tried to teach me, but I needed someone else to say it.
And, yes, he means someone else besides Mommy, who trips up flipping back and forth to the pronunciation guide.


My oldest, at ten, said:
Olim is okay. They could improve it by making the English and Latin over and above each other. They also coul improve it by making the stories more like they are in other places. For example, The Three Little Pigs was different. The wolf eats the pigs!


What I do like bout it... the stories are short, so you can read the English versions quickly. You can't read the Latin quickly though. It's kind of hard, because you cannot understand how to pronounce it easily with the key. I'd like to have a CD, so you can be exposed to hearing it.

Also, the workbook is too hard for me. It is long and not fun.
Mind you, my son is about as far from a workbook kid as one can get. He also, unfortunately, is in a stage where he does not like much that does not com easy for him. I keep introducing things to get him beyond this stage, but, so far, little has, including the Olim series, which, although not "right" for him right now, is quality stuff, which he told me once he'd like to revisit after learning Latin with some audio-visual materials first. For he does like the stories, he just wants to pronounce hem more easily.My daughter, at nine, said:
I thought it was a little hard, because you had to go back to the beginning to learn how to pronounce words and also go over which word was which. So, I think it would be better if the English version and the Latin versions were on the same pages.

I liked the words themselves though. "Pare porci" is my favorite. It sounds fun.

I liked doing the workbook out loud.

I liked that the book can be used as just a story in the English version or the Latin version. Instead of just having how-o-learn words, you can read a story.

I liked the illustrations, too.

I thought it was cool tat they had some Aesop fables, because I had just done an Aesop fables class. The fables in the book are different, but they are good.

So, as you can see, while the Olim series is not a perfect fit for us, we all found merit in it and hope to revisit it once we have a better handle on pronouncing Latin without having to look back at the written guide all the time.
Learn More

Just because
e Olim, Once Upon a Time in Latin, Reader I and the Olim, Once Upon a Time in Latin, Workbook I by Laurelwood Books are not perfect for us right now does not mean they might not be ideal for you. With a basic command of Latin pronunciation or a different learning style, Olim would move from being a quality resource set with learning merit to a spot-on one, I think. I love that it is story-based and families can use it together.
If you'd like to see how Olim fit other families, or if you'd like to check out others' thoughts on further
Laurelwood Books' products, be sure to click on over to read the reviews of 100 Scholhouse Review Crew families who tested out one of the first four volumes of Olim, Once Upon a Time in Latin, State the Facts: A Guide to Studying Your State; the Scripture Scribe series; and Patriotic Penmanship.
You can find Laurelwood Books on Facebook, too.