Sometimes, when a child picks up slang, it's aggravating; at others times, it's cute. I'd definitely say it was the latter when my oldest said, "Rainforests are epic!" upon hearing that I was sitting down to write a review of
Rainforest Journey by EdTechLens.
Mind you, my oldest did not learn the slang use of "epic" when using Rainforest Journey, but he has come to be quite impressed by rainforests due to the program!
What is Rainforest Journey?
Rainforest Journey is a one-year, online, life science program geared for children at a K-5 grade level. Because it deals with only one topic - rainforests - it would most likely be considered a supplemental program by homeschooing families and can work well as a unit study. Because it is Common Core aligned, it can also be used by schoolteachers.

In the program there are 34 lessons which are grouped into five thematic units:
Unit 1: The Big Picture of the Rainforest

Unit 2: Adapt or Die

Unit 3: Animals

Unit 4: Plants and Fungi

Unit 5: Ecosystems

Within each unit there are six parts: Lessons, Vocabulary, Illustrations, Activities, and Assessments. Included in these are:
interactive webpages that lead students to click on icons to reveal additional information, etc.

stunning photographs

text geared to specific grade levels

expert interviews with scientists and naturalists

beautiful video clips that include music and sound effects

lesson and unit reviews

multiple choice and open-answer assessments that can be taken online or from printed pdfs.

hands-on activities you can do offline

printable materials for teachers and students
Working in my home with the Kindergarten, Third and Fourth grade levels of the program, I noticed that each grade level covers the same topics under the same umbrella themes, but does so with increased complexity This makes the program friendly for families that like to chat about what they are learning together, but also ends up, in my opinion, not making the Kindergarten level as rich, interesting, and educational as it could be. For, while my kindergartner enjoyed the photos and videos in his level of the program, and also learned a few things, he preferred hearing some of the information that his older siblings had in their levels of the program. I am a strong believer in exposing younger children to rich vocabulary and text read aloud and, therefore, would have really loved to see a few brief sentences for Kindergartners like my son to attempt to read themselves and, then, richer supplementary materials for them to listen to, read, or have read to them. Such a set up would allow kindergartners to benefit from "on level" reading/information as well as more engaging details.

To use the program, all you need is a device with browser capabilities. In our home, the only such device we have are laptops, however, I hear that the program is accessible from handheld devices as well.

How We Used Rainforest Journey
We received a one-year subscription for each of our three children to use a single grade level of content just a little over a month ago . So far, the children have each been using the program several times a week for 15-20 minutes or so at a sitting.

Once I received log-in information for this program, I went onto the website and set up "classes" for each of my three children. Then, each child was assigned a log-in, for which I could create a password. The assigned log-in names were a bit tough for my children to remember, so I wrote them on an index card and taped them to our computer.

Once logged in on my teacher account, I could choose if I wanted my children to be able to explore the program in any order or in a sequential order. I opted for the former, but the children ended up not using their freedom to roam, and, instead, just accessed lessons in order.

I was also able to check my children's progress, score open-ended questions, write messages back and forth and more from my teacher log-in. Plus, I could access printable worksheets, lesson plans and students sheets for hands-on activities, and more.

From their student log-ins, my children pretty much just began lessons, clicked icons, and moved along happily.

My oldest, a fourth grader, did his lessons independently. My third grader, who is not as developed in reading as her grade-level peers are took full advantage of the portions of the lessons that could be read to her a voice in the program and also asked her older brother, my husband, or me to read portions that gad no audio-feature, such as quiz questions. My kindergartner, who is just beginning to read, did much the same thing, usually doing his lessons side-by-side with Dad, a sibling, or Mom.

None of my children opted to do the printable worksheet part of the program, which was fine by me, for, although I had hoped they might be inspired to engage in pencil-to-paper work through this program, I was not about to force it. I decided that we could work on writing with other programs and use this one just to ignite their interest in rainforests -- which most certainly happened!



In Their Own Words...
My kindergartner had this to say about
Rainforest Journey:
I

like it!! Sometimes there are movies. I like that people read stuff to you. I have learned about howl monkeys, things that look like mice, and that the very top is called the canopy. The tiger I learned about was the coolest. I never knew that its back teeth were for getting feathers out and stuff. I thought all of their teeth were just for eating, but the four teeth in the front are for grabbing prey. I want to keep using Rainforest Journey for fun... just for fun! Not for lessons.

My third grader said:
I like Rainforest Journey. It is fun to watch the videos and see the pictures. I thought the creature like a monkey looked like an old man. I liked a lot of the pictures. I liked the birdie song. It was so annoying, and I like annoying things. It was a bird cawing in a video.

I have learned about.... 22 things! For example, the rainforest has very dangerous plants for bugs and I will tell you why. The plants look like they have water on them, so the bugs go to get the water. The "water" is actually sticky and, then, the plants eat the bugs1 They are bug eating plants!

I'd recommend this program to people who like the rainforest. I kind of like the rainforest and will keep using Rainforest Journey, because I like it. Bye. Bye.
My oldest, in fourth grade, said:
Rainforest Journey is great, because it is online and I can do it by myself. I did not know I liked the topic until Mommy let me use this program. Now, I think rain forests are epic! One example of why is because they have soooo many animals, such as poisonous dart frogs, crabs, and more. Rainforests are also cool, because there are many types, such as temperate, tropical, and more.

I like how the program does one or two pictures or videos, then the two things on the bottom, and, then, the quizzes. This format makes it easy to follow. It's predictable, but not boring, because there are lots of cool things you can learn, such as that crabs in the rainforest blow bubbles to breathe.
Mommy did not make me do any of the printables, because I learn best online with videos, reading, and listening. Other kids might like the printables.
I would recommend this to everyone who does not live in the rainforest, because it is a great way to learn about the rainforest.
My Thoughts...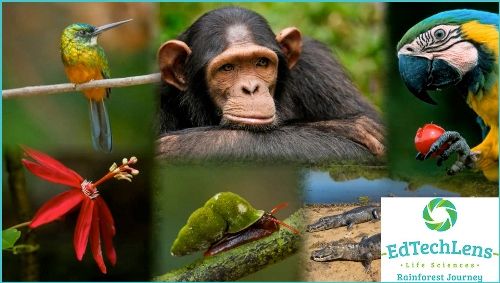 Obviously, my children like
Rainforest Journey, therefore I would recommend it. Some strengths of the program are that:
Beautiful photography and videos engage users.

First-person accounts with naturalists, scientists, and people's journals make the rainforest experience come alive.

There are audio features on most parts so even developing readers can use the program.

The teachers account and student accounts are easy to navigate.

Although the program can be used strictly as an online one, there are printable components and hands-on activities, too.

Because this program is on the "schooly" side, it can easily be used for co-ops, etc. Teacher support materials are there for that!

Some things that did not suit me as well were:
I love multi-age, literature-based learning, and although this program allowed all my children to work on the same topics at different levels, I would have preferred a "family" option to grade-level options, where the presented material was rich in language and depth, but assessments and whatnot could be printed or taken online at varying grade levels. Then, we could have listen, watched, and learned as a family, but done some independent study, too.
Even though the assessments were brief, I felt that they came too frequently. With multiple-choice questions and open-response questions after each section of study, things got to feel too "school-y" to me. Although my children did not mind this much, I would have liked the option to turn off some of the assessments, since I do not feel that such assessments are necessary for young children,and, sometimes, such assessments can discourage children. I'd rather my children spend time with engaging content and discussion than traditional assessments.

Videos were a feast for the yes but not the ears. I would have loved more videos, especially in the kindergarten level, with voice overs that explained what was being looked at.
All that said, I think the program might be a good fit for:
Those that like rainforests. (Of course!)

Families that seek independent life science studies for their children (as long as the children are strong enough in reading to read the portions of the program that have no ado feature.

Classroom teachers and co-op teachers who want the flexibility and accountability various student log-ins allow.

Children who like online learning.

Children who are highly visual.

To view sample lessons and videos of this online science program, please go directly to the EdTechLens website, where, currently, you can also find a
coupon code for 50% off the typical price of
$50 for one student or $75 for up to five students in the same grade.
While at the website, I recommend that you look carefully at the sample lessons to ensure you choose the most appropriate level(s) for your child(ren) since each subscription allows access to one grade level only and, depending on if your child is "ahead", "behind" or "right on target" for particular grade levels, the fit may be different.

You can also
get social with
EdTechLens at:





Read what 75 Schoolhouse Review Crew families had to say about this K-5 online science program for kids!


to check it out and see if you think rainforests are epic, too.