Although there are a number of math approaches out there that I like, I have yet to find one that is ideal for my daughter. Thus, when I was given an opportunity to review one of the Digital Packs
that Demme Learning puts out, I was excited. I have heard great things about Math-U-See and was confident that using the Beta Digital Pack as a part of the Beta Universal Set might bring my daughter math success. I am happy to report that my thoughts were not far off the mark.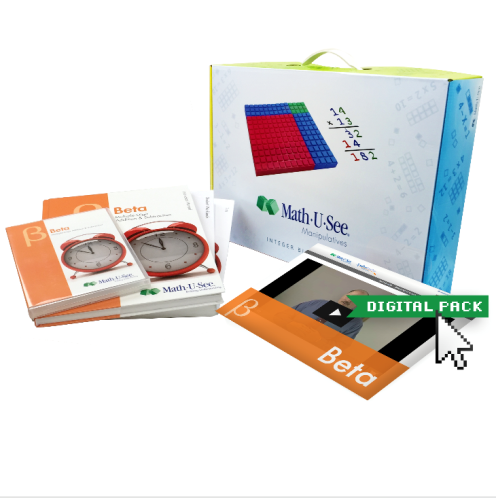 My daughter has been working with Math-U-See since early February and is progressing without much fussing or frustration. To me, that means success and two big thumbs up for
Demme Learning!



What is the Math-U-See?
If you've been homeschooling for any length of time, you've probably heard of Math-U-See, which is a popular, hands-on math program that uses manipulatives designed to illustrate and teach math concepts in homeschoool and small group learning environments.
Pastor and schoolteacher Steve Demme developed the Math-U-See program over 20 years ago to help students build math understanding through a multi-sensory, mastery-based approach which systematically introduces new concepts, while also reviewing old materials.

If you were to purchase a typical, traditional Math-U-See pack, you'd receive:
a teaching kit, which contains an Instructional Manual with answers and all lessons on a DVD
a student kit, which contains a student workbook and a test/activity booklet
a manipulative block set, which is necessary for Primer through Algebra 1 with an additional Fraction Overlays set for the Epsilon level and Algebra-Decial Inserts for the Zeta, pre-Algebra and Algebra 1 levels
You could also purchase an optional song CD of skip counting and addition facts.
What is a Math-U-See Digital Pack?
The Math-U-See
Digital Packs contains most of same items as the traditional packs, but in digital form. For example, in the
Beta Digital Pack I received, which is valued at $38, there is:
a teacher kit: 12-month access to streaming instruction videos, an Instructional Manual PDF, and lesson and test solutions
a Digital Manipulative kit which is accessible using Chrome or Safari browsers on any brosing device

Skip Count Songs MP3s and Songbook PDFs

a variety of other online resources, to include online drills and downloadable record-keeping sheets, graph paper, word problem tips, and more.
The only thing from the regular physical kit that is not digitized is the student workbook and the student test booklet, which can be purchased separately in physical form separately for $40.

So, essentially, the Digital Pack offers modern-day convenience at a cost-conscious price. In doing so, it adds an incredible amount of portability to an already fabulous homeschool math curriculum!
How Did We Use Our Math-U-See Digital Pack?
Although I was excited about the convenience of the
Beta Digital Pack, I know my daughter likes concrete things, too. So, I was thrilled to receive the
Beta Digital Pack as a part of the
Beta Universal Set (which is valued at $153), which meant we had the concrete block set to entice my daughter while also having the extraordinary convenience of the Digital Pack, which allowed us to stream instruction videos onto our laptop without having to pop in a DVD and also allowed me to quickly and easily access things like Lesson Summaries and Answer Keys through a drop down menu.

Now, technically, I think parents are supposed to watch the streaming instruction videos and use them as a model for teaching their own kids, but, in our home, we tend to do things together. So, my daughter and I watched the instruction videos together and proceeded with lessons from there.

At first, my daughter was delighted with the streaming videos and physical and digital manipulatives, and I was, too. We used these, along with the Student Workbook and Test Booklet, to progress at a happy, successful rate.

Then, we got a bit off course.
After a few lesson periods, my daughter decided that she did not want, nor need to complete, workbook pages. So, instead of having her do the workbook pages, I simply scanned them to see if there were concepts in them that I thought she was weak in and asked her to do those pages. Because I think that application of math through story problems is important, I also paused to read each word problem in the workbook to her (since she struggles with reading) and had her figure out the answers orally or in writing.

During this beginning phase of our Math-U-See usage, I loved that, with the Digital Pack on my laptop and the workbook and test booklet in hand, we could easily take out learning to the couch, the kitchen table, a bed, a blanket outdoors, or a picnic table with or without physical blocks since the digital ones work well, too.

It was this convenience, however, that got us even further off course. Or, rather, it was my habit of taking math anywhere that did.

You see, one day, our family decided to take advantage of some particularly beautiful weather by taking our learning to a local park. While there, I knew we would do about an hour's worth of sit down lessons at a picnic table and, then, be off and about in the park for the rest of the morning and early afternoon. Thus, I did not want to bring my laptop. Since, I have no other browsing device, I opted , instead, to just take our Beta Test Booklet for my daughter's math work that morning since she was ready for her next lesson test.

Well, lo and behold, my daughter did not just finish her lesson test during a 15 minute math session, but decided to go onto the next test, too. After that, my daughter, beaming with pride, asked if she could "test out" of certain lessons by starting with a particular lesson's test and, then, going back to watch instructional videos and/or do extra practice as needed. Despite the fact that this is a rather backwards approach, I agreed. For while I know that Math-U-See is written with built-in systematic review and introduction to new concepts that might be skewed a bit by the backwards method my daughter asked to use, I also did not want to dampen her new-found math success and initiative! The fact that my daughter was asking to do math was huge for me. The fact that she was succeeding with it was even bigger. So, I went with the flow.

Since then, my daughter and I have sat down to do the tests for each lesson as pre-tests, and, then, with her input, have decided if we need to get on to our computer to stream particular lessons or seek extra practice through digital or physical components of the program. It is working well for her and I am delighted!

Using our backwards approach, my daughter has just finished the test for Lesson 12 with very little trouble. More importantly, she and I are in agreement that she is making math progress and that we have found a math program that is right for her right now. Thank you,
Demme Learning! It is such a delight to know that math success can be met by my daughter without fussing and frustration.



Final Thoughts
When I asked my daughter what she thought about Math-U-See when I was preparing for this review, she said:
I like Math-U-See, because it has blankness on the pages. It's not crowded.
(My daughter tends to struggle with visual clutter, so the simple, no-nonsense pages make concentrating on the math at hand easy for her.)
I like the guy who teaches, but he's too quiet. He's not likes some teachers though. He gives students time to answer questions before he answers the, and his explanations are clear.
(For some reason, we cannot seem to turn the volume of Mr. Demme's voice up as loud as my daughter would like in the streaming videos. His voice is definitely audible; it just does not come through as loud as some other things do on my computer. That aside, my daughter likes his teaching style, it seems, which surprises me as it is rather no-nonsense, traditional school style, which typically does not suit my kids. What does suit her, as she said, is the time Mr. Demme gives for students to think and respond and the clarity of his explanations. My daughter processes things at a different rate than some children so this style works for her. Note to Self on that!)
My favorite thing about the program is the blocks. I like to build with them, not use them for math so much.
(Yes, yes. When our block kit came in, I told my daughter it was just for math, not for play. I have stuck with this in that we do not use them for free play when we are not doing math. However, sometimes my daughter likes to build with them when watching the instructional videos. She also likes to start or end math time by free playing with them when we have time. That's okay by me, and, obviously, a plus for her!)
My least favorite thing is that there's a workbook. I don't like workbooks. I like printable pages and when my mom takes out just one page.
(Um, note to Self Two there. I did not realize until printing pages, using workbook pages, and hearing my daughter offer this comment that it is not workbook pages themselves that my daughter has never liked, but, rather, the bound workbook. Who knew? I guess I should have realized that my daughter found thick workbooks overwhelming. Now, I do. Not a math thing, but a thing I can thank this Math-U-See review for anyway!)
I'd recommend this program for other kids, and I will keep doing it.
(That she will! I am thrilled to have found something that she is willing and able to do in math!)


Truly, I am quite pleased with Math-U-See. The physical blocks enticed my daughter to give the program a try. They workbook and test booklets, with their ample white space, allow her to concentrate and not feel overwhelmed. The printable sheets helped me realize that single sheets (even if torn from workbooks instead of printed) also help prevent overwhelm. The streaming video and extras accessible from the drop down menu are super convenient. The digital block feature is fun and portable. Our
Beta Digital Pack as a part of the Beta Universal Set is a total win here! I would not hesitate to recommend it to those who:
seek traditional math curriculum in a modern package

have not yet found an ideal program for learners who may have processing issues

love math and seek a proven mastery-based program

hate math and seek the mentorship and expertise of someone who loves it to teach it (Mr. Demme is the man to do that!

want to be able to take math on the road or out-and-about

seek math success without fussing and frustration.
Learn More

See what 100 Schoolhouse Review families thought about different levels of
Digital Packs by Demme Learning