Sometimes, you need the right vehicle if you're going to take off, and that is just what Here to Help Learning provides: a vehicle for helping you mentor your children to take off with their writing. Paragraph Flight 1 from Here to Help Learning has been doing just that in our home for the past month or so. It has been helping me motivate my children to become more consistent and proficient writers.

Mind you, there is some irony in the fact that I need anything at all to help me spark a love for writing in my children.
As a former classroom teacher and long-time tutor, I have guided hundreds of children and adults to dive into writing with confidence and joy. Somehow, though, when I work with my own flesh and blood, we all too often barely get off the ground.
Here to Help Learning has been changing that. My children are not soaring high with writing just yet, but
they have gotten - and stayed - off the ground for longer than they usually do while using this program, and for that I am grateful.
Here to Help Learning has proven to be a welcome surprise in my home.
Engaging Expertise



I had never heard of
Here to Help Learning before being offered a chance to review a
one-year online subscription to
its six levels of online writing content, which are geared towards parents and their children in grades one to six. However, once I took a look at the program's trailer video, I knew I wanted to learn more:
The video montage of Mrs. Mora attested to her engaging enthusiasm, which I knew my children and I would appreciate. A further look about the
Here to Help Learning website then brought me to an About Us page, where I learned
that the company is the brainchild of

Forrest and Beth Mora, a couple who have successfully homeschooled their own eight children for over twenty years and who only began the online learning program after successfully running a local co-op that served about 60 families with eight different course offerings. Expertise in a homeschool environment... I thought. That's a plus! Truly, I find that programs written by homescholers for homeschoolers always seem to work better for me and mine than those that are written to meet the needs of, say, the Common Core.

After but a few more mouse clicks about the website, I knew
Here to Help Learning was a well-timed opportunity for my children and me. Promising engagement and expertise, it, I hoped, would get us moving along with consistent, pain-free writing lessons.

I was not disappointed.



A Clear Take Off
My oldest has been wanting to write a book, so I thought I might start him off with that through
Here to Help Learning's more advanced levels. However, a quick look at the simple Writing Placement Test made me realize that doing so might not be a wise choice. Writing easily, without frustration, and with correct capitalization, punctuation, spelling, etc. is not my oldest child's strong suit. Thus, it was that I decided to start him and his younger siblings off together with Paragraph Flight 1.
When I received my family's log-in information for
Here to Help Learning, a quick look at the our printer told me it was low on ink, so, after logging in, my children and I simply sat down together and watched the first few portions of Flight 1 Paragraph Writing together instead of working on any actual hand-to-paper writing.

When doing so, as Beth Mora first came on the screen of our computer dressed as a flight attendant and talking in an ultra-sweet and soothing voice , I though, Oh no. This might be too hokey to engage my kiddoes. However, by the time the still sillier Captain. Knucklehead (a basset hound) came on the screen, I knew, Hokey or not at times, this is a solid program that my kids are excited about it. What a win! Truly, Mrs. Mora's enthusiasm and expertise caught both my children and my attention. I was impressed by the way Mrs. Mora layers fun into academics and my children were asking when we'd have enough ink to print the "penguin on the killer whale with the pom pom" picture.

Victory! My wanted to get started with something to do with writing!


Thus it was that, shortly, I secured ink, printed out the worksheets that my children would need to get started, and re-watched the first videos with my children, pausing as directed on them to do different oral and written exercises. The children giggled, wrote, and remained excited as we did this.

It proved a successful start.



Turbulence
Then, I goofed.... Instead of continuing to go at my children's pace, or at the pace suggested by the program, which is to watch lessons videos one day a week and do the writing assignments another, I got pushy. I did the program in brief 10-20 minute sit-down snippets over several days, and, then,
on a day when my children and I were actually home for a number of hours at one time, I tried to fit too much of a good thing into one day, making it bad.

My oldest got discouraged about his writing, my middle child wanted more 1:1 attention for dictation than I could give her, and my youngest got lost in the fray.


Turbulence was caused by me, not the program. Had I just continued on our initial trajectory, capitalizing on Mrs. Mora's good-natured and spot-on video delivery and the easy-to-follow plans written on the pdfs that come as printables with the program in short snippets, my kiddoes likely would have been A-okay to keep on flying. Because I didn't, we needed to touch down for a reset landing before taking off again.

Live and learn.

I used the children's pause from the program to poke around on it a bit more myself. In doing so, I got excited.



So Much There!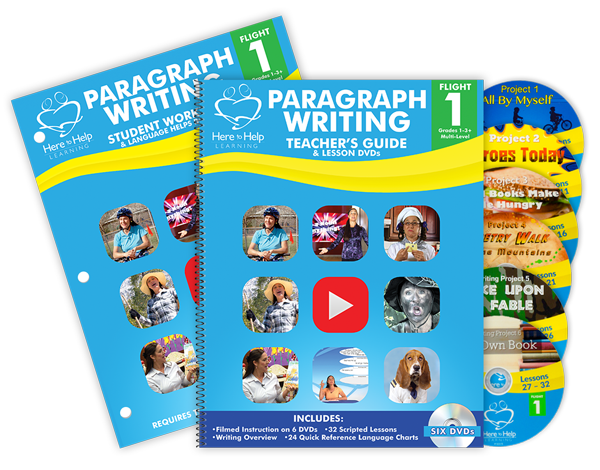 Here to Help Learning
offers three Flights (levels) of Paragraph Writing and three of Essay Writing. Flights 1-3 of Paragraph Writing are geared toward first through third graders, while flights 1-3 of Essay Writing are geared towards fourth through sixth graders. Each Flight contains 32 lessons (including ones on poetry!) and all flights are available with a single subscription.
So for one monthly subscription price of $6.99, or a one-time fee of $89.99 for a physical DVD/workbook set, families can get six year's of writing instruction.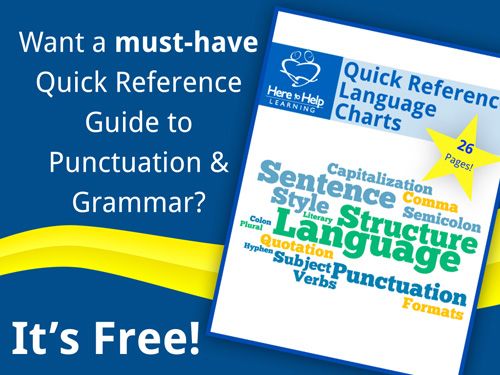 There are plenty of extras offered, too, such as 18 different styles of writing paper to meet the various handwriting needs of children, a printable Language Helps Booklet for students, Quick Reference Language Charts, an informative weekly newsletter, and a Writing Warm-Up Gallery.
Best of all, all the lessons are engaging and crafted to get children writing with confidence and enjoyment as they move through the following steps of each lesson:
Pre-Flight Checklist (gathering needed materials)

Flight Checkin

Take Off (a game such as Sentence-No Sentence, a writing warm-up exercise, and introduction/review of the Writing Process using fun movements)

Full Throttle (focus on the writing project)

Flying Solo (independent writing time)

Further, a guiding Bible verse and reminder to ask God for help and peace is oft repeated in the program.
Cleared for Second Take Off

Eager to take advantage of all the wonderful opportunities inherent in the program, I buckled down for another ride with it.

Luckily, despite my previous over-ambitious faux pas (and with thanks to Mrs. Mora's engaging style!), my children and I managed to get going again, and I dare say, will continue to take off with more consistent writing as we move along.
In the Chil

dren

's Words
When I asked the children for their thoughts about the program, my eight year old said:
I liked the discovery tickets idea even though Mommy has not used it yet. I also liked the girl's story. (The girl who told a story in the video about the paragraph.) I also like that it's (the program is) not that hard. It's simpler than most. You get help and do things depending on what level you are on. You get to write your own story on a general idea and do not have to write about "this or that" like in some writing programs...

I did not enjoy when Miss Maura was writing in one video and it made screechy noises, but I liked that she was kind. Other kids will like it, too.

What my daughter did not mention, but I noticed is how the program has made her want to read, too. More than once, she has gotten excited about what she has written for the warm ups and wanted to read it to me herself. This is huge for my girl who can often sound out a word to spell it or can copy words beautifully, but can not always read them back. I am not sure what it is about Mrs Mora and the writing program, but it is helping motivate my daughter to read, too. Whoo hoo!
My five-year-old had this to say:
I liked Captain Knuckledhead. He was funny. The rest I did not like so much, because I do not like writing and I got way behind. I did like early on when I got to write about the penguin though.
Yes, my poor youngest is still not quite as over the over-ambitious day we had yet as his siblings. I feel pretty badly about that as the experience of that day truly left him feeling"behind" his big brother. However, I reiterate, that his feeling is my fault not the program's. Trust me, the boy had plenty of laughs during the program and was more eager and ready to write than I realized in our first few sessions with it.
My ten-year-old (who is ever the bluntly honest one) had this to say:
I don't like writing, but I liked Take Offs and the games, because they were fun. Take Off was fun because you got to write a story about silly pictures. Games, too.I also liked the videos, because you did not have to write while you were watching the videos. I did not like the paragraph writing part so much, because it was about me and that is not so interesting. I could not make things up. I prefer to write imaginary things. I would be willing to keep doing the program, because, at the end, I'd get to write my own book. I want to write my own book, but I am not a good speller and writer yet. I think Miss Maura and Mommy can help me.
Obviously, my oldest could work on sentence-starter variety and attitude, among other things, but at least he is honest and also sees how a quality program, that combines filmed instruction, worksheets, and my mentorship, might help him reach a goal. That is what
Here to Help Learning is all about.



I recommend the program to any parents seeking a way to motivate elementary-aged children to gain skills and confidence in writing, while enjoying engaging videos, expertly-designed curriculum, and some large group or 1:1 mentorship from Mom, Dad or Co-op teacher. Some pros of the program are:
It's flexible. Lessons can be completed in a home setting or a co-op setting, individually or in groups in a series of short sittings or on longer ones. (Ones that go at your children's pace!)
It's affordable. With a variety of package options, it can be ordered as an online, a physical product or both and can be used by multiple levels of learners in one family for one price.
It's Biblically-based. A memory verse is repeated often and mention of God comes in every lesson though lessons are not explicitly based on faith-based writing prompts/topics.
It's purposeful, yet fun. Each writing project has a specific purpose and all lessons contain enjoyable video teaching, prompts, and opportunities for relational learning between parents/co-op teachers and students.
It's easy-to-implement. Clearly scripted lessons are available in pdf format, the videos are self-explanatory and engaging, and website design makes accessing lessons and printables simple, so prep time is minimal.

There is very little I did not like about the program. In fact, besides my own aforementioned faux pas with pacing it, the only cons that come to mind are that:
As my daughter said there is a screeching sound effect in one video while Mrs. Mora writes which we all found tough on our ears.
In some of the video segments when Mrs. Mora is teaching a lesson, the kids in her videoed homechool co-op class are doing a different writing project than the project that is assigned for program students to do. This confused my children some.

Overall,
Here to Help Learning
lives up to it's name. It truly is there to help you help your child learn to enjoy the writing process, becoming a more confident, proficient writer!
Learn More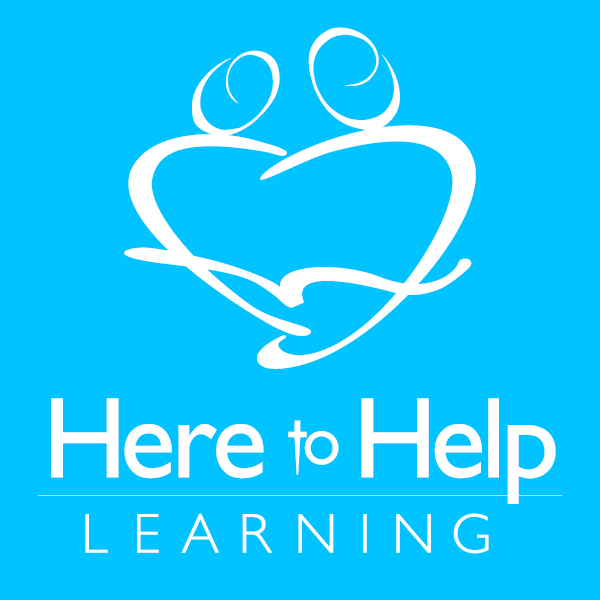 Connect with Here to Help Learning via Facebook, Twitter, Pinterest, and YouTube.
One hundred Schoolhouse Review Crew families tested out all three levels of this program. Read what they have to say.