{Disclosure: When you're a blogger and love a company, you become an affiliate for it. That is exactly what has happened for us with Grapevine Studies, whose
The Resurrection: Beginner study we have been thrilled to complete his past month. Should you click through our links to learn more about
Grapevine Studies and decide to make any purchase, we may receive compensation at no extra cost to you as per our full disclosure. We hope you love
Grapevine Studies as much as we do!}
We Did It!
The other night, with wide smiles, my children and I finished our
Grapevine Studies
The Resurrection unit. Doing so truly was a breath of fresh air and hope for me!

Of course, studying the Resurrection brings hope to all from a spiritual perspective. For my children and I, however, stickfiguring through Jesus' last week with
Grapevine Studies

also brought hope in a practical sense: We can complete something worthwhile, it proved.

Recently,
my family has been in a too-busy phase of life and homeschooling, where so much seems out-of-balance, and I sometimes feel defeated, as if my children and I will never accomplish anything. Day after day, I make decisions about what is urgent or important and what can be put off until another day, or, worse, neglected altogether. Luckily, I am well aware that is no way to live long-term, especially if priorities go astray. Thus, I was determined to find multiple ways to keep our focus on our Lord during this hectic season in our lives, and, thankfully, part of that focus came from our
The Resurrection: Beginner study, which was surprisingly easy to fit into life. We simply sat down in the morning, afternoon, or evening - whenever we had a moment to stick figure through the Bible
mall increments as they fit into our schedule and ended up finishing the whole study within our month-long review period.
Stick Figure Through Jesus' Last Week

When deciding which Grapevine Study to do this Lent, I knew I wanted to do one of the Resurrection ones as I felt it would tie in nicely with some

Lenten Resurrection

eggs I recently swapped for as well as with our practice of doing weekly Stations of the Cross. I also thought it would solidify my children's understanding of what happened in Jesus' final week of earthly life.
That decision made, I considered requesting the
The Resurrection: Multi-Level
study which would have targeted my older children's age levels, but decided to go with the
The Resurrection: Beginner one instead.

Why?

Because even if
The Resurrection: Beginner is written for my youngest child's age level (Pre-k/Kindergarten), I knew from past experience with Grapevine Studies that the simple nature of the study would be easier to fit into our life than the Multi-Level one would be and that the larger stick figuring boxes in the Beginner level would appeal to my children.

I was not wrong. We easily fit the 11 weekly lessons or 22 daily lessons contained in the
The Resurrection: Beginner study around our daily commitments this past month and were able to complete the entire Bible study unit in 15-45 minute increments. In doing so, we traveled back to Jerusalem to study the last week of Jesus' earthly life, reviewing and learning about:
the Last Supper

Gethsemane

the Religious Trials

the Civil Trials

the Crucifixion

the Death and Burial of Jesus

the Resurrection

the Witnesses

Jesus's Ascent into Heaven


The study was made easy with the
Student Book, the Traceable Student Book,and the

teacher's book, which contains 36 pages of:
lesson notes

stick figure drawing samples

lesson goals and key points

memory verses

review questions and answers

I was thrilled on the last day of our study that the children got all of the questions on the final review correct except for repeating memory verses. (They became familiar with the memory verses, but not so familiar as to be able to recite them as we do not focus on Scripture memorization here so much a familiarization and understanding.
Truly, the flexibility and ease of the
The Resurrection unit helped my family meet with success while strengthening our understanding of the Bible.
I have no doubt that
Grapevine Studies can help your family fit Bible study into a crazy schedule, too. (Or, if you're blessed to be in a slower-paced season of life, the studies can be savored!)


Three Reasons to Love Grapevine Studies
1. Options!
Grapevine Studies
offers products as both e-books and printed ones to meet the needs of different families and teachers. The license for families states that the e-books are "for use by members of your immediate family", while the classroom permissions allow for copies for "one classroom for one calendar year from date of purchase" So, going the e-book route might be the wisest choice for those with large families and those teaching co-ops or other classes, while sticking with print versions might make sense for those with printers that suck up lots of ink or those that want to really just open-and-go!
2. Simple Supplies for Teaching
As was the case with the
Old Testament 1
Grapevine Study that we review

ed,
The Resurrection: Beginner supplies are simple and likely what you already have on your home.
For the teacher:
a computer and printer (if using the e-book versions as we did)

a Bible (online or print)

the teacher's book (e-book or physical)

a dry erase board and 8 colors of markers (or chart paper and markers, or copy of student pages and colored pencils if doing things with a small enough group to just sit at a table together)

a Bible dictionary (in print or online)
Each child needs:
a Bible (online or print, although we tended to share one Bible among the whole family)

a student book (e-b

o

ok print outs or physical book_

colored pencils (markers, crayons, or other colored writing utensils)
Binders can also come in handy if using the e-book version of
The Resurrection
study.
3. Ease!A well-laid out teacher's book and
user-friendly student books bless families with an ability to balance studies into a full schedules of fun and learning. In a nutshell, to use the study you simply follow along with the teacher's book and student books by:
reading Bible passages (We sometimes used a new Bible we have and sometimes used an online one.
chatting about the stories you read about (My children know the Resurrection story pretty well, so tended to add details they already knew or to comment on new-to-them details during our chats)
drawing simple pictures (Truly, no artistic skill is needed. The teacher's book offers examples of simple stick figures even the most artistically-challenged can sketch.)
answering review questions (in my opinion, the questions are not so much challenging as they are meant to key students into key events, which proved perfect for us.)

This can be done in as little as 10 minutes at a sitting, we found, but, sometimes, ends up being much longer if time allows in a schedule and the children get into drawing and discussing.
Where to Start Stick Figuring through the Bible?
Grapevine Studies
offers a full array of Bible studies at a variety of levels. So,

even if
The Resurrection: Beginner study does not sound right for your age and stage of children, I bet they have a study that would be! Check out th

e chart below to see a quick overview of what they offer: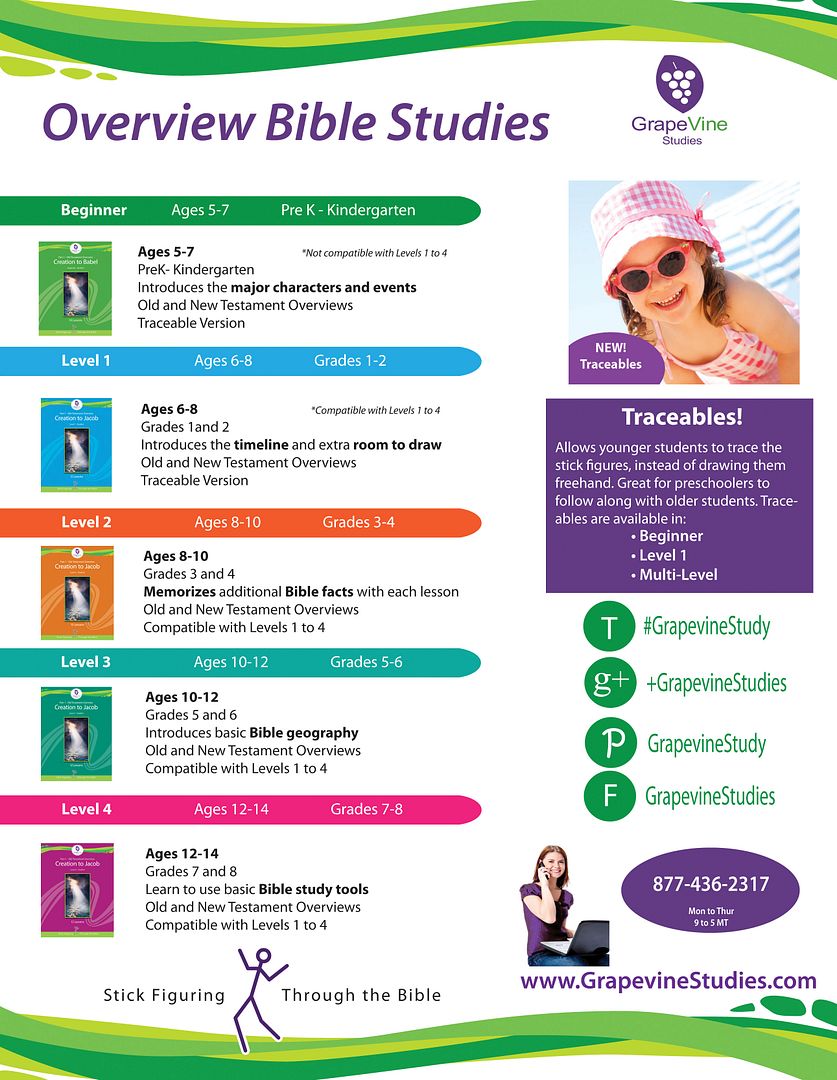 Then, if you are not sure where your family or co-op group might best start stick figuring through the Bible, use this handy chart: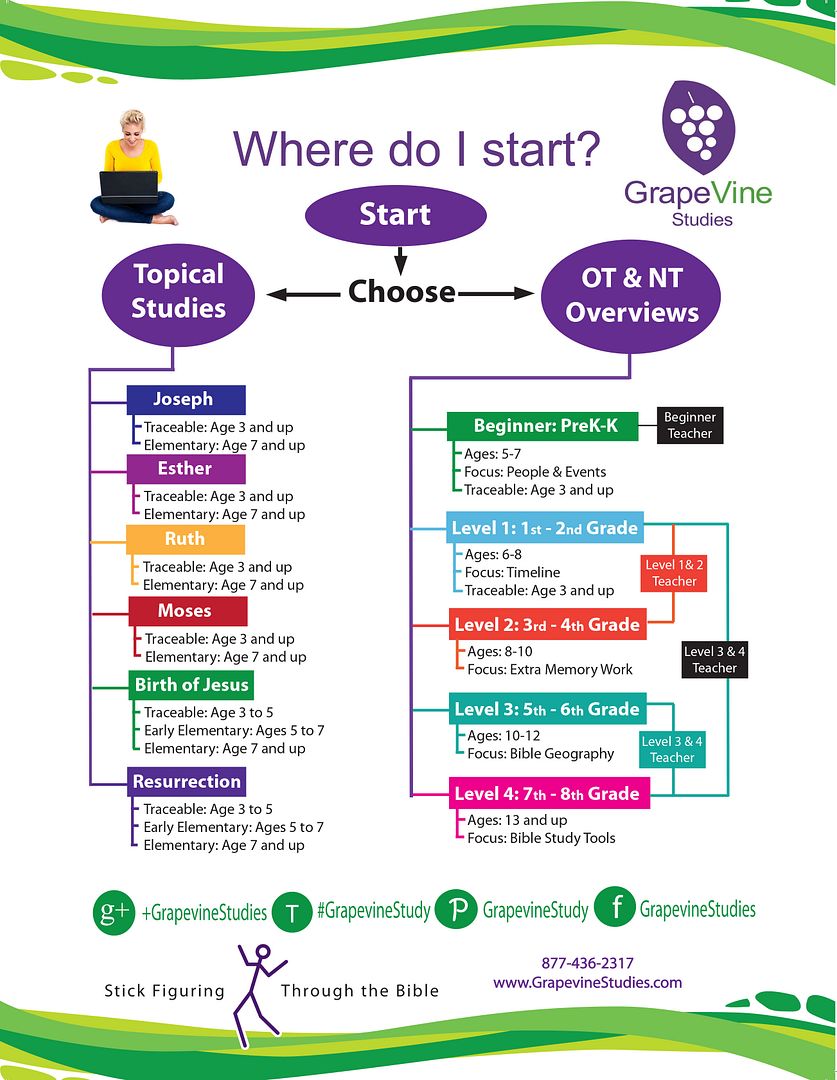 What Did We Think of the Resurrection "Beginner Study

"
It

'

s no secret, I love
Grapevine Studies

and found the The Resurrection: Beginner study perfect for our stage of homeschooling right now.

My five-year-old used the traceable version of the student book and had this to say:
I like that I could trace. I wanted to do (my drawings) in black only. Sometimes I added red for blood. I also added details like the guard's clothes and cracks in the stone... (The study's difficulty level) was in the middle, not easy or hard.
I will add that my five-year-old enjoyed his traceable version enough that one day when we brought our Lenten binders to Reconciliation so the children could color while I was in with the priest, I came out to find that my youngest had turned to his
Grapevine Studies pages and was doing those instead of the coloring he usually favors. Moreover, whenever we have chatted about the Stations of the Cross and Easter/Resurrection story lately, my youngest has had a lot more to share. It's obvious to me that our time with
Grapevine Studies helped him solidify the events and details in his mind while writing more of God's Word in his heart. Love that!

My ten-year-old used the non-traceable version. He said:
It's okay. It's not the best of the best, because it's just simple coloring and drawing.
Mind you, this is coming from a kids who loves to draw what is in his imagination and goes through reams of paper doing so, so the simple stick figures are simplistic for him. That said, they are also a draw for him since he always checked out what I drew or what was on his brother's traceable pages even as he set about creating his own images.



He also said:
I liked that it did not take long to do each lesson. I preferred to go ahead and to draw my own images, but I also listened to the Bible quotes and learned some new details, such as about Annas.
I appreciate that my oldest realized he had not "heard it all before" and paid attention enough to pick up new details despite his proclivity toward drifting into his own world. In fact, he paid attention so well that when we were praying the Sorrowful Mysteries at a Children's Adoration hour, with Q&A meditations between each decade, a priest commented on how much my oldest knew about the story of Jesus' death. We had just been doing
Grapevine Studies

before going to Adoration and had no idea it would tie in to the priest's talk!

My oldest's ability to recall the events of the death and resurrection of Jesus were not short term either. As he said"
I enjoyed taking the quiz, too, because I got a sweet.

(I had offered the kids a sweet for knowing the sweetness of Jesus' Resurrection and proving it through answering most of the questions on the final review correctly.)

I would recommend this to anyone who likes simple, not intricate, ways to learn about Jesus' death and resurrection.
I concur with my oldest's recommendation and would add that
Grapevine Studies

would be fabulous for:
busy families like ours that want to more regularly fit focused, fun homeschool Bible study in
co-ops and Sunday school classes that want to focus on understanding the Bible through child-friendly means
those who appreciate opportunities to practice both short and long-term memory skills using faith-based materials
folks with different learning styles, particularly visual learners
parents seeking a new approach for family devotions
families with preschoolers through highschoolers

My eight-year old agrees that many folks would like the study. She used the non-traceable version of the student books and said:
I would recommend this for Catholic-Christian families or other Christian families. I think it would be best for littles because it has traceable pages or pages you can just draw on. It is mostly drawing and listening, so you don't have to do a lot of writing. That's what I like about it.
You can learn about the death and resurrection of our Lord by drawing, and you don't have to do a lot of writing. I do not like writing.

Despite her dislike for writing, my daughter decided, on her own, to start doing copywork of some of the memory verses. She enjoyed the drawing, too, saying:
I liked to mix drawing the images Mommy showed me with my own ideas, and I liked using color for certain pictures and not for others.
I knew most of this story already, but I did not know Jesus went to so many trials. So, I reviewed a lot and learned a few things, too.

I liked this study a lot and would like to do more like it on different topics. Then, every Lent, I want return to this one topic.

Looks like we may be doing that
Multi-Level
study in the future with this girl and her siblings! Most definitely, we will continue to stick figure though the Bible.

Learn More

You might also want to check out the reviews of 100 Schoolhouse Review Crew families that were blessed to check out the following
Grapevine Studies
:
Get social with at
Grapevine Studies

at Facebook, Twitter, and Pinterest.