Hands-on history! That is what jumped out at me when I learned we'd have the opportunity to review the Project Passport World History Study: Renaissance & Reformation by Home School in the Woods. For my children love history and particularly cotton to flexible, activity-based learning that appeals to their different learning styles.




Gotta Love Homeschool Products Born of Need and Written by Homeschoolers for Homeschoolers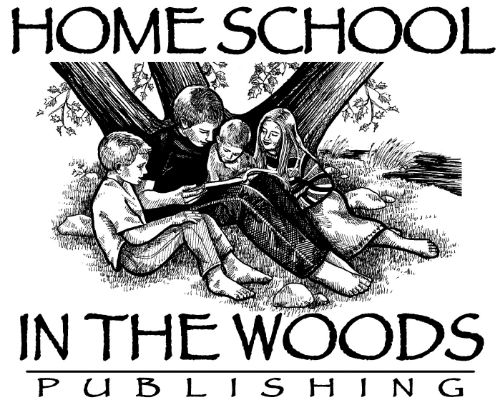 Amy Pak, a homeschool mom whose family really does live in the woods, could not find images that she liked to go along with the history studies that her children and her were immersed in. She ended up using her gifts with graphic design and illustration to create some. In 2002, she published these as timeline figures and
Home School in the Woods was born.
Together with her family, Amy began answering requests to create more history-related products, the latest of which are
Project Passport World History Studies, a series of excellent activity-based history units.
Project Passport World History Studies Help Kids Enjoy Tailor-Made Journeys Back in Time
My son studied the Quick Stop Itinerary to decide what he wanted to do first.
When I received and email with a link to our downloadable copy of
Project Passport World History Study: Renaissance & Reformation I was able to access the unit with ease. Once I downloaded it and began to dig into its multiple folders on my computer, I was a bit overwhelmed at first. There was just so much there, including:
8 quality MP3's (a favorite for our boy)

step-by-step "itineraries" for each of the 25 stops along the journey back in time (each with clear, well-formatted directions)

loads of masters for printable projects

lapbook files

beautifully illustrated covers for notebooks

teacher keys

well-written text to read-aloud or have adept readers read on their own

lists of Additional Resource
and more.
Thankfully, there was also a well-written, easy-to-follow introduction and Travel Tips, which helped my overwhelm abate and allowed my son and I to just dig in!

The program is written with children in grades 3-8 in mind is is meant to take 6-12 weeks, depending on how deeply you wish to dig into topics and how many projects you care to complete.
Topics include:
Laying the Foundation (Packing for the Trip through prep and familiarization)

Italy and DaVinci

Everyday Life, parts and 2

Renaissance Art and Famous Artists

Music, Literature and Drama of the Renaissance

Science, Math and Astronomy

Invention

Explorations in the America, Africa, Asia and Around the World

The Early Reformers

Martin Luther

The Thirty Years' War

Zwingli and Switzerland

John Calvin


France and the War of Religion

Henry the VIII and His Children

Civil War

Knox and Scotland

The Counter-Reformation, Parts I and II

Packing Up (or finishing up!)
Activities include:
Creative and Newspaper Writing

Postcard Illustrations

Notebooking and Timelines
Over a dozen Lap Book Project

a dozen 3-D Projects to make

a File Folder Game

Art Projects

A "Dining Out Guide" of Recipes

Applying Art Techniques

A File Folder
and more!
My son enjoyed listening to included MP3's while coloring parts of his project.

For a comprehensive tour of the time period, all of these things can be fit together seamlessly using the step-by-step instructions and photos of finished examples provided in the program materials. Or, they can be picked-and-chosen from in order to suit the interests, abilities and desires of each particular child who journeys back in time using them. They can enhance existing studies of the Renaissance and Reformation or act as a complete study on their own. The plan is all there, the portions you choose to use are completely up to you!
How We Used It (So Far)

Lightboards are not on the materials list, but when my printer acted up with cardstock and my son wanted an element of the project on cardstock, he got inventive to trace it.
When I signed on to this review, I intended to use the curriculum with all three of my children. However, after receiving it, taking a closer look at just how comprehensive it could be, and realizing what the rest of our summer experiences and plans were shaping up to be, I opted to introduce it to my oldest only at this time -- the child who is in the recommended age bracket of grades 3-8.

Since my oldest tends to enjoy a lot of say in what he learns and how, I printed the Quick Stop Itinerary document out, handed it to him, and asked him to decide what he wanted to dive into first. For, although I knew the study would make the most sense to do from start to finish, selecting whichever activities appealed most to my son in consecutive order, I also know my son and felt he would be more invested in the study if he could make some decisions.

I was fairly certain my boy would choose Inventions or War to start with, but he surprised me. He wanted to start at the beginning. So, that is exactly what we did. Together, we printed, cut, pasted and put together his passport, luggage folder, notebook, etc. Then, we commenced with reading the Guide Book, listening to audios, coloring images for the timeline and so forth...

Since it is summer and our time at home is short, these things took us a number of 10-20 minute work-periods, which is about all any of us focus on at one time during this time of year with no A/C in our home and lots of experiential learning to be done out by water and in the woods. They were followed by other similarly brief periods foraying into the further stops along the way...

Of course, our tiny-bite approach to the study means we are taking a slow, but steady course through the journey, stretching stops that take some families a day into ones that take us weeks. However, doing so has fit our needs and desires right now quite well. My son (and I!) are learning and enjoying as we go. He is able to narrate back details from the Guide Book text readings, has already asked if we can listen to some of the audios again, and is looking forward to more projects, cooking, art, etc.

Meanwhile, I am thrilled that the program can benefit my son and me as we take the journey back to the Renaissance and Reformation with teeny, tiny baby steps now, but that it also promises longer traverses at each go when the weather cools and we invite my other children to join us along the way. In fact, sometimes when my children are enjoying outdoor pursuits, I have spent time reading ahead in the itineraries and poking through the 50+ projects offered, getting excited about all the cool things my boy and his siblings have yet to realize we are going to explore during our trip through the Renaissance and Reformation. There is just so much there and I so look forward to immersing us for more than 15-20 minutes at a time!

Would I Recommend Project Passport World History Studies?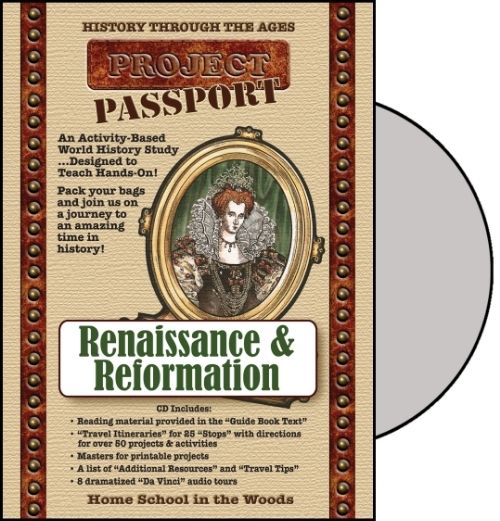 In a word, "Yes..." So far, we have found the
Renaissance & Reformation Project Passport Activity-Based World History Study one to be thorough, engaging, and worth time spent on it , and I hear that the
Ancient Egyp
t
and The Middle Ages ones are of similar high quality.

Pros of the curriculum as we have experienced them include:
a wide variety of hands-on activities to choose from. With activities that range from color-cut-and-paste timelining, to writing a newspaper, to creating art, to reading, to listening to MP3's, to lapbooking, to playing file folder games, to literally tasting the time period, the program provides plenty of hands-on learning to pick and choose from.
consideration for varied learning styles. Kinesthetic learners will appreciate crafts, cooking, art and more. Visual ones will appreciate the timelines and well-laid out printables. Auditory ones can enjoy the engaging MP3's, as well as text read aloud by parents. Just about any learner should be able to find activities that capitalize on their strengths and stretch their areas of growth.
a well-rounded view of the period. As a Catholic, I was a bit concerned about how this curriculum would treat the Reformation and have, happily, found it balanced without strong bias so far. I also appreciate how the program introduces children to famous folks and events as well as to the life and times of everyday people. I just love when history focuses on common citizens as well as important figures. This program does so!
flexible, thorough materials. The student materials are well-organized and easy to pick-and-choose from. There are also excellent parent materials with further explanations, keys, etc. And, bonus, there are additional resource lists with recommended reading. (How I love book lists!!!)

All that said, I will admit that the ellipse after my, "yes" above was intentional. For, in all honesty, I would have to recommend the product with a "Yes, but..." There were a few things I did not relish about the program.

Cons include:
how much printing it can require. There are pages and pages and pages of potential printing involved with this study and most of it cannot be done with a single click that allows you to simply hit "print", move onto other things, and, then, return for your hefty stack of ready-to-go materials. Rather, many of the pdf's are single-page ones that need to be printed on the back sides of other ones and some need to be printed on cardstock. More than once, I wished that pdf's were batched into multi-page document groups with one for those that needed to be printed double-sided on office paper, one for those that are recommended to be printed single-sided on cardstock, etc. For, while the organization and flexibility of the way the printables are currently presented as well-labeled single documents, I think that batching them would save parents like me time and headaches.
significant prep work. As soon as I looked over the itinerary for Stop 1, I realized that the activities included in this curriculum involved a fair amount of cutting, gluing, taping, etc. I am one who values the fine motor exercise of such activities, but also one who could envision the chaos of doing all this with all three of my children at once. Thus, I opted to involve only my oldest with this study at this time and to have him do prep alongside me. Then, when the weather cools, and my oldest can act as a seasoned helper on our journey, I plan to invite my other two children to print, prep, assemble, learn and explore alongside us.
the necessity to budget for supplies. The product costs $33.95 as a digital download or $34.95 on a CD-rom. However, depending on how you choose to use it, you will also need an ample supply of ink and other office supplies, such as office paper, colored cardstock, colored paper, glue sticks, a three-pronged pocket folder, a three-hole punch, double-sided tape, packing tape, and coloring implements. Additionally, special art supplies such as chalk pastels, plaster of paris, etc. are needed for some of the projects. Considering the amount of information and learning that is included in the study - and the duration of the unit - the costs are not extraordinary, but they can add up and, I think, are worth noting for some families.
Despite these "cons", I can honestly attest that our
Project Passport Activity-Based World History Stud

y

has proven itself as a wonderful resource for
flexible, multi-faceted, hands-on history learning in our home already and could well be just what your family might want to embrace to bring history to life, too. Though sometimes tedious in printing,prep and assembly at first, initial effort pays off. This hands-on
Renaissance & Reformation
study is chock-full of engaging choices that become a welcome way to dive into the everyday and the exceptional of past!
Learn More

How do you make history come alive for your children? Might Home School in the Woods help you to do so?