I don't know how life is with you, but with me it is f-u-l-l, FULL! Almost too full, at times, which reviewing Homeschool Planet by the Homeschool Buyers Co-op has made clear to me.
For, you see,
Homeschool Planet

(which is offering a FREE 30-day trial!) is much more than a homeschool planner or a basic online calendar, it is an adaptable life planner - a central place to organize home, homeschool, work, volunteer and other pursuits. For me, it is also a wake up call about how many things I have been failing to organize well.
Indeed, I when I signed up to review
Homeschool Planet

, I thought it would take me no time at all to transfer our calender and other information over to it and to, once and for all, juggle the balls of life with success. However, through no fault of
Homeschool Planet

, I that was not the case. I simply have a lot to transfer and much of that is buried in physical and e-clutter. For, as a single, I was a "paper person". I had a small binder
that I carried with me as well as a wall calendar that I wrote "big events" on. I also had running to-do lists at home and one at work and, occasionally, made color-coded charts and project notebooks, too. These tools, together, kept me fairly well-organized and successful at work and at home.

Enter marriage, then children. My old tools no longer worked. My husband's mental and physical organization styles differed from mine. Our lives and schedules got more complicated. Our children, as many children do, worked to make the old adage, "life is what happens when you're making other plans" a minute-to-minute reality for us. The organizational tools that I had come to trust could not keep up with the all the new and different balls that life tossed my way, and, consequently, disorganization became an unfortunate hallmark of this once organized gal.

To combat the developing chaos, I sought more tools - some made by others, some made by me, some online, some offline. All helpful to a degree, but not to a large enough degree to keep all the balls of life in sync as they soared through the air, with none being dropped, or, worse, smacking me square in the face.

For, okay, I admit it! I tend to juggle a lot of balls at once. I overplan. I get lost in minutia instead of plowing through priorities. I miss deadlines. I smile, thinking carpe diem, (or cry, wondering, What have I done?!) as I toss another ball into the air or get distracted running after one that is rolling away. Yes, I also tend to squeeze just one more activity in my family's lives even when my husband is reminding me there simply isn't room. And, in doing all this, I negate many of the positive effects of most planners, schedules, calendars, checklists, etc. I have developed or tried.

Whether a tool for just me, one for the family, one for each person in the family, one that is online, one that is offline, one that is you-name-it, prior to
Homeschool Planet

, no tool could even come close to helping me keep all the balls I sought to juggle in the air with a smile. But
Homeschool Planet

, as I am coming to know it offers something different: hope! As a flexible, all-in-one planner that is made by homeschoolers and continually updated with user suggestions in mind,
Homeschool Planet

has the potential to be THE tool to finally get me as organized - or, God-willing, even more organized - than I have been in ten years! Better still, is has both online features (which provide ease for input, rescheduling, communicating with others in the family, etc.) and printable options (which appeases my paper-loving inner-luddite) that are all connected and centralized!

To date, I have slowly been wading through physical and e-clutter in my home to centralize information with
Homeschool Planet
while also adding new meetings, to do's, events, tasks,
appointments, etc. Doing the latter is easy-easy!
Homeschool Planet

is rather intuitive to use and also has a collection of how-to videos and speedy, helpful customer service should you need it.

And- wow!- does
Homeschool Planet

offer a lot of helpful features! I have not used them all, but I have used enough to offer you a top ten of sorts of reasons this tool offers me hope and might be just what you are looking for to get organized, too:



10 Reasons to Cheer About Homeschool Planet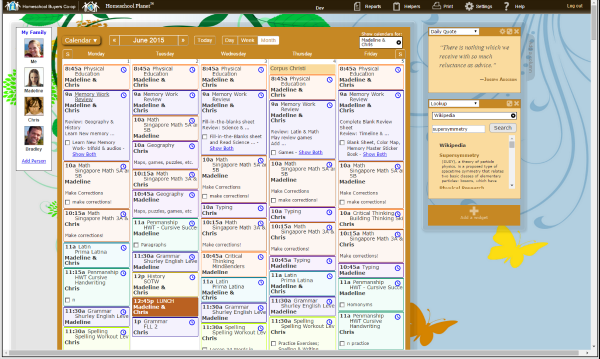 1. There are different views!
So long as you have an internet connection and a web browser, you can get started with ease and, when you do, you can choose to view (or input) things in Calendar view, Planner view or Resource view. In these views, you can also select to look at a single day, a week or the month. So, whether you want to get an overview of all the balls you have to juggle or focus in on a certain one, you can easily do so!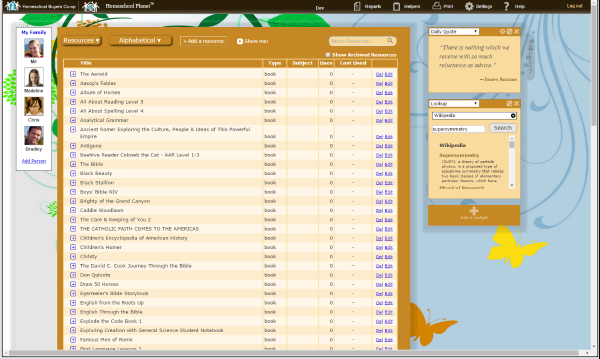 2. It can work for you, your spouse and your children -- individually or together.
You can create profiles for yourself, your spouse, each individual child, even the roles you each play (such as Mom-home, Mom-work, Mom-co-op, etc.) Then, you can view appointments, information, classes, etc.

for one, some or all at once. That means you can focus in on just one person, or even one role of a person, or can see how everyone's wants, needs and commitments are working together.
3.

Scheduling is simple.
When you want to schedule something, you choose if it;s a class, an event (birthday, etc.), or "everything else". Then, you choose the day and time (or recurring). You can also choose who the class, event, or comittment is for and add notes, specific assignments, etc.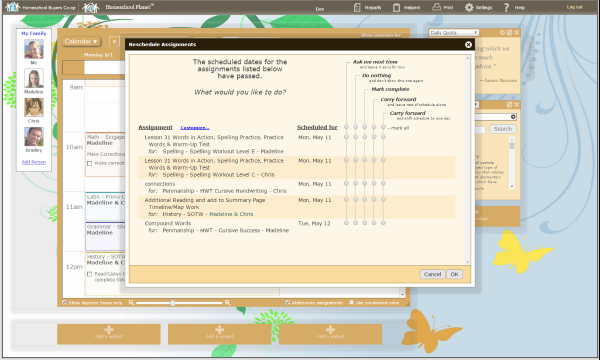 4. Rescheduling is but a click away.
Life happens and one of the joys of homeschooling is the flexibility to go with it. In one click, you can reschedule assignments and take a day off.
5. Communication is key!You can input an email (or a phone number for text if you are not part-luddite like me and lacking a "fancy phone") for each person in order to be send a digest of upcoming commitments and tasks - or even to text grocery lists. This makes for an easy way to communicate with spouses (and children who are old enough to have emails or text messaging) even when everyone is going in different directions.
6. There are individual log-ins.
Your spouse or children can access their own lists, assignments, etc. through individual log-ins you create.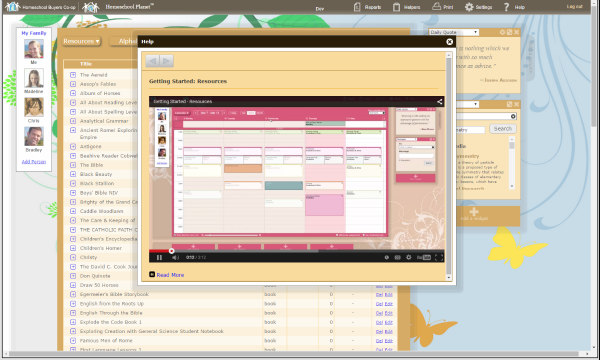 7. You can color code!If you (or your husband or kids) are visual, color coding can be key. Easy options to do so are included. (Better still, if you choose to print, you can print in black-and-white or color, so you do not have to use color ink if you do not want to, but can if any individual prefers it.)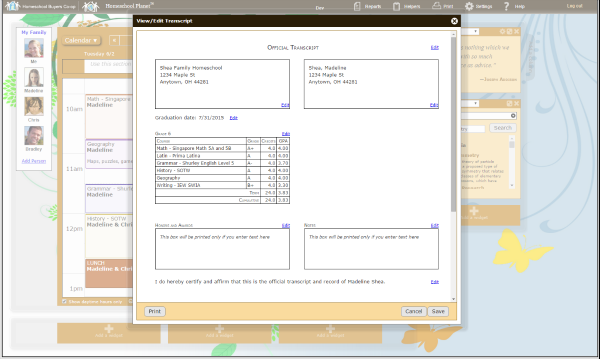 8. Tracking is easy.

If you need to track attendance, time, or grades for reports or transcripts, it can be done with ease!
9. Widgets add loads of extra appeal!
Meal planning, shopping lists, Bible verses, inspirational quotes, weather and more are all available on handy sidebar widgets that you can add or delete.
10. You can go mobile.
If you have multiple mobile devices, you can use a tutorial to create an easy-access icon to access Homeschool Planet from anywhere.

My Bottom Line
Even if you're busy, you need not be bowled over by all the balls you are juggling.
Homeschool Planet

, offers features and flexibility that make it a comprehensive, one-stop planning tool that can help keep you and yours on track.

If, like me, you desire to

appreciate the abundance of life, but also seek to clearly discern which parts of the plethora each day unfolds with should get priority, give this planner a whirl. It not only has traditional and convenient calendar features, but it also provides:
inspiration through verse and quote widgets,

ease through an intuitive interface, help videos and excellent customer service

features designed by homeschoolers for homeschoolers

a way to organize your home, homeschool, work, volunteer and other pursuits in one place -- and to do so for your family members, too!
I am excited to see how much more organized my family and I become as I use the remainder of the one-year subscription to
Homeschool Planet
that we currently have. I have a feeling we'll be pleased enough to want a subsequent subscription.
Learn More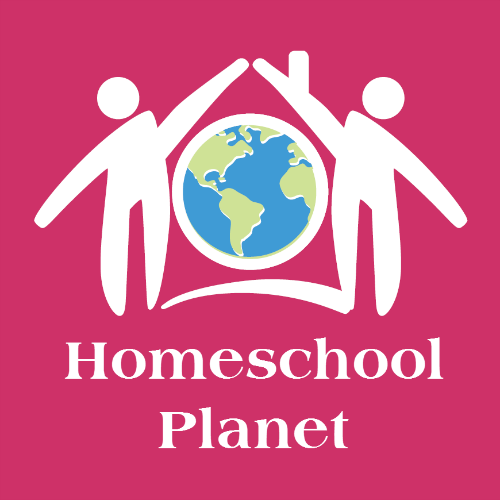 Try Homeschool Planet out for free for 30 days or purchase a one-year subscription for $6.95 per month of $65.00 per year.

Might Homeschool Planet help you to better organize and integrate the details of your home, homeschool, volunteer, business and other pursuits? Try it and see!