I love a good game, especially one that is easy to pick up on, plays in short rounds, and offers enjoyable practice of basic skills. That is why I happily accepted the opportunity to review Expanders by SimplyFun, a game that works reverse addition, critical thinking skills and spatial reasoning.

A Well-Thought Design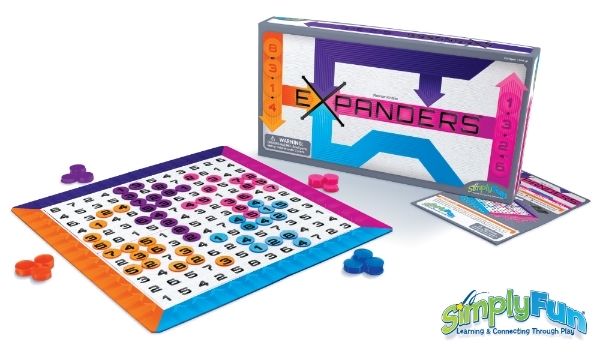 You may not be able to judge a book by its cover but I think sometimes you can judge a game by its package design. When we opened our
Expanders package, I was delighted to see that the game came in a sturdy box with a molded plastic inset that makes pulling pieces out and putting them away so easy.

The pieces include:
1 Mainframe, which is a durable cardboard frame that unfolds with orange, purple, blue and magenta sides and an empty space in the center. (The colors of the sides determine the color tokens each person plays the game with.
6 Numbered Double-Sided Circuit Boards, which are sturdy cardboard strips with two rows of numerals printed on each side. These are used to fill the Mainframe, allowing each game of

Expanders you play to have a unique board design rather than always have the same numerals in the same places.
2 Circuit Board Fillers, which are blank and can be used to make the game board of play smaller when you are playing the game with only two people.
1 Expander Token Storage Bag made of cloth with a drawstring, for easy storage
128 Plastic Expander Tokens which came 32 per color in small plastic storage bags which fit inside the larger fabric bag.

And each place has a "home" when not in play.
Don't you just love a sturdy game box with a place for everything and everything in its place? I do! (I pulled the plastic baggies our of the cloth bag so you could see how nicely everything comes to make set up and clean up a breeze!)
When you set the board up for play, you realize how smart the design of the game is.
The two blank Circuit Board Fillers allow you to adjust the size of the game board for the number of people playing, and the Double-Sided circuit boards are numbered 1-8 on one side and 1-12 on the other, so the level of difficulty for each game can change based on which sides are used. Such design allows the game to adapt making it a different, ideally-leveled game each time it is played. Perfect!

Or, almost perfect. If there were a new version of the game, I would ask for two things to be considered:
(1) My children and I thought it was odd that the Circuit Boards contained no zeros nor nines. Since 9's are one of the more challenging "tables" for one of my children and may before other kids, too, I wish they were included on the board.
One child thinks the design of the numbers and "circuit connector" lines looks cool. Another thinks the lines make the numbers look fuzzy.





(2) The board is designed to look like a circuit board and has large font, bold, black numerals with small gray connecting lines between them. One of my children thought this looked cool. However, another child and I felt the connector lines made the actual numbers appear a little fuzzy. Although this did not affect our play at all, I wonder if children with visual impairments or processing issues might be distracted by the slight fuzziness of the numbers and would like to see future editions of the game contain improved "sharpness" of print. I would like to stress, however, that the lack of sharpness appears to be a distinct graphic design choice, not a lack of quality in the game materials.

All of the materials included in the game are quite well-made and sturdy, and the overall design is spot-on!
Let the Game Begin!
Set up is super simple and quick!

To set the game up for play, you simply fill the Mainframe with the Circuit Boards. Then, depending on the side of the board you are playing on, you take 32 Plastic Expander Tokens. Your goal is to be the first to use all your tokens.

On the first turn in any game, you start using your tokens by placing ONE token down on a number in the row of the game board closest to you -- the one that matches your color of tokens.

On the second turn of play in the game, a player can then do the same thing -- place a single token down on a single number in the row nearest you. Or, you can place two tokens down on matching numbers, say on a pair of two's.
This shows the first turns of play. The pink token on the four was the first turn. The second turn was the orange token on the one. The third turn were the three blue tokens, expanding 7 to 4 and 3.
SimplyFun is a company that produces educational and fun family games. The games be purchased through home parties with a SimplyFun consultant or directly through the website. They offer a large variety of games that address many different academic skills. They also offer a homeschooling membership which gives a discount on every purchase and two free games for a $19 yearly fee.

From the third turn of play forward, you can choose to either place single or paired tokens as above, or you can place three, four or more tokens down by expanding a number. For example,you could place three tokens down on a 5, a 2, and a 3, saying, "5=3+ 2", or "5 expands to 3 plus 2". Or, you could place four tokens down on a 5, a 2, a 2, and a 1, saying ""5=2 + 2 + 1." Of course, the more numbers you can expand a numeral with, the more tokens you can use and the more quickly you can win the game! Thus, critical thinking and strategizing come into play as well as addition!

Another way strategy comes into play is by watching your opponent. When placing tokens down, you can only place them in the row of the circuit board closest to you or elsewhere on the board connected vertically, horizontally, or diagonally to a token you have already placed. That means, if you are not careful, a crafty opponent can actually box you in from further play. My children loved trying to do this!

With options for differentiating the game board with each round of the game depending on how we set up the Circuit Boards, and with the math and strategies involved, we found this game flexible, fun and so worthwhile to play!
A Hit in Our Home
On the day our youngest turned five, he woke earlier than his siblings and asked Daddy if he could teach him to play Expanders. It was so cute!

When I asked my five-year-old what he thinks about
Expanders, he said:
I like everything!
Truly, he enjoyed playing it (with some help) against Daddy, Brother, Sister, or me despite the fact that the game is recommended for children ages 7 and up.

My eight-year-old said:
It's awesome. Four people can play, and it's fun. I like the strategy and the addition. I like that we can play a short round or play for a long time.
When I asked her if there is anything she doesn't like about the game, she smiled and shook her head emphatically "no".

My nine-year-old said:

Expanders is a good game -- very good for learning backwards addition, but they forgot the nines. I loved how on the third or fourth turn you got to choose which move you used instead of having to use a certain one. I did not like having to use certain moves on the first turns. I'd recommend it to people who do not know their addition or math that well, so that they can learn math. You can use it just for fun, too. I like using it for fun. I like that it's a strategy game... Once, when we were playing, my brother could not move, because my sister and I had blocked him all the way in. I like to play defense and offense.
Without question,
Expanders has been a hit in our home. I loved that:
It went from box to play quite quickly.
It's smart design allowed the game board to be different each time, adapting to the number and skill levels of players.
Players who need practice with addition, expansion or subtraction of numbers up to twelve can get it while having fun!
Strategy elements keep games interesting.
Single games last only 10-20 minutes, but the game can quickly be reset with a "new" board configuration so rounds of the game can be played for as long as folks like.
Even though the game is meant for ages 7 and up, children even younger can play (as our youngest proved!)
Sometimes, we got silly while playing. My daughter thought it was awfully fun to peak through the transparent playing pieces.
Moreover, I appreciated how the game lived up to the
SimplyFun logo tagline: "Learning & Connecting Through Play" The children certainly did learn as we connected through play with this game!
Expanders is definitely a board game for kids (and parents!) that offers learning through play and is as much for connected fun as it is for building skills.
I love it!



Learn More

As a special deal: Purchase Expanders ($34) or any SimplyFun game, at SimplyFun using the

coupon code SHREVIEW by July 31, 2015 and get 15%

. Or, take advantage of their homeschoolers deal anytime. To do so, join for $19, save 15% on every purchase for a year, and receive access to other benefits and specials as well as two free games.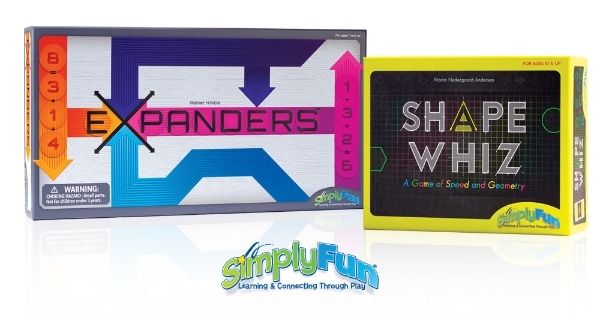 Have you enjoyed other SimplyFun games? What board games do you most enjoy connecting, having fun and learning with?