Around here, we tend to immerse ourselves in child-led topics of interest, so when I saw that we had an opportunity to review Westward Ho I and Westward Ho II by Homeschool Legacy, I took it!

My

kiddoes have been lit up

this year

exp

lorers

, olden days, s

urvival,

etc.

, which made

these unit studies an ideal addition to our ho

me

school endeavors.

Little did I know that once we dove into the unit studies, I was going to find a new interest for myself as well. The fact is, I was so impressed with the Homeschool Legacy

Once-a-Week

Studies that we received that I am definitely planning to finish

them

with my children and, then, hop

e

to dive into others.

In fact, b

ecause I like the

studies so much

, I have become an affiliate for Homeschool Legacy.



What is Homeschool Legacy?





I am always delighted to find and support businesses that have been created by homeschoolers for homeschoolers and that is just what Homeschool Legacy is.
Sharon Gibson is a 16-year homeschool veteran of two sons. As she sought the best approach for homes

ch

ooling her own boys, she landed on

u

nit

s

tudies and found that they were a perfect fit. Not only did unit studies help Sharon's boys learn, but they also became a wonderful tool for for building spiritual and relational strength as well as family memories.

Sharon's success with her own family's learning endeavors led her to sharing an incredible array of Unit Studies with other homeschoolers. And, thus, was born Homeschool Legacy -- a business with a little something for everyone who wants to learn using

a

unit study approach!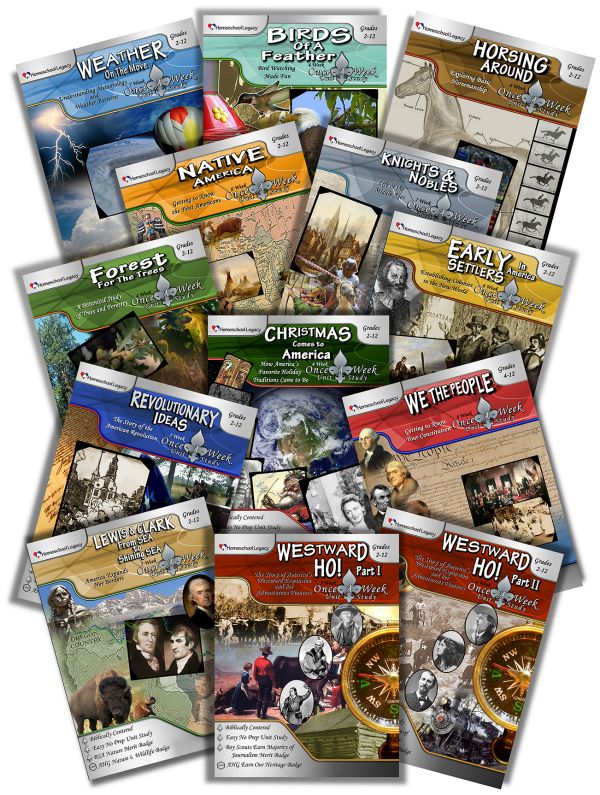 Nature, scienc

e

, history... You name the topic, Homeschool Legacy likely has a Once-a-Week study on it! They even have a Christmas one that I am considering for the end of the year

.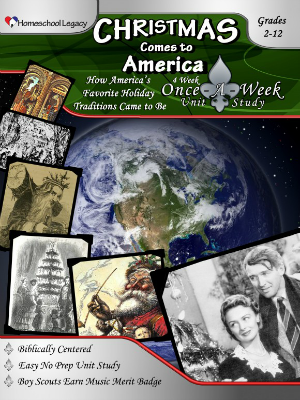 What Are Westward Ho I and II?
So, what exactly is a Once-a-Week Unit Study?

In a nutshell, it is a complete, yet flexible

way to

enjoy learning

as a family

without becoming overbur

dened.

The founder of Homes

ch

ool Legacy describes them in further detail:

low prep. They are written in simple,

easy-to-follow language with a step-by-step

approach that lends itself to flexibility. Superb library lists are included

,

l

is

ted by library call letters

,

which may differ from those used at your l

oc

al library, but are still quite h

andy!
Handy tips likes this one Westward Ho I, p. 24, make preparing for crafts - in this case making tin lanterns - ea

sier!
flexible and easy-to-incorporate

.

The

unit studies

are designed to be woven into your homes

ch

ool endeavors once-a-week in order to complement and energize your existing curriculum. However, they can also become the spine

of

your curriculum for a num

be

r of weeks with the addition of a little math and language arts. Or, they can become an extra you take bite-sized p

ie

ces of daily. (That's what we did.)
family-friendly. The book lists and lesson materi

als are tiered so the entire family, regardless of age, can study the same topic at the same time.

Westward Ho I and Westward Ho II are geared for chi

ld

ren in grades 2-12, but even my preschooler enjoyed learning

as we progressed through the units.
ha

n

ds-on. The units use a multi-sensory approach with wonderful living books (not textbooks!), crafts, activities, cooking, movie

recommendations

, field trip suggestions and more. Of course, they are c

ro

ss-curricula and include everything from the obvious (history) to the less obvious (life skills and art, for ex

am

ple.)
biblically-centered with devotional included. (Non-Catholic Christian readers, you'll love these, of course! Fellow Catholic readers, please be aware that the devotionals are written from a Christian, not Catholic viewpoint. I simply center on common truths and supplement with Catholic Catechism. Secular readers, know that there is plenty of other meat in each study, so you could just opt to disclude the devotionals or to use them as a "culture" study instead of a religious one.)
accommodating

of Boy Scouts and American Heritage Girls. Boys Scouts will complete the merit badges for Journalism while doing these two unit studies, and American Heritage Girls will complete Our Her

itage

.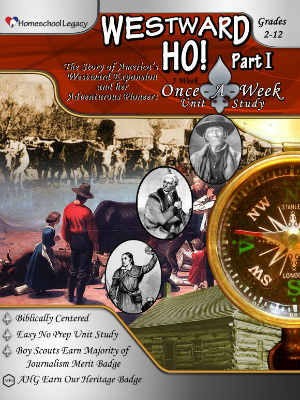 The units also are chock full of fabulous specifics about westward expansion and cover the following topics:
Frontiersman

Pioneer life

the Lone Star Republic

the Life and Times of James K. Polk

the Oregon Trail

the Gold Rush

Prairie Life

the Great American Railroad Race

Cowboys and Cattle Drivers
Each unit can stand alone, or, together, they can offer a comprehensive look at westward expansion.
Used as

suggested,

Westward Ho I is a five-

week unit study

and Westward Ho II
is a four-week one. However, because we had less then nine weeks between when we received our e-files for the stu

dies and when this review was due

, I decided to dip into

both studies lightly

with my children in order to see which

one

to focus on first. As things turned out, the k

id

s wanted to explore both concurr

en

tly, thus, we found

ourselves

meandering through

each

at our own pace, proving just how flexible the un

it

s can be!
Among our westward expansion learning trail, perhaps our favorite thing to do was simply to share shelf loads of great books that were listed in the plans! We admittedly maxed out our library card holds more than once as we ordered these delightful read together

s and "read-alones"

about pi

oneer life, the gold rush, tall tales, etc.
Further, since

we had a

long roadtrip

trip to see ailing family during

our

review period, we got some of the suggested read alouds on tape. Boy were Farmer Boy, The Sign of the Beaver and

T

he Long Winter hits! (Oddly, I had introduced the Little House series on CD to my children

on a former trip

, but they had not been as enthused by it. This time around, in conjunction with Westward Ho studies, they

just could not

get enough of the audios or accompanying books. In fact, I just discovered my son and

d

aughter's library card

hold feature

s are maxed out again with Little House

materials that

they have ordered o

n their own!)
W

hile at

my

in-law's, where TV is

prevalent

, the Little House television series and a movie special that just happened to be on about the Gold Rush tied in nicely to the unit!
Back home, Nina created her own supplements to study, making a sensory play bin that she told me was about

the Gold Rush.
Guided by the

units studies, we

also read and dove into other related topics, of course. Among them, were tall ta

l

es.

Now,
I admit, I have never been a big

fan

of

tall tales

. So, without

having done the Westward Ho unit study, I

might

have only given my chi

ldren

a cursory

introduction

to them. However,

in order to check out the quality of books listed in the studies, I ordered a

variety

of tall tales both on the lists and not on them from our library. I found the ones on the list were

definitely

the better ones and also found my children loved them. As we read th

rough the recommended tall tales, I was

rewarded with giggles, grins, and "read it again"s from my kids. Later, they regaled me with their own tall tale renditions
We also found connections

between the

unit studies and a homeschool

wilderness

surviva

l

class we took. The kids remembered Morse as we talked about signaling with flashlights and shared tips on how to survive gleaned from

recommended

read alouds and audio cd's.
Plus,

we all

enjoyed

an adv

en

ture to the awesome living h

is

tory

site

, Coggeshall

F

arm, which made

our

learning come alive

even more!
While
Westward Ho I offers a recipe for making Johny Cakes, my crew was blessed with making Johny Cakes and more at a living history farm field trip!
Without hesitation, I

can attest that the

rich studies

and suggestions included in
Westward Ho I and

Westward Ho II
have
e
ffectively inspired learning fun

in our home

and have also easily connected to learning out and about with others. That makes these unit studies a win for us! Flexible, enjoyable and replete with a favorite of ours

(

superb book lists

!)

these studies are ones I would highly recommend

.



L

earn More

Each Westward Ho unit sells for $15.95 to $19.95, depending on the format you get it in. Pricing for other units is similar, with current sale discounts for series packs. Check out all the fabulous offerings for sale at Homeschool Legacy.