Every year at this time two things happen in my life:
(1) I begin evaluating our current home education approach, deciding what to tweak for the coming school year.





(2) My phone and computer message indicators light up with inquiries from folks interested in homeschooling that ask, "How do you do it?"
Thus, when an opportunity came up to review the
Successful Homeschooling Made Easy Course
by
Successful Homeschooling Made Easy
, I took it. The course acts as a Homeschooling 101 for both those who are beginning their homeschool journey and those that are simply ready for a reboot. Beginning it at this time of year seemed like perfect timing to me!
What is Homeschooling Made Easy?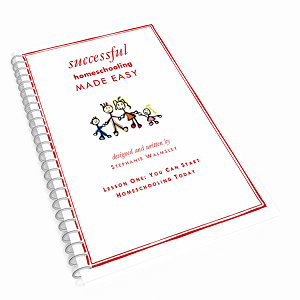 The
Successful Homeschooling Made Easy Course

is a 26-week, online course designed and written by Stephanie Walmsley to help new and veteran home educators know exactly what they might do to begin successfully homeschooling right now.
As soon as you sign up for the course, you immediately receive the first lesson, which will get you started on a successful homeschool journey, without overwhelm, right away. Then, over the course of 26 weeks, you receive a topic-based PDF each week via email to help you continue to build upon an approach that will keep you and your kids sane as well as happily learning.

Throughout the course, an array of homeschool-related topics are presented in logical, bite-size pieces that include tried-and-true strategies for:
scheduling

planning

selecting curriculum

record keeping

handling obstacles when things get tough

avoiding common pitfalls

fireproofing yourself against burn out

fitting in homekeeping

choosing extra curricular activities

and so much more!
Thus, whether you are a parent who is just beginning your homeschool journey, or are a veteran homeschooler simply ready for a fresh start or a bounce back after burnout, the course acts like a home education coach that offers practical tips, insights and encouragement, as well as step-by-step how-to's in order to incrementally help you to build a thorough, successful homeschooling approach.

Each lesson is organized with:
a preface

loads of targeted information and examples

space for taking notes in order to tailor ideas to your personal homeschool situation

a helpful summary

an assignment

a look at what is coming next.
Some of the Pages I Printed
Lessons are meant to be printed, but can easily be read on a computer or handheld device. (I only printed pages with forms, lists or notes spaces that I wanted to write on.)
My Experience
As I mentioned above, the course is typically delivered in 26 weekly sections. However, for the purposes of this review, I received the first four lessons all at once, and, then, further lessons each week, thus, making my way through the first nine lessons before I sat down to write this review.
Lesson One: Start Homeschooling Today is one of the longer lessons, at 26 pages, but it did not feel long. Rather, its length seems just-right for getting families (re)started on a successful homeschooling approach through the practical step of developing a basic eight-week schedule.
The chapter concludes with a do-able assignment, which I opted to tweak, gently adapting our schedule rather than posting it for the family:
Lesson One, p. 24 Excerpt
Prior to the assignment, among other things, the lesson discusses implementation of a "Literacy Hour", complete with photographic examples of writing time journals from emerging readers and writers to practiced ones. As I read this portion of the lesson, I was reminded me to renew my commitment to daily journaling with my children. Admittedly, that effort has still not become a daily one for us yet due to a trip to see an ailing relative thrown into a mix of which includes many pre-scheduled clubs and classes, but at least writing became more consistent!
An Excerpt from My Daughter's Journal
Lesson Two: Math Made Easy breaks the sometimes daunting task of choosing a math approach for your children into five understandable components which can make teaching math both easy and fun - and it did so in a mere 15 pages.

Since I have already landed on a math curriculum that works for my oldest and am happy with our approach for our two younger children, I did not need to apply much of this chapter into our personal homeschool endeavors, but I did fins myself nodding in agreement with the 12 Tips the lesson offered for choosing a math curriculum:
Lesson Two, p. 10 Excerpt

Lesson Three: Welcome Home is 17 pages long and offers testimony from 15 homeschoolers. Again, this lesson was not that relevant to my circumstances, but, I think, would be poured over by newbie homeschoolers. I appreciate the enthusiasm and reassurance of all of the homeschool moms that shared their experiences in this lesson.

Lesson Four: Fireproof Your Homeschool is right up my alley. In its 14 pages, it encouraged the scheduling of a fun activity, asked me to reflect on what I want from my life and our family's home education pursuits, and offered a short list of resources for further resources.

Lesson Five: Three Key Ingredients for Success offers more opportunities to think, plan and solidify why you do what you do. In its 11 pages, it also offers titles for further readings, before coming to its conclusion:
Lesson Five, p. 11 Excerpt
I could not agree more with the idea that clear goals makes homeschooling and family life happier, more fun and more successful, so I appreciated the opportunity to reflect further on goals I have already set using the prompts in this lesson.

Lesson Six: Fulfill Your Dreams devotes its 13 pages to a reminder so many moms, whether homeschoolers or not, need: take care of yourself! I, for one, always need to be reminded to be kind to myself and to take time for self-care.

I appreciated all of the ideas, examples and reflective questions in this lesson and found two quotes quite timely:
Lesson Six, p. 9 Excerpt
Lesson Six, p. 9 Excerpt
In fact, as I read this lesson, I recalled an important medical screening that I had been neglecting to schedule and of the fact that I need to start exercising and eating better again. I also smiled as I thought about how self-critical I can be, and yet how my kids love, appreciate and learn with me daily despite my "failings".
Lesson Seven: Why Curriculum Doesn't Matter, in its 12 pages, explains a bit about the history of education as it related to home education and summarizes a number of homeschooling styles and method. It also succinctly puts into words what I have explained to folks countless times:
Lesson Seven, p. 7 Excerpt
I could not agree more with the idea that, while curriculum can be helpful, education can happen even without a formal boxed curriculum and that what is right for you and your family are different than what is right for others.
I also love that the
Successful Homeschooling Made Easy Course
does not start with curriculum talk in week one (since curriculum is hardly the first priority in successful homeschooling) and, then, in week seven, when it finally dives into curriculum, does so with perspective.
Lesson Eight: Why You May Need to Let Go of Good Things gets into socialization, out-of-home activities and the need for balance with at-home time in its 12 pages. For me, it was a rather apropos lesson since an area of discord between my husband and me right now is how often the kids and I are not at home and how it is affecting the condition of our house, if not our family.

Thus, part of the checklist in this chapter hit home for me:
Chapter Eight, p. 11 Excerpt

The quote at the end of the list did, too. For admittedly, home has hardly been as rich an experience for my children as outside our home has been this year and, looking ahead, I need to choose to change that.


As I read this lesson, I thought about how our family committed to embracing an experiential home education style this year and how, as a part of that, our home-out balance ended up getting rather skewed. Between field trips, clubs, classes, library programs and other outings, we have been out almost every day for one part of the day or another, and, although I have ensured that my children still get daily time to hang, play, decompress, etc., I admit, that time often happens outside of our home. "Home" has not been as rich a place as "out" has been this year. I want it to be.

This lesson worked to speak to me more about the fact that where there have been benefits to all of our out-of-home happenings this year, there have been deficits, too.
Lesson Nine: Housework and Homeschool spends 15 pages getting into a shortcoming of mine: housekeeping! Despite having involved my children with chores from an early age, I have not been consistent with housekeeping (perhaps because of all that out-of-home time we have!). So, this chapter hit home, too. I know I will be re-reading all the details that go with its summary!
Chapter Nine, , p 15 Excerpt

Along with these lessons, I also received on of the bonuses involved in the course - Bonus One: More on Math. This 14 page supplement contained a variety of games, book ideas and charts which were rather old-hat for me, but would likely be quite helpful to a novice homeschooler.

I look forward to continuing through all 26 lessons of the
Successful Homeschooling Made Easy Course
and only wish there were an option to receive larger chunks of the course at one time - or even the entire course at once. For, while I appreciate the idea of doling the course out week-by-week so as to help homeschoolers focus on one topic or habit at a time without overwhelming them, I also would prefer to pace myself through the course instead of having to remember to scan my overloaded inbox each week for the next portion of it. I would guess other home educators (especially veteran ones) would also prefer to receive and download materials just once. I hope, in the future, this becomes an option.
Final Thoughts
If you are quite new to homeschooling, this course could act as a welcome "virtual coach" to guide you through getting started with your journey and building habits that can lead you and yours to success. It is truly packed with both the big picture ideas and smaller details that any homeschooler might consider.

If you, like me, are a veteran homeschooler that is simply reflecting and revamping before another year of homeschooling, this resource can be helpful, too. While some parts are definitely written more for a novice home educator, in the parts of the course I have seen thus far, there are plenty of practical ideas for more experienced homeschoolers.
The Successful Homeschooling Made Easy Course
is definitely one I am benefiting from and one I would recommend to others.
Learn More
Wondering if the course would be a good fit for you? Try the first lesson free. Or purchase the course at its current price of $9.50 per month or $48.62 up front (a 15% discount) with a 4-week money-back guarantee for those that are not completely satisfied.

Find Successful Homeschooling Made Easy on Facebook.

Read what 8- other Schoolhouse Review Crew parents think about Successful Homeschooling Made Easy.
How might Successful Homeschooling Made Easy help you enjoy stress-free homeschooling?