Yesterday, I wrote about
a wonderful sensorimotor resource
we have come upon. Today, I wanted to share how the activities we have been doing from it extended into an afternoon of kid-initiated outdoor fun one recent afternoon.
That afternoon, as we were saying "goodbye" to summer and "hello" to autumn by looking for "signs of fall" outside, we noticed that we still had summer items out – buckets, a kick board and some pool noodles. Thus, the fun began: a summer-into-fall "We Play" afternoon.

Here's how it unfolded:
Nina wanted to jump in the leaves. So, we gathered a bunch together.
Then, when Luke started to help us, he noticed how leaves fell from his rake as he raised it up. So, he decided to make his own trees.
Yes, this is our boy purposefully putting leaves onto (not picking them from) a rake so he could raise the rake, calling it a tree, and shake the leaves down, thus making his own autumn. What fun he and Nina had doing this.
Then, Nina and Luke asked me to help make an obstacle course. We decided to make it "summer to fall", with summer items at the beginning and a big leaf pile at the end.
With summer fun in mind, Luke insisted on setting up a kickboard as a diving/jumping board to launch into the leaves from.
Run through...
after balance through...
after jump through...
we made of our course as it initially stood.
Then, Luke decided he should tweak it. He added a new element to it – the rake. "You have to go around the hulahoop with the rake."
"Then, shuffle it across the balance board."
We followed his lead until...
He decided to include a kamikaze jump with rake-in-hand as an additional challenge. At that point, Safety Mama suggested that the latest adaptation to our course might might get a bit dangerous.
Then, to avoid a possible "I-Wanna-Do-It-Anyway" meltdown, I opted for a bit of adult intervention. Jack was laying on a towel, smiling at wind-blown leaves on the branches above his head. A observed aloud, "Look! Jack is laughing at the leaves."
It worked like a charm. The rake was forgotten as the kids gathered different colors of leaves to wave in front of their little brother's face. Then, with giggles, they tried to get him to hold one.
Since Jack is not quite at the grasping stage yet, they gave up after a few gleeful tries and went back to the course, which they decided it needed some rearranging.
I bit my lip as they tested whether the plank worked as well just leaning up and onto an upturned recycling bin as it did balanced on same-level buckets.
And, I was pleased when that test ended as a complete change of focus developed. In deciding to adapt the course still further, they turned the recycling bin over.
They tried putting the plank across it a different way. Then, added buckets and pool noodles into the fray. At which point, Luke's imagination began a tangent of play. "Mixing. Mixing." A noodle became his mixing spoon...
...then, his blender.
Meanwhile, Nina added ingredients (leaves) to the blender jar (the recycling bin).
And soon enough, the two merrily went from making shakes to food processing pancakes.
Then, there was taste testing...
...and stirring together elephant enrichment. (We've had a fascination with elephants here recently and recently had the privilege of helping to make a real elephant enrichment snack at our local zoo's elephant day.)
After which, noodles, then one arm, then both hands became elephant trunks and the feast was on!
Before long, Luke Elephant turned the entire box of enrichment over his head to get the very last bites…
What fun we had with our summer into fall spontaneous play and, upon reflecting on it, what skills and learning were reinforced, too! From leaf piles (with the practical life work of raking, the science of seasons and, of course, the gross motor fun of jumping) to the obstacle course (with sensorimotor skills, practical life/following directions skills, problem-solving and creativity) to leaf-cooking (with dramatic play, engineering through talk about machines such as blenders and food processors and science through a recap of what elephants really eat as we put in leaf ingredients), the afternoon was full of some of the best of early ed here at Jammies School – playful learning and development.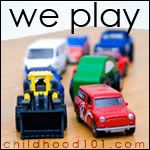 What about you? What have you and your kids been playing at? And what kind of skills and learning are being reinforced naturally because of it? Do share. And, do check out the
We Play links at Childhood 101
for ideas and inspiration.