* * * * *
A book rich in activity ideas, light on theory and appropriate for kids (SPD or not) at home, at school, even in faith formation classes? If this is what you are looking for, then
Starting Sensory Integration Therapy by Bonnie Arnwine
might be the book for you. Written by a mother who employs sensory integration therapy as an integral part of her son's daily life and who is a former preschool and Sunday School teacher, as well as the current Director of Children's Ministries at her church, the book is bursting with concise, straight-forward instructions for inexpensive, fun sensory activities that can be set up and cleaned up quickly in most homes and facilities.
With a comprehensive Table of Contents and Index, the book makes finding activities by type (Tactile, Gross Motor/Vestibular/Proprioceptive, Visual, Hearing, Smell Oral Motor and Fine Motor) or materials used (everything from aluminum foil to Ziploc bags) easy. Chapters start with brief personal vignettes and commentaries that give relevance to the activities that follow and, then, contain recipe after easy-to-follow recipe for specific activities, which include lists of What You Will Need and Optional Items; tips for making each activity more successful, easier to facilitate or simpler to clean up; and clear instructions not only for presenting the activities themselves, but also for adapting them to prolong children's interests with "Extend It!" ideas. Additionally, the book contains a brief introductory chapter on Our Senses, which explains in very simple terms what Sensory Processing Disorder is, what a Sensory Diet is and how to start Sensory Integration Therapy, And, as an extra bonus, there are several lists of Helpful Toys and Games sprinkled throughout the book for folks looking to purchase sensory-diet friendly, ready-made games and activities to have on hand. A relatively thin volume, but one that is organized so that parents and educators might quickly take it off the shelf, browse and "go" with an activity, this book definitely earns
a star for Readability
.
Likewise, it easily earns one for Relevance. Replete with dozens and dozens of activities that have been successfully tested by the author's own children, as well as those she has worked with at preschool and Sunday School classes, the book contains many "do-now" ideas. And, better yet, the book calls for "ingredients" and supplies that are commonly found in most households – perfect for budget-conscious parents and educators, as well as for those without access to expensive therapeutic equipment.
For many of the same reasons, this book
earns another star for Practicality
. What could be more practical than taking a book off the shelf, browsing for a game, song or activity idea that will provide the sensory stimulation a youngster needs and, then, following easy directions with readily accessible materials to bring the activity into play? Likewise, how simple to see a familiar activity, song or game that you may not have connected as "therapy" before in a new light – recognizing that it can provide a child with just what he or she needs as a part of an effective sensory diet! Indeed,
Starting Sensory Integration Therapy
is about more than just starting therapy, it is about continuing it, adapting it and – best of all – making it simple! With a menu of engaging, effective ideas, the book is sure to fulfill the appetite of many who utilize it for sensory diet ideas.
While, right now, I use the book for both spur-of-the-moment and planned ideas for my children, I can also see using it down the line as a resource for them to select activities from. Also, with its many activity and "Extend It!" ideas, I can see using the book over time – making it as worth a look now as it will be in a month, a year or two years. It is not one I can see culling only a few useful ideas from and then setting down for good. Thus, it earns a Longevity star.
And Value? Well, I did take this book out from the library and have found that I have renewed it for as long as I am allowed to. And, I do see myself taking it out regularly, as well as putting it on my holiday and Paperback Swap wish lists (since we are on a no-spending diet in our household at the moment), so I am

giving Starting Sensory Integration Therapy

a Value star

,

too. For, while I think with creativity and time, many of the ideas in the book can be discovered by oneself or found free online, I also recognize that Bonnie Arnwine has put together an excellent resource of time-and-kid-tested ideas. Honoring and appreciating her effort, I cannot see why one would want to waste their time reinventing the wheel? The selection in

Starting Sensory Integration Therapy

is proven to help, practical to put together and pleasing to kids. Fun and functional, the recipes in the book are worth keeping handy on one's shelf!

And as a side note: Through one of the yahoogroups I belong to, I fell upon

Sensory Fun

this week. It just happens to be the site of the author of

Starting Sensory Integration

. Timely and cool. Take a peek at her site for some good ideas and resources.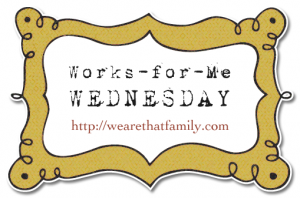 Both the book and the site mentioned above really work for me as a parent to two busy youngsters -- one with SPD. To see what works for other folks today on everything from household tips to child rearing, please see links at
We Are THAT Family
.
Also, to see my criteria for Rich Reviews, see
my initial Rich Resource Review post
.
As always, comments are not only welcome, but encouraged!