I do not typically begin our Advent and Christmas celebrations this early in the year, but when our family was offered a chance to review one physical CD and a host of
Digital Downloads
from
The Familyman's Christmas Treasury - Audio Collection by
The Familyman, I could not resist. My children and I adore audiobooks, and we tend to center a significant proportion of our Advent and Christmas season studies each year on seasonal stories. Thus, the opportunity to add to our collection was one I could not pass up.

Happily, choosing to start our Advent and Christmas season listening early this year by listening to the
The Familyman's Christmas Treasury has proven a delight for our family. We listened to the one physical audio CD we received (The Stranger) in our minivan one day and have listened to the rest of the collection of
Digital Downloads
that we received as bedtime stories using my laptop.


The children have quite enjoyed these stories - often asking for "just one more", which was an easy request to honor since the stories are short - just 12-30 minutes typically! All but one of the audios in
The Familyman's Christmas Treasury will definitely become added to our annual Advent and Christmas season listening repertoire.

(The one that won't be added is The Bishop's Dream, which is described later..)
What We Thought of The Familyman's Christmas Treasury Overall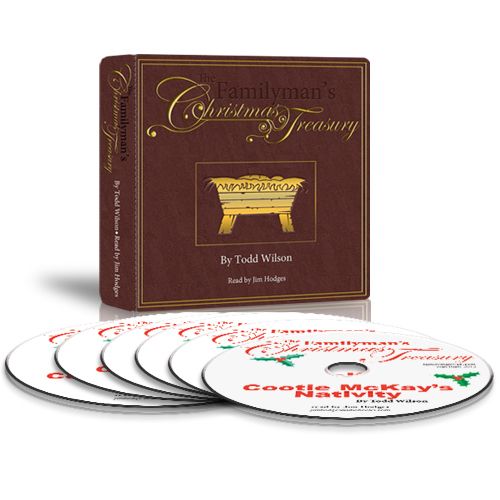 When I asked my children what they thought of the collection overall, my nine-year-old daughter said:
I like these stories. They are about faith and Christmas. They are fun, but there was one I didn't get. It was about an old man, boy, and lots people who did not know what Christmas was. Most of the rest were good though!

My six-year-old son added:
I liked them, too! The one with Captain Chaos is funny!

My oldest son, ten, chimed in:
They are almost all good stories. I like that they are Christian. Some of them are funny.

As for me, besides the story called The Bishop's Dream, I enjoyed listening to each of the stories with my children. In this collection of fun family stories, Todd Wilson combined humor and a heart for Jesus with an obvious desire to promote the real meaning of the Christmas season. Narrator and master storyteller Jim Hodges brings the stories alive with his well-lauded narration. (We have listened to a number of other stories and collections narrated by Jim Hodges and typically enjoy his storytelling style.)

My Children

Would Like to Tell You a Bit About Each Story


Cootie McKay's Nativity
My oldest said:
It's about a guy who doesn't know God. He builds the own's new nativity, because someone else drove into their old one. The nativity ends up being... well, I am not going to tell you, but, just trust me, it has a happy ending.

My

middle child added:
The person that actually drove over the nativity was an old woman who said, "I have to get this package to my son on time," but she was off on the day Christmas was. This story was funny.
Captain Chaos and the Manger Blaster
My oldest

smiled and said:
This one was hilarious. It's about a boy who does not like the Christmas story and tries to change it. He goes to his room and... it gets really funny!

My yo

ungest added:
It was funny in the beginning. The man gets rid of the crib so no one knows what Christmas is.

My middle child then chimed in to say:

I did not like how they said, 'and even the ornate Catholic church.' It made it sound like it was not a good church. It IS! It's my church. It's my religion.

Her big brother replied:

I did not think it made the Catholic church sound bad. I just think it made it sound like a really pretty church, which is a compliment. Our Catholic churches ARE pretty.
Gladys Remembers Christmas
My daughter, who is my most sensitive child,

explained:
This was actually kind of sad. It is about a girl who lost her mother. She does not like her name. She finds a package and in the package is a mystery thing - I won't tell you what - and, in the end, she is changed.

My youngest child

warned:




It's not funny.
(He ends to like the funny s

tories.)
Harold Grubbs and the Christmas Vest
My oldest said:
It is about a boy and his dad. They talk about his dad's vest. It used to belong to a guy called Mr. Grubbs and it has a special meaning. The story is cute.

My middle child

echoed:
I thought it was

really

cute!
And, my youngest, chimed in:
Someone got changed!
The Stranger
My oldest said:
This one is about a strange man who goes around to all the houses of a church and one boy lets him in. He ends making something, but you have to listen to find out what.
My youngest wanted to say more, but his big brother shushed him, saying any more det

ai

ls would spoil the list

en

ing for other.
The Bishop's Dream
Luckily, two of my three chi

ld

ren had fallen asleep before this story played

, while my oldest said:
This story is confusing, but I still like it a

little

.
He noticed that the church described in the story

ha

d an empty cross, not a crucifix, and that there were some other differences, too. He said:

It's

obviously

not Catholic

.

St. Nicholas is someone is someone who believes in Jesus and brings gifts to people because he

is kind and he helps us celebrate Jesus.

He added:
This CD

is not a good one, because it says Santa Claus is fake, that Catholics worship St. Nicholas, and more. We do not. We celebrate his feast day because he is in Heaven and is close to God. We also celebrate Christmas. We ask Santa Claus for presents and he brings us three presents to remind us of the three Wise Men's gifts. We also go to Mass and set our nativity. We remember Jesus always - every da

y all year long!
It's Called Christmas
My daughter said:


That one I did not understand.

Her big b

rother explained:
It's about a boy from the future who is calling to help people change the past because in the future all religion and Christmas is deleted. It's just an empty holiday. It was my favorite!
The Secret of Snow Village

My daughter proclaimed

:
It was adorable! The girl never

forgot that Jesus is what Christmas was about and went into a toy village

My oldest concluded:

I would recommend this audio collection to others.
Learn More



To clarify:
The Familyman's Christmas Treasury CD-set contains only six of the eight audios we received for review. All eight stories, however, are available as books and any are available as
Digital Downloads.

Connect
The Familyman on social media: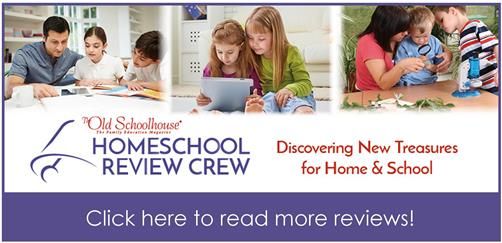 Fifty Homeschool Review Crew families gave
The Familyman's Christmas Treasury a listen. Click through the banner to read all our reviews.