I surprised my oldest child (10) with our review of one year's access to the Online Christian Filmmakers Academy by Family Gravity Media, a division of Families For Christ Ministries, Inc., and he has been absolutely loving it! In fact, he's enjoying it so much, I asked him to dictate a review of the product to me.

Before I get Luke's review, though, I wanted to let you know that YOU can try
Online Christian Filmmakers Academy for 30 days with a money-back guarantee, and, through November 30th, 2016, can also get $100 off the usual $299 price of the course using the code: FALLCREW16!
I also wanted to add that the father-son team, Ken and Zack Lawrence, who are the creators of
Online Christian Filmmakers Academy did a wonderful job producing and presenting the course, making filmmaking accessible so many. The father-son duo has been working together in the film industry since 2004 and have been running a well-lauded in-person film camp since 2007, with an online option added since 2012.

Here's what Luke has had too say about the online film class Ken and Zack Lawrence offer:

What do you think about the Online Christian Filmmakers Academy?


I love it!

When my mom logged us in the first time, I thought it would be teaching us about storyline, how to do an interview, but, instead, it started out with how to use the camera and the lights. I did not really mind what it started with, so it was fine with me. I have liked it!
What is Online Christian Filmmakers Academy?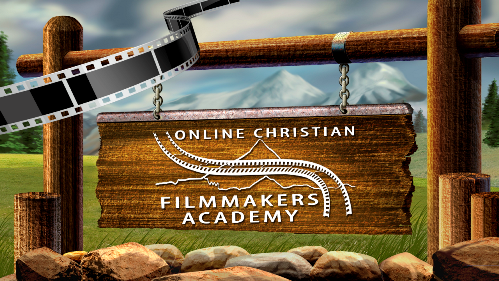 It is exactly what it says. It is an online, Christian filmmakers academy.

You go to its website, log in, go to the library section, click on what module you are on, and, then, what video. Then, you watch and learn. If you like, you add a comment. Then, at the end of all the videos for each module, there is a quiz (but not for the cinematography section yet.)

The video segments are anywhere from about 2-30 minutes. In them, one or two people explain how to do whatever the video's name is. For example, for "Setting Up an Interview", a man and his younger brother teach you how to set up an interview using the younger brother as an interviewee. Other times, they show you how to use the camera, special effects, how to use a green-, a blue-, a yellow-, or whatever color screen you want... I LOVED learning about the green screen!



If you have the equipment they talk about, they say, "Please try it out after just to test it." You don't have to have all the equipment though. You just need a camera that can take a video and some lights.

How Did I Use It?

I used the program just like I explained above. I watched videos, left comments, and went to the next video. I am on Module Three.

Depending on how much time I have in a week, I watch one video or a ton.

Also, I have a photography meet up I go to with friends. In
the Online Christian Filmmakers Academy, I was surprised to learn more about cameras and filters and it related my photography meet up. We used them there, too.

My brother and sister watched the lessons with me sometimes, too. So did my mom. My brother said, "I like the videos. They are interesting. I just like to watch the guys talk about it." He's six.

What do I want to do now?

I have a basic camera and regular lights from around my house, but now I want more stuff. I want real lights, scrims, C47's, C 74's... (I won't say what these are. It is funny, and I don't want to spoil it.) I also want black wrap, gels, gaffers tape, and maybe a jib and a dolly.

I know I cannot things yet, especially the jib and the dolly, because they are huge, but I am patient and I can wait. I will just start writing my script.

I might make a short thank you film now with my basic stuff for a church I want to say thank you to.


Would I Recommend This Product?

I ABSOLUTELY LOVE this product, because it's great. I cannot say why, but I like it. I like everything about it. (Well, the sound portion is not as exciting for me because I probably won't use it.)

I would recommend it to absolutely everyone who is at least eight and likes making movies or want to learn about it.
I AM going to FINISH this academy! It's so easy to do!




A Few More Notes from Mom
In case you are wondering what modules are included in the course:
Module 1 contains six lessons about The Camera and ends with a Quiz. I did sat alongside Luke for this entire module and happily learned a few things myself!
Module 2 contains lessons about Cinematography, with a big focus on lighting, as well as some other elements of the filming process, including my sons' favorite - the green screen. It is the longest module with 15 lessons and videos that atypically range from 12-33 minutes in length each.
Module 3 has six lessons about Sound.
Module 4 offers five lessons about Pre-Production.
Module 5 has six lessons about Production.

Modules, and specific lessons within them, are easy to navigate to by using a menu on the left of the stream when logged into
Online Christian Filmmakers Academy, and it is equally easy to keep track of where you are in the course since, once you watch a clip, it is marked complete.

Below lesson titles are short summaries of the lesson as well a a notation of the length of the video clip. I found this helpful for helping us judgeif we could start another lesson during particular sittings (which Luke often wanted to do.)

Luke also liked leaving comments, and we were impressed that replies to them typically came within 24 hours!

Learn More

As I mentioned before, the course costs $299 right now, but YOU can get a $100 discount this month by using the Coupon Code
: FALLCREW16!
Your one year membership can be used by your entire family and there is a 30-day no questions asked money back guarantee.

You can share tips and find free video lessons on the Christian Filmmakers Academy Facebookpage:
Christian Filmmakers Camp.