With a developing reader and a struggling reader in our home, I am always on the look out for strong phonics resources such as the Ultimate Phonics Reading Program from Spencer Learning, which we were given an opportunity to review.


I like having a number of phonics resources on hand so we can keep moving forward - or at least not slip back - no matter what our day-to-day calendar looks like or what moods the kids may be in.

Some days resources we can use on the go are most helpful. Other days, things we can sit down with at home are welcome. Likewise, some days, I need something that one or two children can work on while Mom focuses 1:1 with another child, and other days I like something I can work on 1:1, 1:2, or even 1:3 with my children.

I also find that having more than one resource for phonics is helpful in keeping frustration levels at bay. For my developing reader, in particular, focused reading studies can be challenging. Some days, she simply "hits a wall" and we have to back off. Then, the next day when we pick up, if I use the same resource, sometimes she remains "mentally blocked", so I find approaching similar content with varied resources helps her stay open to learning. I also find that the resources that work best for us are ones that we can use for 2 minutes or 20 minutes in a sitting, just picking up wherever we left off the last time.


The Ultimate Phonics Reading Program, then, became a welcome addition to our phonics resource repertoire. It offered us an easy, effective, no-nonsense, approach to developing phonics skills that could be utilized for a few minutes on busy or "bad" days or for longer on days when we had more time to sit down with our computer and were blessed with happy, open-to-learning attitudes. (And, honestly, on days when attitudes plummeted, it helped, too, because I could work on stamina by saying, let's just try to get through this ONE portion and, then, when success was met - which it often was - sometimes my child was good to go for another portion.)

What is the Ultimate Phonics Reading Program?

Perhaps the best way to begin describing what the
Ultimate Phonics Reading Program is is to describe what it is not (and, therefore, what it is):

It is not an online program, but rather one you download to your computer. That means your children can use it easily while you have the comfort of knowing that they are not online.
It is not something that only works with one child. Rather, once downloaded, you can use the program with all your children. In fact, the software comes with a license that allows you to download it onto any device in your home and use it with anyone in your home accessing it from any device it is on. (Devices must be running Windows 10, 8, 7, Vista, XP; or for Macs, OSX 10.5.8 or higher.)
It is not a program with bells, whistles, silly sounds, cartoon figures, etc. It is straight-forward without visual clutter. You see words, you hear words, you sound words out, you read them in isolation, and you read them in sentences. It is no-frills, direct teaching of all phonics patterns.
It is not for beginners only. It contains 262 progressive lessons that can be used for beginning readers through adults.
It is not overwhelming. Although 7,000 pages of material divided into 262 lessons (which is what the program has) sounds HUGE, it is not. Lessons are set up in the same format with an easy to navigate menu. There are six types of pages (pattern, idea, word list, word, sight word and sentence pages) organized into four parts per lesson (pattern or idea page, a set of word list pages, a set of word pages, and a set of sentence pages) which move forward in a logical progression.



It is not computer-only. There is an option to print lesson materials, so children (and adults who need reading help) can Children (and adults who need to) can, therefore learn all of the phonetic sounds and rules onscreen or off.
It is not something that will become outdated. Updates for the program are FREE!

For more information about the program, watch this video to get a feel for the program and read the easy-to-understand overview on the website. :





Who is the program for?


The Ultimate Phonics Reading Program
for:
Beginning Readers

Struggling Readers

People with Dyslexia

ESL/ELLStudents

Those studying Adult Literacy

Students in Middle School and High School hat need extra phonics help

Because the program is designed to be streamlined, clutter-free of distractions, and focused wholly on the task of learning phonics and reading, it can really be used across ages.

It's no-frills, but are there any extras?

You can find some helpful resources on the
Ultimate Phonics Reading Program, such as:
These can be used in conjunction with the actual
Ultimate Phonics Reading Program, which includes over 4, 400 words and 2,100 sentences that progress from basic to advanced phonics in a complete systematic way. This is a huge amount of decodable material that requires no special training to use a a supplement or a main program. A sound/voice feature is also included so students can use the program independently.

How did we use the program?



We've fallen into a pattern with my developing reader and my struggling reader lately, where 5-6 days a week, we sit down 1:1 for 15-30 minutes to work on skills. Typically, for English Language Arts, one day, we use picture books and phonics materials and, the next, we use a portable phonics book and personal response journal. So, the
Ultimate Phonics Reading Program proved easy to slip into our existing approach.



After my children read 2-3 familiar easy phonics or picture books to me, we used
the
Ultimate Phonics Reading Program for 5-15 minutes. Then, we read an unfamiliar picture book. This approach worked with my children because it fit our existing pattern. It also helped balance the no-frills (dry) work of the
the

Ultimate Phonics Reading Program with the high-interest picture books.

Because
the Ultimate Phonics Reading Program is so easy to navigate, we simply brought it up on my computer, set a timer, and started off wherever we had left off the session before. The children then worked until the timer went off, listening to words read by the program or by me, reading those same words themselves, and reading sentences.

Sometimes, when the timer went off, they wanted to continue and, sometimes, with my struggling reader in particular, we cut short out lessons before the timer went off because I saw fatigue setting in. (She really needs SHORT lessons. I appreciate, then, that this program allows us to progress at our own pace, doing as little or as much as we wish in a single sitting.)

I also sometimes used words from the program to help my oldest child. When I noticed patterns in his personal spelling dictionary that indicated phonics help with specific sounds or patterns, I found that looking through the
Ultimate Phonics Reading Program allowed me to easily find other words to work on targeted skills.


Would we recommend the program?



I have found
the
Ultimate Phonics Reading Program for my developing and struggling readers, as well as convenient for quick help "filling in holes" in targeted areas with my advanced reader. Thus, I would recommend it to others who seek an effective no-nonsense phonics resource.

My struggling reader says:
It's okay. I like that the guy reads to you. I also like that there are arrow buttons t make it easy to control. It is easy, which is fine. I like doing part of my lessons with easy things. I want to keep using it sometimes. I think it could help other little kids.

The one thing I do not like about it is that if you were a beginner, it might be hard because it starts with a long list of words. It does not show you much to help but the vowel. If you know what the vowel sounds like, but not the consonants, you might not know the word. I think they should build the program with less words at the beginning. Maybe teach "a" and "i", then "at" and "it" and move from there. Starting small is good.

My developing reader said, "I don't like it. It's boring," when I asked him about the program, but his sister immediately popped up and commented, "I think he's just in a bad mood." I saw him silbing and reading with it. I agree with her. My son then conceded, "I was able to read things with it." I concur.

Since beginning to use
the
Ultimate Phonics Reading Program I have seen some progress in my children. They are reading their phonics and picture books with greater confidence and accuracy!


The
Ultimate Phonics Reading Program is easy to add to lesson time, progresses systematically, and offers

Learn More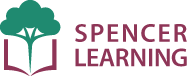 Find Spencer Learning on social media:
Sixty Schoolhouse Review Crew families used
the
Ultimate Phonics Reading Program. See what they thought of it by clicking through the banner to all our reviews.