If you're looking for a download resource site that offers a wide variety of printables for students of all ages - and their parents, too - including full curriculum resources, then the
CHSH Download Club by
CHSH-Teach.com might be for you!

I cannot recall hearing much about
CHSH-Teach.com (otherwise known as the
Christian HomeSchool Hub) before being offered a chance to review the
CHSH Download Club as a part of the Schoolhouse Review Crew Team, but as soon as I looked at the website, I knew the resource was one I'd like to check out further.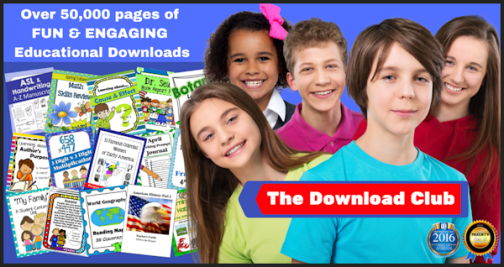 Math Skills Review. American History. Gratefulness. Three-Digit Multiplication. World Geography. As I took in the titles on the image which promised "50,000 pages of fun and engaging educational downloads" I could already see how a number of the resources at
CHSH-Teach.com might help our homeschool efforts over the summer and in the coming year.

As
eclectic, on-the-go homeschoolers inspired by a number of homeschool philosophies and methods and dipping our hands and heads into a wide variety of interests, our family always appreciates resources that are equally eclectic and offer portions that can be taken on the road or used at home. The
CHSH Download Club looked to be just such a resource!
The fact that the "approved" resources spanned from PreK-12th grade levels only sweetened the idea of receiving an annual subscription to the
CHSH Download Club.
My children are here, there, and everywhere with
skills and interests, and, thus, my needs for meeting there needs is too. One-stop sites that offer a wide spectrum of resource, then, delight me.

Just How Easy Does CHSH-Teach.com Make Things?


A subscription to the
CHSH Download Club
is rather like an "easy" button. Just log in and search for downloads using handy category, topic, or keyword search boxes.


Alternately, scroll down the page to browse by subject:


by grade level:
by months of the year or organizational help:



or by miscellaneous topics:


Once you find what you need, click through for a preview or to download and get started with whatever goody you have settled on.

Really it is THAT easy.

That is, if you are not a "mouse". And here I refer to the mouse in that rather famous children's picture book about giving a mouse a cookie.

Yes, if you are a "mouse"
the
CHSH Download Club
can be a (good) time-sucker instead of a time saver. For there is SO MUCH there to entice and excite that if you tend to be one who is easily distracted, you can end up spending more time browsing and downloading than actually doing things you download. So, "mouse", consider yourself forewarned by a fellow "mouse": when you first log in to your
the
CHSH Download Club
subscription, either allow yourself ample time for cookie trails or set a timer to cut yourself off from excitement and

distraction that may follow.



Having been through the mouse trails and, then, disciplined myself to go in, use the search box, download, print, and go, I can tell you that the DOING of the downloads is just as good as the finding of them. So, "mouse friend" do get to the doing.

Later, if you have time, go back and enjoy all the well-organized, easy-to-navigate mouse trails to other helpful downloads, and, while you are at it, stop by to chat in the forums, upload your own printables to share, and check out all the tabs at the top of the site to see what else the CHSH-Teach.com community has to offer you! For the site truly offers a community in addition to downloads if you seek one. There are forums in everything from specific student ages groups, to homeschooling styles, to family life, to menu planning, to Christian life, and more.
What Are Some Fabulous Finds We've Used
Anyone who reads this blog regularly may have noticed that my family has had a less-than-best summer here with many unexpected challenges popping up one after the other. Luckily, I also had
our review subscription to the
CHSH Download Club
, though, to encourage some learning and planning forward to take place.

For example, when my youngest won a picture book that centered around angles during our local summer reading program, I was able to easily take his enthusiasm for reading about the knights in the book and their math adventure and extend it to a math practice lesson for all of my children. I simply searched the keyword "angle", downloaded and printed some practice sheets and the kids set to work on them.


Another day, when I was giving my son a little quiz, I realized he is weak with Roman Numerals. I did a quick whiteboard lessons with him on them and, then, printed a cute Roman Numerals poster. I also noted that there are two mini-units on Roman Numerals available to download - one for lapbooking and the other more traditional. I scooped those up into my file for follow up in a few weeks.

Still another day, I was wondering how I wanted to approach grammar with my children this year when I found this vintage gem:

I dare say, it will be perfect to use loosely during our morning Together Time lessons.



Excited by the vintage resources, I then found two geography gems that I plan to use on and off throughout the year during Together Time to supplement our geography club explorations.
I also downloaded a handy suggested reading list by level which I have been using to help me select new books to take out of the library for my youngest and middle children to use with me during 1:1 time. They have each set goals to read me 50 picture books fluently so having the list to help them meet success helps.

Ooo, and speaking of goals, I am so excited about this:
My son who has never cared for writing suddenly wants to write (okay type, because he still balks at handwriting) a book. I told him if he could work with me on a brief short story, and, then, make another story on his own, he could begin work on a longer story or a novel. Well, we finished our co-authored story, and I've been helping him edit a story he is writing on his own. When he finishes it, I plan to gift him the huge and helpful novel writing download if he wishes to continue. SOOOOO happy that someone has done the work of how to teach my son to write a novel for me. Now, if he wants to continue, we can just "open and go" with the download!

And, this all just scratches the surface of what I've found and gotten excited about as a
CHSH Download Club subscriber. From brief practice sheets, to full curriculum resources, to learning games, to lapbooks, to organizing tools, to chat forums, to flashcards, to notebooking pages, to... well, just about anything you might be seeking, the
CHSH Download Club has it. And, if it doesn't now, there is a good chance it will later. New items are being added to the collection of over 50,000 pages of downloads already available. (And, don't let that 50,000 number scare you. As I said before, the downloads are well-organized and easy-to-navigate. The ONLY caution I might make is that mouse-and-cookie one. be disciplined. Log in, search, download, and go.)
Try It Out!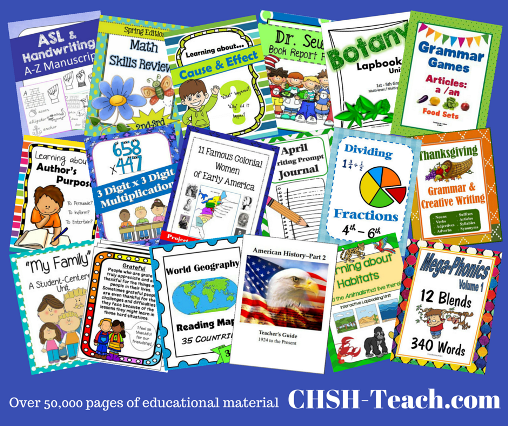 There are plenty of FREEBIES at
CHSH-Teach.com if you'd like to try some out, plus annual memberships to
the
CHSH Download Club, which give you access to everything, are just $25. Lifetime memberships cost $99.99. With so many resources available within the club, money spent on such fees will be money well spent in my opinion if you are a download lover. Most certainly there are plenty of downloads to love at
CHSH-Teach.com.

Learn More
Eighty-five Schoolhouse Review Crew families found goodies on
CHSH-Teach.com that were fits for their families. If you'd like to peek at what each found, click through the banner below to find reviews.



CHSH-Teach.com is super active on social media. You can find them at:
What download goodies are you looking for to enrich your child's learning this year? Chances are that CHSH-Teach.com has something that can help!