In my family's eclectic "us"schooling life style, field trips play a huge part! However, until we had an opportunity to review the
Exploring Creation Field Trip Journal from
Apologia Educational Ministries, we were never that great at documenting our adventures. Sure, we took loads and loads of pictures, but that was about it. Now, with thanks to the
Exploring Creation Field Trip Journal that is changing. We are all getting into the habit of writing more about our adventures!

Apologia is well-known for their top-notch homeschool materials, and, their
Exploring Creation Field Trip Journal does not disappoint. It has a little something for everyone.
Check Out Tips and Ideas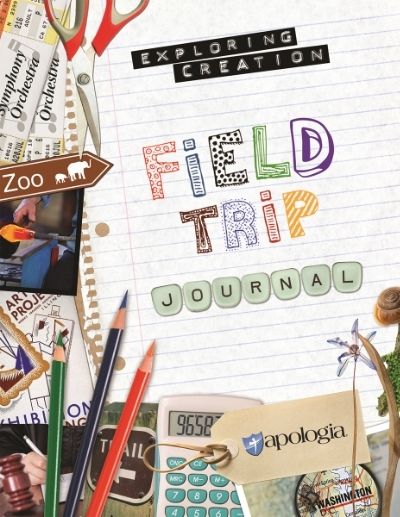 Like many journals, the
Exploring Creation Field Trip Journal opens with a page to personalize. We put a family photo on our page since we decided to use the journal together.
The pages that follow include
a table of contents.

a checklist for preparing for field trips.

two pages of ideas for field trips, near and far, real and virtual, in your backyard or around the world.
There is also a password and webpage listed which allows
Exploring Creation Field Trip Journal owners access to additional online materials, such as virtual field trip ideas, state maps and loads of helpful links!

After that, come four sections of full-color, graphically-pleasing journal pages for you to fill out.
Explore Your State, Your Country, and the World
The first of these sections includes double page spreads for places explored in your state, in the United States and in the world. We opted not to use these pages yet, because, in the next academic year, we will be focusing on the geography of the United States and I would like to use them then.
Plan and Capture Memories from Specific Trips
The second section of the journal is for specific field trips. It begins with a page of tips and, then contains 10 double-page spread for journaling about individual field trips. Each of these spreads contains space to jot down:
the location of the field tip

its time

its date

a map of the location

a prior reading book list

an emergency contact plan

a photo or drawing

a list of things you want to see or do

a story of the day

some notations of things you never want to forget
Because our family takes so many field trips, we could have easily filled these pages within a couple weeks. However, we opted to journal only some of our field trips and did each a little differently even though the pages to do them on were identical.


For one trip we journaled about, we did less writing then taping. You see, we rarely print photos in our home. So, the kids were excited to print some to put in our journal as opposed to just reviewing them on the computer as we normally do. Even after selecting only a portion of the photos we took during our field trip, however, we had so many photo that we wanted to tape into the journal that we knew we couldn't write much. So, since we'd been working on analog time telling, I had my youngest show me where to draw in the time that our field trip began on the pre-printed clock face. We also write the date, and the children dictated a few things to me. Then, we covered the rest of the pages with photos!
For another field trip, one child drew a map of the field trip location. Then, all the children dictated the story of the day and their favorite memories to me. Still photo-happy, we decided to cover the rest of the space up with photos!
For yet another trip, my oldest child drew a map, wrote about what the kids had wanted to do and wrote the story of the day by himself. Then, each of my three children shared something about the trip that they did not want to forget and I wrote their thoughts into the journal. After that, of course, we added pictures!

Other pages followed suit.
Find a Special Spot
The third section of the journal has four double-page spreads for writing and drawing about a special spot through each season. We opted not to use these pages yet since we could not all agree on ONE special spot. (We're still choosing a SINGLE spot to begin journaling about in the fall.)

Capture How YOU See Things
The

final section of the journal is for thoughts and drawings "As I See It". As all the sections of the journal do, this one includes a how-to-use tip page. Following that are pages for journaling about:
movement

reflections & shadows

2-D, 3-D and 4-D memories

patterns, textures & colors

predators & prey

the heavens

the earth

God's signature on creation
There are also 10 more general pages for topics of your choice. We are waiting to use all of these delightful pages on some nature-art journaling excursions we have planned.



Enjoy This Flexible, Yet Focused Way to Capture Memories

The
Exploring Creation Field Trip Journal is such an adaptable journal! We have enjoyed using the parts of it we have used thus far and look forward to filling the rest of its pages with highlights of the many adventures our family partakes in. I appreciate the way the journal offers ideas, tips, prompts and spaces that individuals or families, youngsters or older folks, homeschoolers or brick-and-mortar schoolers can enjoy! I also appreciate that the journal is spiral bound, for easy opening and writing in. Plus, it is graphically pleasing.

We have put our journal in the kitchen alongside our plain-notebook journals so the children can opt to capture any adventure we take in it. They also sometimes just look at the entries we've already done.

Late spring and summer are a wonderful time for field trips and I truly feel this journal could help almost any individual or family capture memories in a fun, flexible yet focused way.

Find Out More