I wasn't looking for a new foreign language program when the opportunity to review the
Educator's Spanish Collection by
Whistlefritz came up. However, after watching the video below about its immersion method and also the intro video (which follows), I knew my children would benefit from the program.





Thus, I showed my children the
Whistlefritz website and watched some videos about the program with them. As expected, they immediately asked if we could try the language-learning collection.
What Makes Whistlefritz Unique
When our package from
Whistlefritz came in, my children and I were excited and got straight to watching the videos in it. Later, we began using the lesson book and cards together, and, then, the CD's when my oldest - who has an aversion to music lately - was not around. In doing so, we realized that while
Whistlefritz uses many of the same components as other language programs - videos, playing cards, lesson plans, CD's - it does so in a different way. Each component of the collection compliments another, but can be used on its own, too. This means that at home or on the go, of one learning style or another, your child can benefit from an immersion approach to learning a foreign language that is as flexible as it is fun!Components to the program are:


5 Spanish for Kids DVD's: These DVD's immerse children in language learning as native Spanish-speaking adults and children speak in fun, fast-paced, clearly pronounced language with plenty of repetition.

Each video has its own theme and target vocabulary and lasts about 24-30 minutes, which can be watched all in one go, or in briefer segments, particularly when paired as a supplement to specific lessons from the lesson plan book.

Videos can be watched in any order b

ased on children's interests, however a recommended order for children three and under is included with program materials.




Some portions of the DVD's are "humans only" while others are animated. Throughout every video, an animated mouse called "Fritzi" makes appearances that - if my children's reactions are anything to go by - keep children engaged and laughing.


For those that like translations even when using an immersion program, translation guides are available as pdf's online, too.

Spanish Matching Cards: A deck of 50 laminated matching cards contains pairs of playfully illustrated images and accompanying Spanish action words. Children can play Memory, Go Fish, and other games with these to reinforce learning through play.

(My younger two, especially, liked doing this.)
Spanish Lesson Plans for Kids: A 277-page softcover book includes 40 lesson plans for teaching Spanish to young children, including lessons with cross-curricula connections.

Sample lessons plans show exactly how each lesson is formatted with a clear lesson description, objective, goal, materials list, key vocabulary, time estimate, focus and review, teacher input, guided practice, independent practice, closure, and extension activities. All necessary printables are included in the lesson plan book as well.

As written, each lesson typically takes about 30-40 minutes. However, since each is so concisely organized, parents can easily adapt lessons for briefer time frames or extend them beyond 40 minutes.

Because my youngest child is on the older side for the age group that Whistlefritz is aimed at and his older siblings tend to be audio-visual and interpersonal learners, more often than not, I adapted lessons to our strengths and needs by keying into the key vocabulary and picking and choosing which printables and activities I felt would work best with my children. The ease of doing so - and doing it on-the-spot, proved a godsend for me when a rather immediate and long medical appointment came up for my daughter.

The day of my daughter's appointment, I tossed the lesson plan book into my bag, planning to look ahead in it during inevitable down time at the specialist's office. As soon as we were brought to the first patient room that my daughter spent time in that day, she saw the book in my bag and asked to work with it while we waited for her doctor. So, I quickly accessed lessons to review and kept my daughter engaged in Spanish fun until the doctor game, and, again, later in the day in each of the three different patient rooms we ended up in.

The ease of using the Whistlefritz lesson plans to present impromptu Spanish activities with my daughter sure helped make what would have otherwise been long, nerve-wracking waits into fun foreign language learning. Now, my daughter wants me to bring the book to her next appointment, too! Undoubtedly, I will. I might also finally print out and use the FREE stand alone lessons available for download online.
3 Spanish for Kids CD's: Three CD's accompany the DVD's and lesson plans offering upbeat, Latin rhythm songs to get children on their feet and practicing new vocabulary when listened to at home or keep them thinking and chair dancing in the car. My daughter enjoyed these with Daddy and me while stuck in traffic on the way to and from several appointments.

The Children's Thoughts
Even though this program is geared for children between the ages of one and seven, all of my children (ages 6-11) enjoyed it.
My 11-year old liked the video portions best. He said:
"Whistlefritz was good. I liked how parts of he video were in full cartoon, parts were in partial cartoon and partial real...


and parts of it were in just real.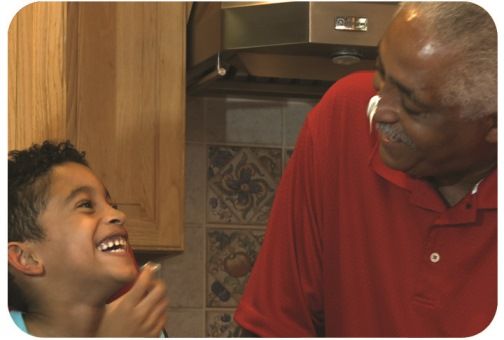 I learned some words, and I cannot wait to watch it again and again until I learn more."
My almost-seven year old also appreciated the program. He said:
"I liked it. I liked the videos and the cards the best. A video part I liked was the weather one...
I liked that you can play more than just memory with the cards, too - like Go Fish."

My youngest also commented to me that he doesn't feel like he's learning Spanish. He's just having fun. To me, that says a lot. Learning that does not feel like learning is the best kind in my book!

In fact, for my just-turned-ten year old daughter, the fun and flexibility of the program is what makes it so ideal for us right now. She said:
"I liked Whistlefritz - the book, the movies, the CD's, and the cards.




We brought the book to the doctor's office and my mom used ideas from the lessons. She used the Spanish colors like rojo and cafe, and I had to find them in room, and my dad was wearing cafe pants!

I liked to watch the movies, too. I watched them all at least once, sometimes when I first woke up. My favorite is the ones with the food and a lot of songs.

I like CD's and how there were pretty much a ton of songs. We listened to them in the car when I was with just Mommy and Daddy.

I also like playing Go Fish and Memory Match with the cards.

I have learned Spanish. I can say most of the colors, most of the numbers up to 10, how are you, what's your name, good, not so good, okay... and more. I really cannot wait to watch the movies again so I can learn even more words"

Truly, of all my children, my daughter has been enjoying this program the most and is our most eager learner with it. During our review period, she often asked if she could watch he DVD's when she awoke before her brothers and wanted to do something quiet. Also, as previously discussed, she loved passing the time at recent medical appointments by reviewing and adapting lessons. It's been a joy to watch her get excited about this program and to see her brothers learning, too.



Learn More
Whistlefritz offers both an Educator's Spanish Collection and an Educator's French Collection. Both currently sell for 20% off their regular prices, with the Spanish collection selling for the current discounted rate of $165 and the French one for $115.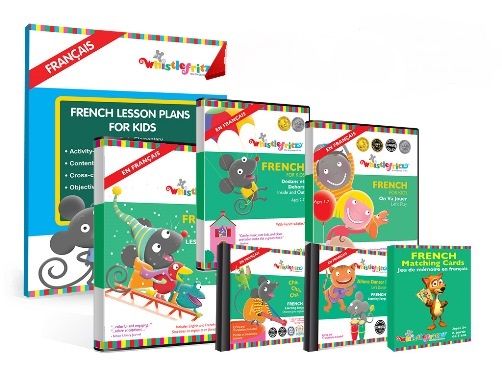 Forty-five homeschool review crew families reviewed either the Spanish or French collection and have shared loads of pictures and thoughts in their reviews.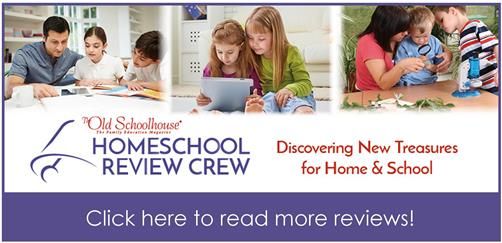 I encourage you to go take a peak at the other reviews to get an even fuller picture of how flexible
Whistlefritz is.

With the DVD's, CD's, cards, lesson plan book, and extra materials at the
Whistlefritz website, the language program is so easy to adapt to different ages and styles.

Hands-on learners can cut, paste, color, and craft. Audio and kinesthetic learners can listen and move to the CD's. Visual learners an enjoy the DVD's. Interpersonal and kinesthetic learners and can enjoy the playing cards and other games described in the lesson plans. On-the-go families like mine can take the deck of cards, CD's or lesson book with them when off to appointments and enjoy the DVD's back home. Families that are at home more can enjoy the MANY hands-on activities described in the lessons plans.

Truly, flexibility while increasing Spanish exposure and learning was a key reason I wanted to try
Whistlefritz and it is exactly why I like and would recommend the
Educator's Spanish Collection to others.
I wondered if the program would prove "too young" to engage each of my children, but it has not. Instead, it has proven to be a flexible, family-friendly way to easily add Spanish learning to our lives even when life throws curve balls.


You can find
Whistlefritz on social media
on
Facebook, Twitter, and YouTube.
If you're looking for fun, flexible, immersion-based Spanish or French for toddlers to early elmentary-aged children (and even pre-teens in my home!), do consider Whistlefritz.