If you enjoy living books and want to dive into American history, then the
Adventures of Rush Revere #1 New York Times Bestselling Book Series by Rush and Kathryn Adams Limbaugh might be for you!

This series of five living history books certainly has proven a fantastically fun and educational choice for my family.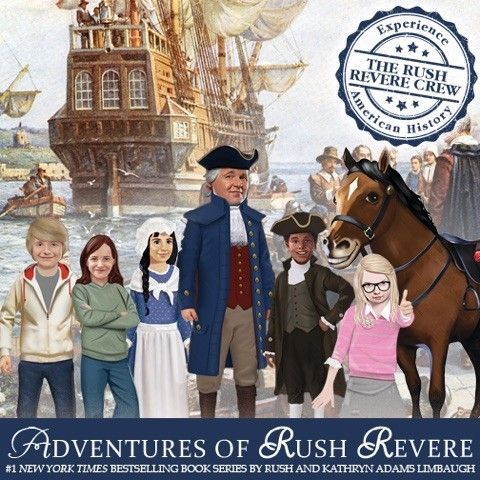 When I asked my children if they would like to read the entire
Adventures of Rush Revere Book Series, they did not hesitate to shout, "Yes!" Through prior experience reading Rush Revere and the Brave Pilgrims and listening to a library audiobook copy of Rush Revere and the American Revolution, my children had already become familiar with the main characters of the
Adventures of Rush Revere series as well as with the way these books weave humor and facts together, creating entertaining (and educational!) reads. They could not wait to own the whole series and to finish reading about the adventures of Rush, Liberty, Tommy Freedom, and Cam (plus, later, a homeschooler named Maddie):


Rush Revere and the Pilgrims, in which Rush, his horse Liberty, and his middle school crew visit the Pilgrims and celebrate the First Thanksgiving with them.
Rush Revere and the First Patriots, in which Rush Revere and company travel both to Boston and to Great Britain, discovering the people and events just before the American Revolution.
Rush Revere and the American Revolution, in which current issues such as parent deployment and bullying layer into learning about the people, battles, and events of the American Revolution, shining light on true American heroism.
Rush Revere and the Star-Spangled Banner, in which the U.S Constitution, flag, and national anthem - along with other American symbols, founding documents, and system of government, are explored.
Rush Revere and the Presidency, in which Rush and crew time travel to meet the first three American presidents and first ladies while teaching about leadership and elections.

As soon as the books came in, I asked them which they would like to begin with as a read aloud with me. They chose Rush Revere and the First Patriots. Then, when I was busy with other things one day, they asked Daddy to begin reading them Rush Revere and the Presidency, too. And, as if that were not enough concurrent Rush Revere adventures, my oldest also chose to reread Rush Revere and the American Revolution during his independent reading time.

Then, when a bout of sickness passed though our home, because my children also wanted to dive into Rush Revere and the Star Spangled Banner and revisit Rush Revere and the Pilgrims but I had neither the time nor energy to read these books as well to them, I ordered copies of the audiobooks from interlibrary loan, so that my two younger children, who are still developing readers, could enjoy following along with their print books while Rush Limbaugh read to them on the CD's. (What a delight it was to hear them giggling through sickness as they enjoyed the pairing of the author's narration with the illustrated books!)


Thus, between the five of us in our home, we've read (or listened to) each book in the
Adventures of Rush Revere series since mid-May and have enjoyed every bit of it!



What the Children Have to Say About the Adventures of Rush Revere
When I sat down to write this review, I asked my children what they would like me to be sure to include in it. My newly-ten year old said, "Are you ready, Mom? it's going to be long. I really like these books!" Then, she proceeded to narrate:

I like all of the Rush Revere series. In this series, Rush Revere is a substitute history teacher at Manchester Middle School. He has a time-traveling talking horse that can turn invisible (say that five times fast!) and he takes some students back in time and brings his fancy phone back, so he can use the videos to teach other students.



One of my favorite books is the presidency one. The basic story of it is that Rush has a student friend named Cam who is running for school president and needs some help, so Rush takes him back in time to meet different presidents, beginning with George Washington. I like the balance in this book between going back in time and being in present time. It showed me how learning about history helped Cam become a better person to elect. History is rich with virtues, vice, courage, adventure, war, and peace, surviving... The past teaches people in the present. It is true that if you don't learn the past, the same mistakes will happen again.



In another book, Rush has two other student friends called Freedom and Tommy that go on his first adventure with students to meet the pilgrims. In this book, one of the funny parts was that Liberty got seasick. Before we read this book, I knew a lot about the pilgrims because we have studied about them before and have visited Plimoth Plantation and a replica of the Mayflower. So, the book was a good review. I also learned that Myles Standish's wife died.





The other books were good, too, but I don't want to bore you with too much. I love history and I like these books. They should make MORE!!!!
My eleven-year-old said:

These books are really good.

I love the horse Liberty, because he's super funny! One time, he ordered pizza and said, "Your phone is very easy to navigate with my lips." Another time, he went on, "Does the flag have 13 stripes which represent the 13 colonies, which represent the 13 United States, which represent the 13 bagels that you will buy for me?" (or something like that.) That was really funny. Liberty always hungry and silly, which make the books hysterical.

The books are also very educational. In them, I learned or reviewed that:


modern schools have elections.
other people wanted George Washington to continue with his presidency, but he did not want to because he did not want to be like a king.
Paul Revere made the Boston Massacre engraving.
Some of the crew on the Mayflower did not like the Pilgrims.
Paul Revere was not the only one to make the midnight ride.
That people fought over how our government should be when our country was first formed.
and more.

I really like how they deal with "Elizabrat" and dunk her in a pond by Windsor Castle. It's funny and teaches her a lesson. In the books, the characters deal with people they know being sick, bullying, parents being off with the military, and lots of other troubles. So, while we learn about history, we learn about how to deal with troubles, too.

The books are great for everyone!
My youngest, at six, said that he especially likes the talking, time traveling horse in the series - Liberty, because, "He's funny. He always wants to eat, he talks to caterpillars in the president book, and he does other funny things."

My youngest also enjoyed how Rush travels back and forth between the present day and the olden days and sometimes brings modern or old things with him. He said he really likes "Rush Revere and the American Revolution because the pepper spray in it was funny." Basically, "Rush was helping Paul Revere," he says, and "had to distract the British, so he sprayed them."
Without question, the
Adventures of Rush Revere series is a hit here for its humor and its imaginative, yet accurate, portrayal of history.

Not Just Great Living Books...

One thing the children did not mention when I was having them narrate for this review, but which I know they appreciated, was the actual physical presentation of the books. Each o the 200-240 page books in the series is a hardcover with a full color dust jacket and thick, glossy pages that look "aged". Chapters are a bit on the longer side for a modern books geared for 8-12 year olds, but they are broken up with illustrations, maps, sketches of famous people, and photographs of historical places, artifacts, and documents. Each book also contains questions for review at the end.

Plus there's more online at the Rush Revere website!
Shhhh! Don't tell my children yet, but the website is
chock full of activities, homeschool resources, educator's resources, and more
that go along with the Adventure series. I have purposefully kept this from them, because I know we do no have time to get lost in the many, many resources there. However, when slower schedules and colder weather return, I plan to strew our
Adventures of Rush Revere Books around and to introduce them to the downloadable and online materials at the
Rush Revere website, so they can continue to have fun-fun-fun (and, also be learning-learning-learning) with Rush Revere!
Learn More
Obviously, we are big Rush Revere fans here and would recommend the
Adventures of Rush Revere Book Series to others who want to dive into American History with well-written, humorous books that weave true facts, patriotism, and lessons in virtue into a fanciful premise that has modern folk rush, rush, rushing into history atop a talking, time traveling horse.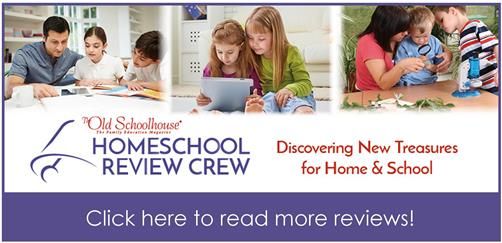 One hundred Review Crew families learned about
Adventures of Rush Revere Book Series.
Enjoy reading what each of us thought.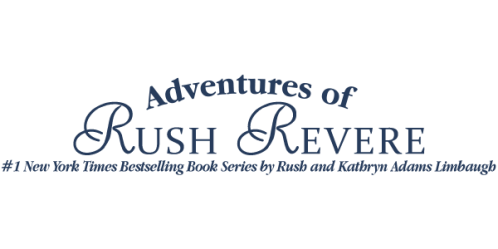 Find
the Adventures of Rush Revere on Facebook, Twitter, and YouTube.