Last year, we were introduced to the Brinkman Adventures and fell in love. So, it was with great anticipation that we awaited our chance to review The Brinkman Adventures: Season 3. The kids have been taking it from house to minivan and back since we go it. Silly me, however, made one mistake: I let my children pop the Cd's in before bedtime the other night.

Several HOURS later, I finally heard no voices in the room except that of a CD and heard no movement either. I was sure the kids were asleep. NOPE! When I went in to turn the CD off, two of my three sat right up with smiles and a, "Mom, it's so exciting!"

So, my recommendation: Do NOT listen to the Brinkmans at bedtime or the kids may never get to sleep. Even if they have listened to the CD's several times previously, as my children had on a long roadtrip and during subsequent chore times and drives, they may still get too swept up in the exciting, adventurous, faith-filled stories to sleep!
You would think I would have realized that my children would not go to sleep when listening to Season 3 after all the marathon sessions they have spent listening to Season 2's fabulously fun, faith-filled audio dramas. I did not. That's okay though. Sleep is important, but action-packed missionary stories to feed the imagination and soul have merit, too.
Season 3 is filled with such merit.
In one case, come
four CD's, filled with five hours worth of

exciting, sometimes humorous, often moving, and always faith-centered missionary stories:
Ep. 01 - God's Mule: Inspired by the true story of a Bible-smuggling missionary, this story changes names and places, and adds a few details, to show how one man CAN do the impossible with God's help.
Ep. 02 - Mountain Mover: In this episode, the Bible smuggler gets interrogated by men who recognize his love for God and are moved by it.
Ep. 03 - Silent Ambassador: This episode is inspired by the true story of a shy young girl who found her voice in creating a successful Shoebox club for Operation Christmas.
Ep. 04 - Translating Trouble: This episode blends the stories of Bible-translating missionaries and a local man with a prayer in a heartwarming tale that reminds all of the power of prayer, among other things.
Ep. 05 - Man-Up: My children's current favorite, this inspired-by-truth story tells how "an act of God" saved a men out on the glaciers of Alaska.
Ep. 06 - Acorns & Oaks: One of the more comical episodes, this one blends a favorite characters from Season 2 with new ones, with the true story of how a little girl's ice cream money bought a while Christian camp.
Eps. 07, 8, and 9 - A Saint's Story Pts 1 and 2 and Untouched: These episodes tell a true story about missionaries and the Waodoni people focusing one one of the missionaries who plays himself on the CD. They are packed with forgiveness, invention, truth, and, of course, faith.
Ep. 10 - Busy Bees and a Bullhorn: This episode is the most fictionalized of all of them, containing humor and the character Mr. Pennington, a favorite from Season 2.
Eps. 11 and 12 - Missionary Tourist Pt 1 and 2: These episodes are packed with suspense as we learn what happens to short-term missionaries in a country where the penalty for being Christian can be death. They evidence how tenuous circumstances can result in conversion and being "all in" for God.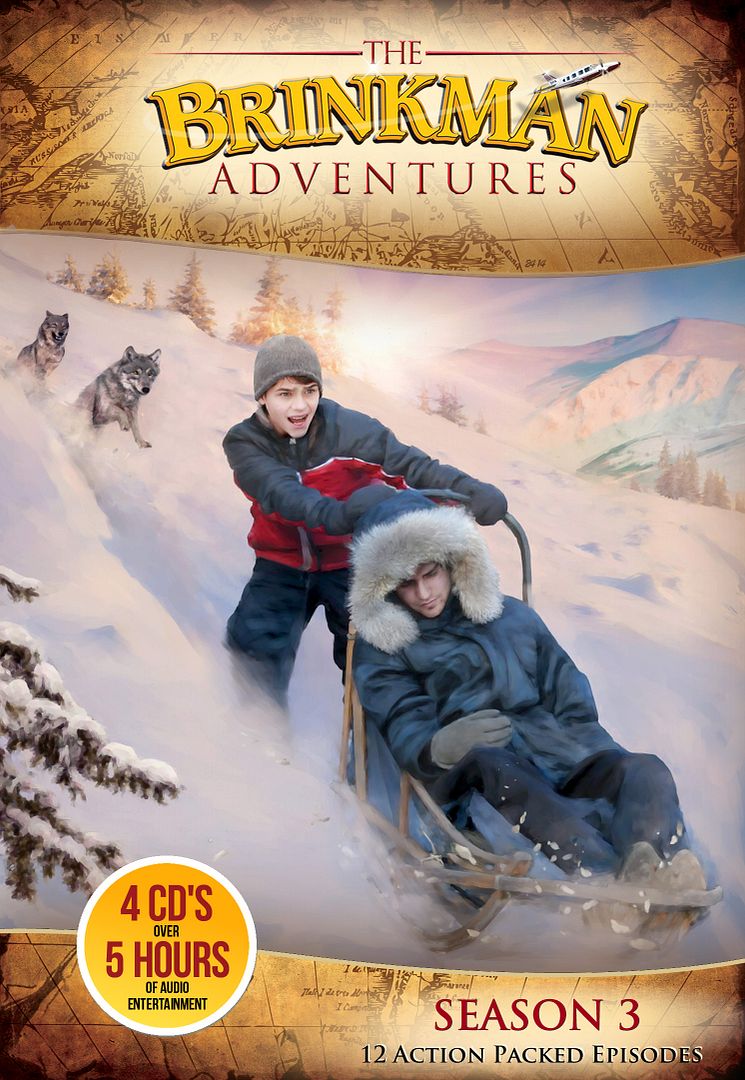 All of the episodes are engaging and family-friendly. Some include intense scenes. However, as always, the "Brinkmans" warn about the need for younger and more sensitive listeners o do so with a parent just before such parts.

My children, currently ages five to nine, had no problem with any of the episodes, and, in truth, remained completely engaged by the.

My five-year-old said:
There are funny parts... God things... excitement.
My eight-year-old said:
I liked all of them, but I had a hard time understanding the shoebox one until the very end. I didn't think it was written as well as the others, but I still liked its message.

I liked all the rest a lot. I especially liked the one where the boy got stuck in the ice crevice and his son flew down a hill with a guy in a sled and there were wolves behind them. It was exciting, and, then someone in it said a joke and I liked the joke.
I think someone who likes excitement should listen to the Brinkmans. People that like faith should, too. It did not teach me anything new about faith, but was kind of like going back in a book and reading something again... a review...a review I wanted to keep listening to, but it ended. So, I begged Mom to listen more.
My nine-year-old said:
I liked the CD's, because they were exciting and adventurous. For example, I really liked the ice one when the "dogs" were behind the sled, and the character said, "Those aren't dogs, they are wolves." It was funny and scary at the same time.
I also liked the Acorns & Oaks. It was funny that Ms. Bernice walked in her sleep and it was pretty amazing that Mr. Benti bought a camp with single dollar. God can make something small do something really big.
It would teach me more about my faith if it was exactly my faith, but it still teaches me a lot. Some messages I got from it are that God is always there, that you should be persistent in being good for God and working for God, and stuff like that.
I wish they could make new CD's faster, because then I could hear more stories.
I echo all my children's enthusiasm for the Brinkman Adventures! Both
Season 2 and
Season 3 have provided my family with hour after hour of quality listening time. My children and I also enjoy reading the real stories behind the CD's. Further, so many conversations spring up between my children and I based on our listening -- from geography, to science, to vocabulary, to, of course, faith.

Some recent conversations have included comparing and contrasting how our Catholic/Christian faith and the Brinkman's Christian faith are the same and yet different and how the missionary stories in the CD's offer so many examples of Works of Mercy. Feeding the hungry, visiting he sick, visiting the imprisoned, burying the dead, counseling the doubtful, instructing the ignorant, comforting the afflicted, forgiving offenses, praying for others, and more... It's all in the
The Brinkman Adventures: Season 3, making such works that much easier for the children to understand and apply in their own ways.
Learn More