My kids sure thought we were lucky to be chosen to review Egglo Entertainment for the second year in a row. I, myself, was pretty excited, too. For although we saw, used, enjoyed and reviewed Glow in the Dark Egglo Eggs, The Egg-cellent Easter Adventure book, Egglo Treasures Scripture Scrolls, The Egglo Glow in the Dark Egg Hunt Event Curriculum last year, I had plans for this year that included another set of eggs. Having another set of of the rest of it, plus the addition of Egglo Bible Verse Stickers, promised great fun, too.

Before I tell you about my plans and what academics, faith and fun actually unfolded, let me tell you a little bit about the products we received.



Egglo Entertainment's Mission: Teach about the Light of the World
Egglo Entertainment bases its products on the scripture,
"The Light shines in the dark and the darkness has not overcome it." (John 1:5) As such, all Egglo Entertainment products point to the message that Jesus is the Light of the world.
Founder, Darcie, explains how the

glow-in-the-dark eggs, the accompanying book and the company itself came to be through a collaborative, inspired effort:
The
Glow in the Dark Egglo Eggs (regularly $11.99, now on sale for $9.99, with further discounts for bulk orders) come in a sturdy storage box. There are 12 eggs in four colors (blue, green, yellow and pink.) Some have crosses imprinted on them and others do not. All glow in the dark after being charged in the sunshine or under a light.

Egglo Eggs split completely in half length-wise, instead of width-wise with a little connector tab as typical Easter eggs do. This makes them easy to fill and to do egg-half matching activities with. The eggs also do not contain the small air holes that some plastic eggs do. This means that what's inside them does not get wet and the eggs can easily float, which is handy if you want to use them for any variety of sensory play activities.

Overall, the eggs are high quality, durable and invite repeated use throughout one season and over and over throughout the years.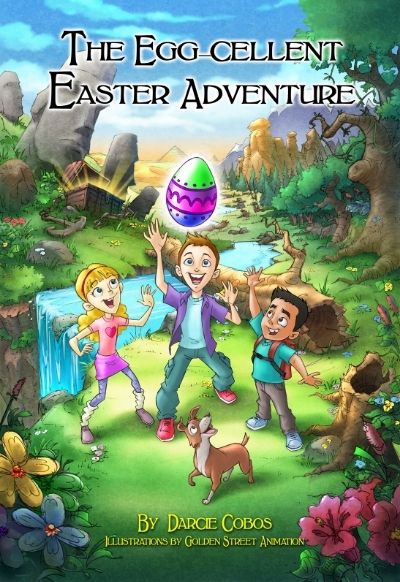 The Egg-cellent Easter Adventure book ($12.99, on sale now for $9.99) is a 40-page, 8 x 10 inch softcover book that follows cousins Hardy, Anastasia, and Pascal, and their dog Zeke, on an adventure through time and space to discover the true meaning of Easter. It is fully illustrated by professional animators and has text and visual allusions to Ancient Egypt, Easter island and Iceland. It also, of course, centers on connections with the Bible message that Jesus is the Light of the world.

A fun story,
The Egg-cellent Easter Adventure book connects Easter egg hunting to the gospel of Jesus as readers follow along with the mystery that the cousins in the book try to solve.
Egglo Treasures Scripture Scrolls ($4.50) are tiny plastic scrolls with Bible verse paraphrases written on them. They come in a package of 12 and fit perfectly inside the
Glow in the Dark Egglo Eggs. As children unroll each scroll and read the paraphrases of
Corinthians 15:3-4, Deuteronomy 6:5, Proverbs 3:5-6, Matthew 5:16 and 28:20, and John 1:4, 1:5, 3:16, 8:12 and 12:46, they not only have fun working fine motor skills, but they can also become one step closer to hiding God's word in their hearts.
The Egglo Glow in the Dark Egg Hunt Event Curriculum ($14.99, on sale now for $9.99) is a 60-page downloadable guide aimed at churches and families with step-by-step how-to instructions for holding Egglo Glow-in-the-Dark Easter Events. It contains:
activity ideas

decoration ideas

themed snack ideas

printable discussion cards

printable invitations

printable decorations

printable coloring pages

printable Bible verse scroll cards

printable Easter egg cuts outs

and more. Since it is an e-file the printable resources in it can be reproduced as often as you need them, helping you create a variety of memorable events.
Egglo Bible Verse Stickers ($3.29) come as a set of 12 individual stickers that match the verses on the
Egglo Treasures Scripture Scrolls and include
paraphrases of
Corinthians 15:3-4, Deuteronomy 6:5, Proverbs 3:5-6, Matthew 5:16 and 28:20, and John 1:4, 1:5, 3:16, 8:12 and 12:46. Like the scrolls, they fit perfectly inside
the
Glow in the Dark Egglo Eggs
.
Plans and Reality
When we were offered the chance to review Egglo Entertainment products again this year, I was excited to revamp the Easter Story eggs that we made with the
Glow in the Dark Egglo Eggs last year to be Stations of the Cross eggs. (I needed 14 eggs to do this.) I planned to use the extra 10 eggs fro our two sets for a variety of additional learning and sensory activities -- making auditory discrimination eggs, fishing for phonics, etc.
Likewise, I envisioned doing back-to-back partner reading with the two copies of
The Egg-cellent Easter Adventure book we would have, and, perhaps diving into geography-themed extension study on Ancient Egypt, Easter Island and Iceland.
As for the
Egglo Treasures Scripture Scrolls, The Egglo Glow in the Dark Egg Hunt Event Curriculum and the Egglo Bible Verse Stickers, I thought they'd lend themselves perfectly to copywork, crafting and coloring. I envisioned setting up another mini-scroll making-and-handwriting tray as we did last year after my daughter spontaneously started making scrolls, too.
Of course, all these plans came to mind before the piles and piles and piles of snow came down in our area. With those piles, came a need to spend loads of time out shoveling and plenty of energy constantly revising our schedules to deal with cancelled and postponed commitments.

All the unplanned, snow-induced changes to our lives, in turn, usurped time and energy that may have been used for "extra" planned activities, like crafting Stations of the Cross eggs. So, many of my plans for using our Egglo Entertainment products have yet to come to fruition.
That is not to say, though, that we have not enjoyed the products. In fact, plenty of spontaneous Egglo Entertainment faith-filled fun and learning keeps unfolding! Part of this fun was the giggle the kids got when they discovered our new set of Egglo eggs charging up atop the feet of snow in our front yard...
What has some of the other spontaneous fun and learning looked like?
One afternoon when Jack was having a major four-year-old melt down during a just-back-inside transition, I simply scooped him into my arms, picked up our new copy of
The Egg-cellent Easter Adventure book, plopped us on the couch and began reading - before even taking off my coat. Within moments, Jack calmed, Nina cozied up next to us, Luke snapped a photo and then took a place on my other side and peace was restored as we all joined the kids in the story on their adventure.


While reading, we paused to talked about some of the geographic locations depicted in the book, related the scriptures in the text to things that had happened throughout our day and discussed how we each can change from moments of thoughtlessness, fear or self-centeredness to habits of consideration, courage and kindness as the characters in the book do. I also delighted in Jack's tears turning to laughter as Luke, Nina and Jack giggled at the antics of Zeke the dog in the story.

I just love how the story engages the children and offers opportunities to talk about faith, geography and more.
The Egg-cellent Easter Adventure also offers an "in" for teaching about elements of fiction.

I popped a copy of it into my tutoring bag one morning along with some other books that my student could choose from. She selected
The Egg-cellent Easter Adventure book as our material to work with that day, and before we were too far in, we found ourselves easily discussing its examples of point-of-view, plot, character, theme and setting elements of plot structure, dynamic and static characters and more. By the time we hit the part of the story when the children find themselves on Easter island, we had "collected" eight "challenge words", so paused to do a decoding and encoding activity with them. Next week, we plan to discuss dynamic vs. static characters as we finish up the tale.
Using
The Egg-cellent Easter Adventure book, I see many opportunities for gentle studies about elements of fiction alongside the more obvious "ins" for focusing on faith.

Related, because my children get a kick out of the character Zeke, as I re-read
The Egglo Glow in the Dark Egg Hunt Event Curriculum the other afternoon, I printed out a picture of the dog and let the kids color it. I am thinking of using the printable coloring pages in the curriculum guide as go-alongs for character studies.
Handwriting exercises are also coming easily with our Egglo Entertainment products.
This year, before I could do anything with the miniature scrolls, Jack began exercising fine motor skills by unwrapping them and Nina immediately delighted in creating copywork scrolls again.
I did not even need to set up an activity up. She did it all on her own!
There is just something about those little scrolls that invites handwriting fun. And there's something about copying paraphrases of the Word that keeps faith at the forefront of the mind while also hiding God's word deep in hearts. Love that!
Between the scriptures on the mini-scrolls (and the ones I printed from the curriculum guide, which are on the bottom left of the above photo), Nina and Jack were also inspired to look toward the cross, or rather to build one using our Montessori red rods.

How cute was it to go to the living room to find them engaged in this:
As for the stickers, the kids enjoyed looking at them and begged to use them, but I am having them practice patience. I want to use them for a craft and have not yet been able to get to the craft store for additional needed supplies.
As for the
Glow in the Dark Egglo Eggs themselves, wow! Just wow! They are so much fun.

One night, after a particularly trying day with loads of kiddie outbursts, instead of continuing to wait to use our new eggs until I could make Stations of the Cross eggs with the kids, I simply let the kids go to town hiding the eggs for one another in our living room and, then, seeking them out. What a resetting activity that was.
No more fussing, fighting and crying. Just giggles and excitement. Praise God!

Unfortunately, my camera settings would not allow me to get a decent picture of the eggs' glow without the flash on, and, even with the flash, trying to catch my excited kids running about the living room in the dark was tough. I did get one photo that shows more than a partial body.

Luke was coming towards me and a table to set the egg he found down before moving to find another.
Since then, other spontaneous egg hunts have occurred. Even in the light, my kids like these eggs.
From the Mouths of Children
Before writing this review, I asked

my children

for their quick thoughts on the products.

When I did so, they

were in the midst of creating a play-money counting and egg-hiding game

.
Nina said, "It's good that they glow. You can see them in the dark. Like Jesus' Light of the World." (This made me giggle, since it was morning time and, even though the eggs do not glow in the

morning, Jack and Nina asked to turn all our lights off.)
Luke said, "It reminds me that I should look everywhere for my Easter eggs so they don't get lost and that one teeny tiny glow can help you see." (Be the light. Look for the light.)
Jack said, "Can we play more?!" (That's my boy!)
Learn More
Obviously, since we were eager to review a second set of Egglo Entertainment products, we are fans of them and would recommend them. They offer so many possibilities for fun, focused learning, giggles and faith sharing during the Easter season or anytime of year.
The
Egglo Entertainment
website is jam-packed with images and videos related to its products.

You can also find Egglo Enterntainment on:
Read how 80 Schoolhouse Review Crew families used Egglo Entertainment products int heir homes, churches and communities.

In what creative, fun and meaningful ways do you point your children toward the true meaning of Easter? Do any of the Easter supplies and traditions you have inspire academics, faith and fun?