How can you "read" your children a story when you have serious laryngitis, encourage copywork with an engaging activity and get all three of your children excited about telling (and re-telling!) the Easter story? What would make a mama post another review on one single morning?
In our home lately, some products we are reviewing from Egglo Entertainment in exchange for an honest review have been the answer!
I am so excited by what happened in our home last night with the actual eggs that I just could not wait to post about it despite the fact that I had other posts scheduled for this morning... (But more on my excitement later!)
What's Egglo Entertainment?
If you have not
Egglo Entertainment, let me introduce you to this great source for products to enhance your Lent and Easter seasons, especially if you have children ages 4-13 (or even a bit younger or older!)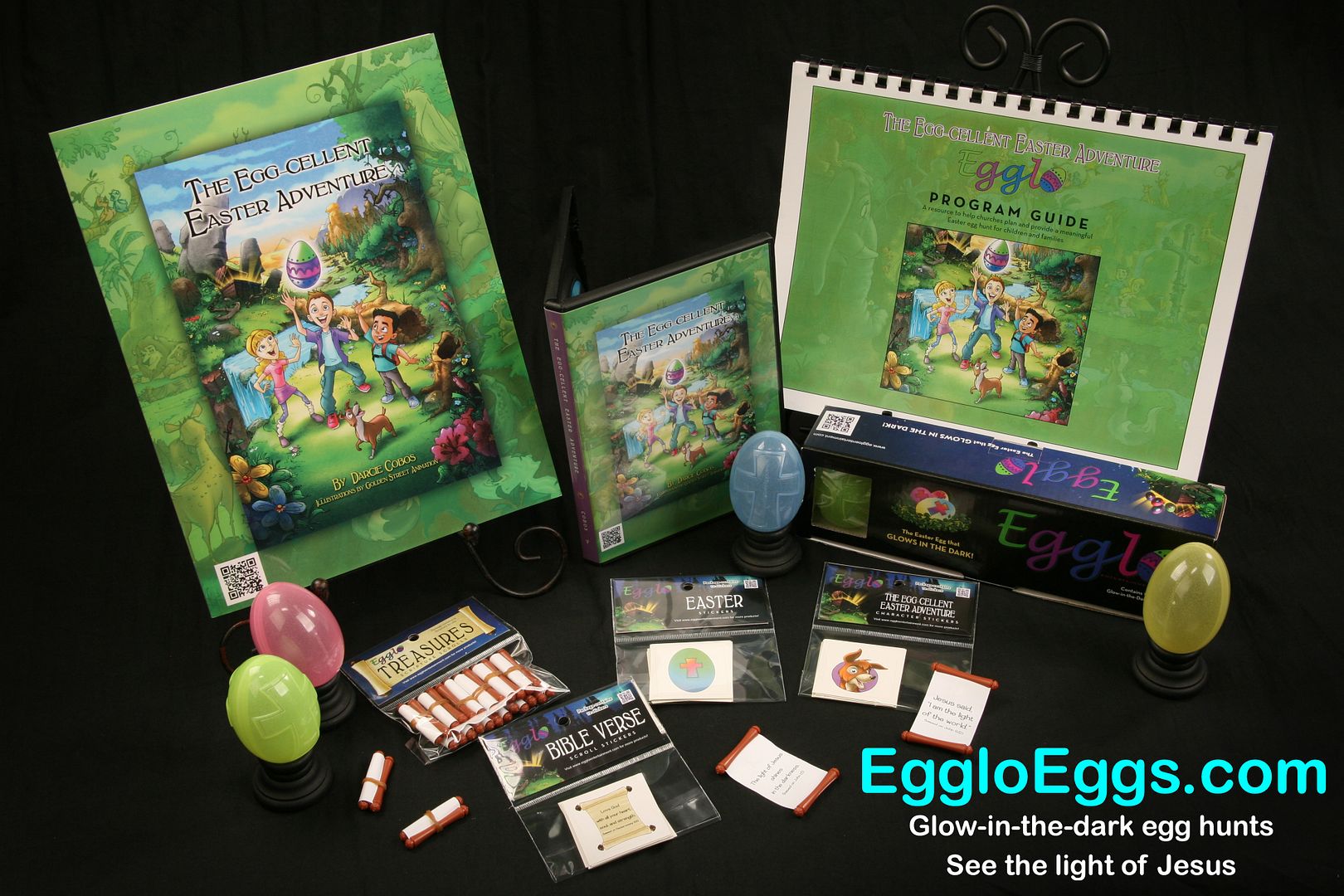 We received their
The Egg-cellent Easter Adventure book and audio download, Program Guide, Glow in the Dark Egglo Eggs and Egglo Treasures Scripture Scrolls for review and have used (and re-used!) them with delight.
An Adventurous New Bible-Based Twist on Egg Hunts
The Egg-cellent Easter Adventure book is currently available for $9.99 and is an entertaining, colorful read written by Darcie Cobos and illustrated by Golden Street Animations that connects traditional egg hunts to the gospel of Jesus.
The story follows characters Anastasia,Hardy and Pascal, as well as their dog, Zeke, as they discover a glorious (and glowing!) mystery that transports them around the world on an adventure to find the greatest treasure of all.
At each location the characters magically get transported to, a glowing egg reveals a clue and a Bible verse until the children discover the answer to the mystery they are trying to solve.
Along the way, God's word guides the children through trouble and changes their behaviors as they come to know Jesus as the greatest gift.
One recent day when I was overcome with laryngitis, my children and I cuddled up with a physical copy of this book and the audio e-book version, which currently sells for $2.99. We let artist Dick Wells read the story while I turned the pages and the children poured over the vibrant images. In coming weeks when I finally gt my voice back full-force, we'll re-read the story in a more traditional mom-reading sort of way, Until then, I am glad for the audio! My children and I enjoy sharing it.
Inviting Copywork
Nina is so proud of the first scroll she spontaneously designed.
The Egglo Treasures Scripture Scrolls, which currently sell for $4.29, are small scrolls with Bible verses written on them. They are sized to fit inside Egglo eggs so your children can go on a hunt like the children in the book do and are meant to be used as described in the downloadable 60-page, step-by-step Egglo Glow-in-the-Dark Easter Event Curriculum Program Guide that currently sells for $14.99 and offers activity ideas, coloring pages, decoration ideas, how-to instructions, snack ideas, printable discussion cards, visual aides and more. However, we used them a bit differently...
Nina makes scroll after scroll.
As soon as my daughter saw the scrolls, she spontaneously grabbed some supplies and began to make her own version of them. So, I followed her lead and prepared a copywork tray with the scrolls.
This learning tray is getting a lot of use.
That tray has found a home on our learning shelves, where the children access it to do self-selected copywork. Love it! There is just something about the scrolls that inspires them NOT to balk at handwriting exercises.
A New Family Tradition
Here is our Egglo Eggs carton after the children told me the Easter story.
This Lenten season, one of my
faith learning goals for the children is for them to really be able to tell and retell the Easter story in a variety of ways. I have used the Glow in the Dark Egglo Eggs
to help us meet this goal with great success. (And this is what I was so excited about!)
Thinking about how I wanted to introduce my children to the eggs before Easter, I decided to create Easter Story/Resurrection Eggs with them. So, I have secretly been gathering supplies to fill the eggs with.
Now, this week, since we have begun reading the Easter story in different books, I wanted to present the eggs to the kids.
So, first, I simply put the eggs under a high light in my bathroom where my children would notice them and become curious. When they asked what the eggs were and why I had them under the light, I simply said, "You will see..."
They quickly realized the eggs were glowing ones like the ones we had read about in
The Egg-cellent Easter Adventure a while back, and they became excited. I then told the children that if they could shine like Jesus by being virtuous and practicing patience I would surprise them with an egg hunt.
It's hard to get a good picture of glowing eggs! These are our eggs (minus two that I had already hidden.)
The children did. For three days (because time kept getting away from us each evening, not webcast it takes the eggs three days to charge. It takes only an hour or so in our experience.)
Finally, last night after dinner and some evening lessons, I told the children to go get their jammies on and then wait in their room while I prepared a hunt for them, whereupon my daughter literally danced down the hallway singing with anticipation.
The flash made it look like the lights were on. This looked far more impressive in the actual dark that it was.
I quickly hid the eggs and called the children out. They rushed down the hallway with eager squeals and delighted to come living room to see all the eggs aglow. Without hesitation, they began racing about to collect each glowing egg.
However, despite the eggs' glow, one egg that I had hidden in a snow boot was hard to find.
Victory!
My oldest was especially victorious when he found that last egg!
Then, we turned the lights on and the children began opening their eggs. They were surprised with the "treats" inside: a piece of sponge, stale bread, a bit of soap, etc.
"Ew, it smells like vinegar."
As the children discovered what was inside each egg I wondered aloud, "Why would Mommy have put that in an egg..." Between fits of giggles, the children responded with surprisingly on-target ideas: "Jesus is the bread of life..." "Jesus washed his disciples' feet..."
Then, I told the children I wanted to tell them a story. Using the "treats", I retold the events of Holy Week. The children sat with rapt attention, then begged me to go to another room so they could hide the eggs.
The children begin to prepare to hide the eggs for me.
Of course, I did. And did they ever hide those eggs! Under blankets, in boots, under cushions. They wanted to test if I could find the light and, in doing so, gave us an object lesson in how God's light can shine even when we try to hide it!
Once I'd found all the eggs that the children had hidden, they told me the Easter story, carefully picking up each "treat" in the order of the events we honor during Holy Week and adding details that I had not used when telling them the story. (They are obviously assimilating all the picture books, Gospel readings and lessons we have explored previously!)
The children determine who tells the next part of the story by seeing who has the egg with the next object in it.
Truly, I was delighted with how excited my children were to use the glowing eggs and their contents to retell the Easter story and equally amazed at how accurate their retelling was!
The children were enthusiastic, too. They wanted to do it again and again. But, it was bedtime. So, I told them we'd revisit the activity another day. They now eagerly await hiding eggs and telling Daddy stories one night when he is at home and also getting to do a hunt with different prizes in the eggs another night.
We Love Egglo Entertainment
My children are truly aglow with delight over Egglo eggs and the way we have used them and I have no doubt other children would be, too! We've also been enjoying the storybook, audio e-book and scrolls. What is not to like about hands-on fun that brings literal and metaphorical light through darkness?
When I wondered, "Why coins?", Nina responded, "Because Jesus brings richness. He is a treasure!" Really, the coins were to remind the children of the coins Judas took when he betrayed Jesus, but I think I like Nina's idea better!
Without hesitation, I would recom
mend any Egglo products to families looking for new ways to celebrate this season! So far in using them here we have had nothing but fun, focused learning, giggles and faith sharing and I cannot think of one thing we've run into about the products we would change.
Find Out More
To learn more about these products, find Egglo Entertainment on:
You can also click through to read about how others are using Egglo Entertainment products!
What new products and strategies are you using to teach your children this Lent and Easter season?