Fun. Learning. Treasure! What family doesn't like these things? Certainly mine does. So, it was a no brainer for us to accept an offer to review both the Playdate Clue Pad and the Gluten Free Treasure Hunt by
Clued in Kids.
What are Clued in Kids Treasure and Scavenger Hunts?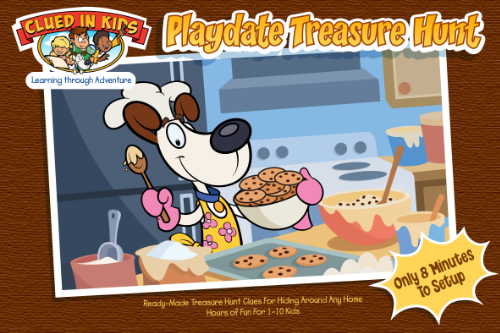 In a nutshell,
Clued in Kids treasure hunts are a series of themed clues (on a printable pdf or on a physical pad) that children solve and follow in order to find a treasure. Scavenger hunts, on the other hand, require children to search for lists of items. Both offer opportunities for children to practice reading, math, logic and social skills while enjoying an adventure around a home or classroom.
These hunts, which were the brainchild and long-time dream of a woman with an incredible story, are designed for pre-k through elementary school -aged children (depending on the hunt). They take about eight minutes or less for an adult to set up and can be enjoyed by between one and ten children at a time.
printable takes approximately 8 minutes to set up, and will provide an hour or more of fun for children ages 4 and up. - See more at: http://schoolhousereviewcrew.com/clued-in-kids-review/#sthash.o22dMBYw.dpuf
Clued in Kids offers a wide variety of treasure and scavenger hunts, which include the following printable pdf's:
Holiday/Seasonal
Nutrition-Themed (for Allergies, ADHD, etc.):
Educational Related:
Sports:
They also offer physical pads that come by post, such as:
You can see how they work here:
If you'd like to try your own Clued in Kids hunt, simply sign up for the Clued in Kids Newsletter to receive
a free printable pdf of the Homework Reward Printable Treasure Hunt.
A Hunt to Learn About Gluten-Free Diets
One of the hunts I chose was
the Gluten-Free Printable Treasure Hunt, which sells for $5.99 and was delivered electronically as an 8-page pdf containing 12 clues. After looking at the hunt, which required reading and spelling skills beyond my children's levels, I decided to try this hunt first at a time when Daddy was home to help.
First, I printed it out the hunt and cut the clue sheets in half as there were two to a page. Then, following the included tips, I assigned clues according to the ages and abilities of my children.
I also adjusted some of the clues and hiding spots due to the fact that we don't have, say, a microwave, From there, I went about the house hiding clues. All this took me less than 10 minutes.
Once all the clues were hidden, I sent the children, with Daddy as a helper, adventuring on the hunt while I did a chore or two, pausing to snap an occasional photo.
The kids were, admittedly, a bit cranky the morning we did the hunt, so they did get into a few tiffs despite the fact that I had followed the tip that suggested putting a name on each clue. Still, with Daddy's encouragement, the children persisted with the hunt, and enjoyed more of it than they squabbled over. In fact, they even got over their nastiness and put their heads together for teamwork - literally!
Then, when they could not figure things out on their own, Daddy helped, letting the children do the writing while he did the reading and part of the figuring.
Finally, after reading (and learning) quite a lot about gluten-free diets through clue sheets that included puzzles, drawing and more, the children finally found their treasure: a gluten-free snack and a movie to celebrate the feast day. They were so excited!
All's well that ends well. In fact, all's well when fun, learning, physical activity and treasure wrap up into one morning's activity!
A Playdate Among Family
When I selected the
Playdate Clue Pad, which sells for $8.99 and was received as a pre-printed pad in the mail, I fully intended to use it for an actual playdate. However, we've been so busy with organized field trips, meet ups and classes that I ended up deciding not to organize yet another time with friends.
Instead, I opted to use the playdate pad for my children to count chocolate chips on illustrated cookies, navigate mazes, crack secret codes and get silly with physical challenges on their own in order to find a "treat snack" instead. And, most certainly, we did all that with our "just us" Playdate Treasure Hunt.
Because this treasure hunt required less advanced reading and writing skills than the
Gluten-Free Printable Treasure Hunt we had previously done, I knew my children could do it without Daddy and my help. So, I simply assigned and hid the clues, in about five minutes, and set the children off for their adventure.
They took right to the hunt, cracking codes and finding clues...
They also cracked me up as they got clue-sheet led sensory breaks, like singing the ABC's while pretending to hulahoop!
And, of course, they met with overall success: having practiced teamwork, logic and some academic skills, they found their treasure: GFCF sugar cookies that they thoroughly enjoyed for snack!
Would I Recommend Clued in Kids?
I sure would!
In our experience,
Clued in Kids provide an easy way for parents (or even pre-teen or teen helpers) to quickly set up an adventure that children can enjoy and learn from. The treasure hunts include a variety of clue types - True and False, mazes, secret codes, physical "dares" and more - while exercising skills like reading, math, logic, problem-solving and teamwork. Moreover, they are fun!
What's not to like about all that!?!
Learn More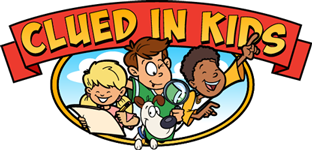 Clued in Kids can be found on:
A wide variety of
Clued in Kids products were reviewed by 95 Schoolhouse Review Crew members.

Would you love to add a Treasure Hunt to your child's day?