When I was offered an opportunity to review iWitness Biblical Archaeology, Old Testament iWitness and New Testament iWitness by Apologia Educational Ministries, I took it. For despite the fact that my children are ages eight and under, while the reading level of these three books is age 11 and up, I thought my children and I would enjoy the series.
I value the opportunity to integrate faith into many of our home studies. My children, husband and I all love learning about history. And, a recent hands-on field trip to a working archeology dig has had my children excited about connecting to history through artifacts and evidence. Since the iWitness books by Doug Powell integrate all these things (faith, history and archeological evidence), I figured they would be a win here!
What are iWitness books?
The three iWitness books that we received are 64-page, 9" x 6" softcover volumes that sell for $14 each.
They are designed and written by Doug Powell, an award-winning graphic designer that holds a Masters in Christian Apologetics.
Mr. Powell's passion for design
and expertise in Apologetics and

come together in the iWitness series to create well-researched and visually interesting books
that present scholarly information and archaeological evidence in a highly accessible format.
The array of painting, drawings, photographs and other graphic media that illustrate every page of the book can capture younger audiences (like my Nina who held up the page pictured above, commenting on how beautiful the painting in it was.) The text -- which is woven into the overall design of the iWitness books looking like
scraps of handwritten notes, pieces of parchment, or page excerpts from old books -- allows developing readers to tackle the presented information in small chunks. These small chunks, however, can get quite scholarly, adding up to a lot of

"meat" that can give even adult readers quite a bit to dig into.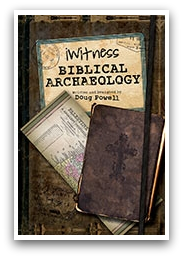 iWitness Biblical Archaeology presents archaeological evidence that supports the Bible as an incredibly accurate book in reference to biblical figures, events and places.
Some of the topics it covers are:
flood stories from various ancient civilizations.

the quest to find Noah's Ark.

historical and archaeological evidence to support the Old Testament and the New.

copies of biblical manuscript.

discussion about the Shroud of Turin.
An incredible amount of information about how archaeology and the Bible relate is packed into this slim, well-designed volume.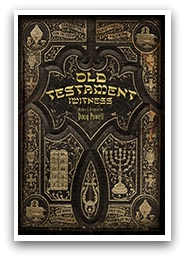 Old Testament iWitness offers a visual tour of Jewish history and tradition and explains why the Old Testament can be counted as the Word of God. It includes discussion of:
the meticulous process through which Jewish scribes passed down text throughout the centuries, ensuring accuracy.

why each book within the Old Testament is included within the canon.

who the major and minor prophets are.

how the "Hebrew Bible" and the Old Testament as used by Christians compare.

what historical and archeological evidence supports the Old Testament canon.
The book also explains writings of the "intre-testamental period" (from the time of the writing of Malachi to when John the Baptist appeared), thus, discussing the Apocrypha, which Catholics include in the canon.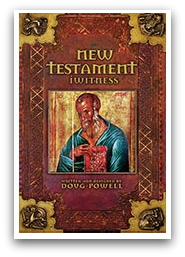 New Testament iWitness follows the history and formation of the New Testament canon down a backwards path through time, beginning at the Councils of Hippo and Carthage and moving backward. It includes discussion of:
lists and commentaries that different church fathers and historical church councils drew up as the New Testament.

criteria that early Christians used to determine the canon.

which books were not included in the canon.

how the New Testament books were copied throughout the ages and how scholars reconcile differences between them.

what percentage of the original text of the New Testament canon scholars believe is known with a high degree of certainty
Powell also presents a striking graphic that compares the number and reliability of original manuscripts of the Bible with those of other ancient books.
How did we did into iWitness books?
When the books first came in, I presented them to my children and asked which they'd like to begin reading first. Being recently enthused by archaeology, they, of course, chose
iWitness Biblical Archaeology. So we began reading it one night after dinner.
The children got so into the first pages of
Witness Biblical Archaeology that they asked me not to stop when I got to the end of the portion about "The Flood", but to continue on through "Looking for Noah's Ark" and, then, into "Egyptian Chronology". It was there that the children's interest waned.
The text got a bit too scholarly for my eight, seven and four-year-olds (and well, it should have, as the book is aimed at children ages 11 and up.) So, I set the book down and suggested we dig into it further another day.
After that my approach with continuing to introduce the books to my children was simple: I left all three iWitness books on an end table in our living room where the visual interest of the books' design lured them into perusing their pages at times.
Then, if I caught them looking particularly interested in a page I asked them if they wanted me to read it to them, or to simply explain a bit about the illustrations they were pouring over.
On occasion, my eight year old tried to read the text along with looking at the illustrations. Some was above his reading level. Other portions were written in fonts that he found challenging to read. In fact, I, too sometimes wished Mr. Powell has foregone the "look" of old typeset or handwriting with some fonts in order to ease the readability of the words within the text.
Despite not reading every page of each of the books to my children just yet, and sometimes moving slowly through reading certain fonts in them myself, I did read each book cover to cover myself. As I did, I found myself discovering answers to questions I did not even know I had, and, in turn, coming up with more questions. I also decided that I was quite happy to have the books in our home collection as I am confident that they will be a strong resource for my children and I as my childre

n come to me through subsequent years with questions about how secular culture might support or refute the Bible as a historical document.
In a Nutshell...
While the level of the text within
iWitness Biblical Archaeology, Old Testament iWitness and New Testament iWitness is a bit beyond my children's level right now, my children still understood and enjoyed parts of it. They also were engaged by the copious amounts of photographs, drawings and paintings contained in the well-laid out books. The ancient, scholarly scrapbooking feel of the pages drew them in (even if some of the fonts were a bit frustrating for them, and me, to easily read.)
I appreciated the well-researched material covered in each of the books and feel that the books act as effective tools for research and inquiry about how the Bible, history and archeology relate. I also appreciate the inviting design of the books as it invites readers to dive into scholarly information that might otherwise seem to dry or deep to get into elsewhere.
Learn More

Browse 100 reviews about the books at Schoolhouse Review Crew to discover what others think about them and how they have been using them.
What questions about the Old Testament, the New Testament and Biblical Archaeology might you find an answer for in Doug Powell's visually interesting and well-researched books?