I had never heard of Library and Educational Services until I was given an opportunity to review two of their new Series 2 Go Science DVDs in exchange for an honest review.
Now, I am glad to be acquainted with both the company and the DVDs.
Library and Educational Services is a small, family company that has been in business for 35 years which sells Christian and Christian-friendly CDs, DVDs and books to libraries, schools, homeschools, resellers, specialty stores, churches, missionaries, daycare centers and ministry leaders at 30% to 70% off every day.
What are Go Science DVDs?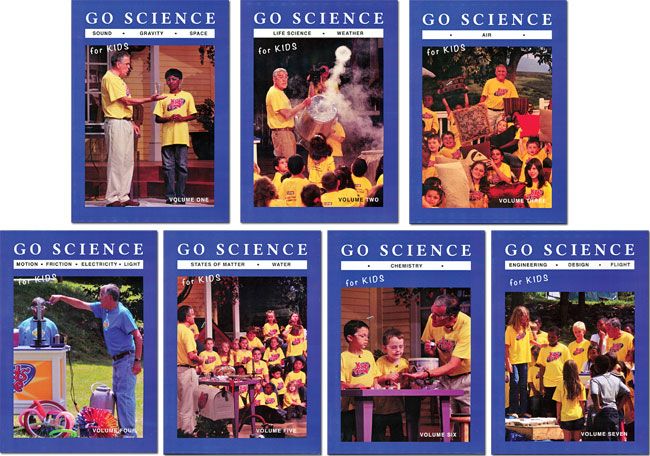 Go Science DVDs are a series of seven science videos in which host Ben Roy (who has produced science lessons for the Weather Channel, About.com and a Christian satellite broadcasting network) selects children to help him demonstrate fun science experiments to other children.
Each video is about an hour long and is broken into a number of segments that last for no longer than 10 minutes each. In each segment, Ben enthusiastically presents a cool science experiment that he usually ties directly to one faith idea or another.
Geared for children age 4-12 years old, the videos include both science demonstrations that might not easily be replicated at home and those that can be done easily with inexpensive supplies.
In the collection are:
Volume 1: Sound, Gravity, Space
Volume 2: Life Science, Weather
Volume 4: Motion, Friction, Electricity, Light
Volume 5: States of Matter, Water
Volume 7: Engineering, Design, Flight
Each DVD has a list price pf $14.95, but is available through
Library and Educational Services for $8.87 each.
Good Enough to Watch All in One Sitting...
There are a total of seven DVDs in the series. Each has a list price of $14.95. Each is priced at $8.97 - See more at: http://schoolhousereviewcrew.com/library-and-educational-services-review/#sthash.gdaXkBcA.dpuf
There are a total of seven DVDs in the series. Each has a list price of $14.95. Each is priced at $8.97 - See more at: http://schoolhousereviewcrew.com/library-and-educational-services-review/#sthash.gdaXkBcA.dpuf
One balmy morning when I knew my children were lethargic after a late night, I suggested viewing the DVDs on a blanket in our front yard. My children were all for it and quickly selected Volume 7: Engineering, Design and Flight to start off with.
Immediately, they became engaged and only once did one of them move away from the 11 science experiments presented in the video. That child was my Nina, who I soon learned had gone inside to try to recreate the centrifuge experiment with whatever she could find in our house.
When she realized we had no skewer, she designed her own way to spray water with a cut straw which try as I might to get an action shot of her actually spraying water with I could not.
Luke, meanwhile, began drawing pictures of the Flight experiments he wanted to try, including this one of Vinegar Rockets.
By the end of viewing Volume 7
: Engineering/Design/Flight my children had decided that we really must try to build a
trebuchet at some point, that we need to buy some cheap eggs to try walking on and that we should find someone who still has film canisters around so we can make our own rockets.
They also asked to continue watching the second GO Science DVD we has selected to review, Volume 2: Life Science/Weather after plugging our laptop back in inside.
The weather experiments on this DVD were definitely the kids' favorites. They now so want to:
find liquid nitrogen now so we can make our own clouds. ("Um, not anytime soon, kids. That is why Ben did not say this experiment is one that we can do at home!")

make a garbage can vortex. ("Again, sorry, not going to happen anytime soon.")

create some version of a ping pong cannon. ("Okay, we might be able to figure that one out to some degree eventually.")
While watching both videos, I heard my children, "Cool!" and "Can we do this one?" my children also commented on some of the faith
Yet Also Prime For...
...short segment viewing!
As I watched Go Science along with my children, I could not help but to think that some of the science demonstrations in it would be well-suited as object lessons for different faith principles and Biblical passages, making effective short segment viewing for DIY Vacation Bible School-type ventures as well as for supporting other lessons. In fact, as Ben Roy proclaimed at the end of each segment, "When we learn more about science, we learn more about our Creator - God!", with my children responding, "
Why does he keep saying that?!" I wondered if watching only portions of the video at once in future sittings would work out best!
Our Balanced View
My children were engaged enough in GO Science DVD's to want to watch two full hours in a row, sometimes even interacting with the host Ben Roy by speaking aloud or raising hands.
As I watched the videos with my children, I decided that I liked the the balance of try-at-home and best-suited-for-video-demonstration experiments, the enthusiasm with which Ben Roy and his volunteer helpers presented each experiment and the professional quality of the live-taped performances. I also appreciated that not every experiment on the DVDs worked the first time, since as any homeschool parent knows, not every experiment in real life works out perfectly the first time either! Additionally, I liked how Ben Roy wove faith talk into each segment.
I also, of course, liked how the experiments inspired my children's own scientific investigations.
Even my almost-four-year-old Jack was found testing out things like design and centrifuge with his own designs.
In future volumes of Go Science DVDs, I would like to see and hear meatier explanations of the actual science behind the experiments presented and would also like to hear the word "interesting" used fewer times. (Along with the catch phrase about knowing science and knowing God, the host tended to use the word "interesting" in every segment, sometimes multiple times!) I would also love a package insert with the names of the experiments, and, perhaps, a supplies list for those that can be replicated at home.
However, even without these things, I, along with the kids, found the Go Science DVDs a worthwhile use of our time, which even inspired some note taking.
I am already imagining how we will revisit some segments of
Go Science DVDs in future studies and experimentation as a family and with friends!
Find Out More
Visit Library and Educational Services on Facebook.