Last month, Learning Wrap ups provided us with a big box of goodies in exchange for an honest review. Included in it were:
That's a lot of hands-on and online fun and learning, isn't it?
It sure is! And, not only have we been enjoying these goodies here at home, but one of my tutoring students has been benefiting from the Reading Center Kit and Vocabulary Wrap Ups as well during our sessions together!
So, just what are all these resources and how did we use them?
In our experience, the Math and Reading Learning Palette Kits are hands-on, self-correcting, portable resources for practicing a variety of typical elementary level skills and concepts. With students that can read on their own, the kits can work as independent learning tools. For those that cannot, adult guidance is required despite the fact that the kits are self-correcting.
Both the Math and the Reading kits come with a plastic palette, 12 colored discs and a variety of learning challenge cards in a handy portable carrying case. The cards are placed onto the palette and the discs are used to answer the challenges presented on the cards. The cards can then be flipped over to self-correct.
Each card within the kits presents its own targeted learning and review problems.
1st Grade Math Learning Palette 1 Base Center Kit
The
1st Grade Math Learning Palette Kit comes with a base, 12 colored discs and six curriculum packs that have 12 cards each providing over 860 questions and answers for learners to explore. These are categorized as:
Numbers 0-10 (Intro to Addition & Subtraction)

Numbers 0-100

Money – Simple Fractions – Addition & Subtractions with sums and differences through 18

Algebra Concepts

Geometry & Measurement

Probability & Statistics
The cards are self-correcting. However, some do involve reading. So, they cannot be used by non-readers independently.
In our household, the kit found a place on our math learning shelf where the children could use it freely. They also were sometimes guided to use it by me. Thus, the kit was used by all three children, with and without me, inside our home and outside.
Besides some complaints that print on certain card was too small, every time the kit was used, the children were engaged and learning. So, to me, the kit was a win!
Hands-on review and learning with a chance for child-led learning and no need for mommy to say if things are correct or incorrect.
1st Grade Reading 1 Base Center Kit
1st Grade Reading 1 Base Center Kit comes with a base and 12 colored discs. In it are five curriculum packs with 12 cards each, which, collectively provide 720 questions and answers. These questions and answers cover:
Blends & Digraphs

Reading Comprehension

Nouns – Verbs & Adjectives

Vocabulary

Phonics
Some problems require multi-step problem-solving and most require an ability to read. Thus, for some children (like my younger ones!) they can only be used with guidance.
As we did with our Math kit, we put our Reading kit on our play-and-learning shelves as a choice for the children to select at will. Sometimes the children took it off. At other times, I did before inviting the children to use it with me or suggesting to my eldest that he help his younger siblings with it. In turn, my middle child liked to "teach" her younger bother with it.
In addition, I used the kit with a tutoring student of mine to her great delight. She enjoyed the "game" of it and mastering its challenges. Her parents appreciated the many benefits they saw to the kit, too, such as:
pincer grasp work

skill review and sharpening

confidence-building

independent learning (My student happily used the palette on her own while I conferenced with her parents about different things.)

fun
Together, we wondered why the local public school special ed department does not have a few of these kits on hand to engage and help students with.
Without question, Learning Palette kits could benefit schools as well as homeschools as they provide an engaging way to practice academic content while also targeting fine motor skills and, depending on their use, speech issues.
Truly, as a parent and a tutor, I appreciate these kits!
Learning Wrap up Vocabulary Intro Kit
The
Learning Wrap up Vocabulary Intro Kit
contains four bound sets of 10 keys each providing practice with:
Synonyms

Antonyms

Homonyms

Compound Words
It also includes a Teacher's Guide with Super Challenge ideas and a reproducible chart.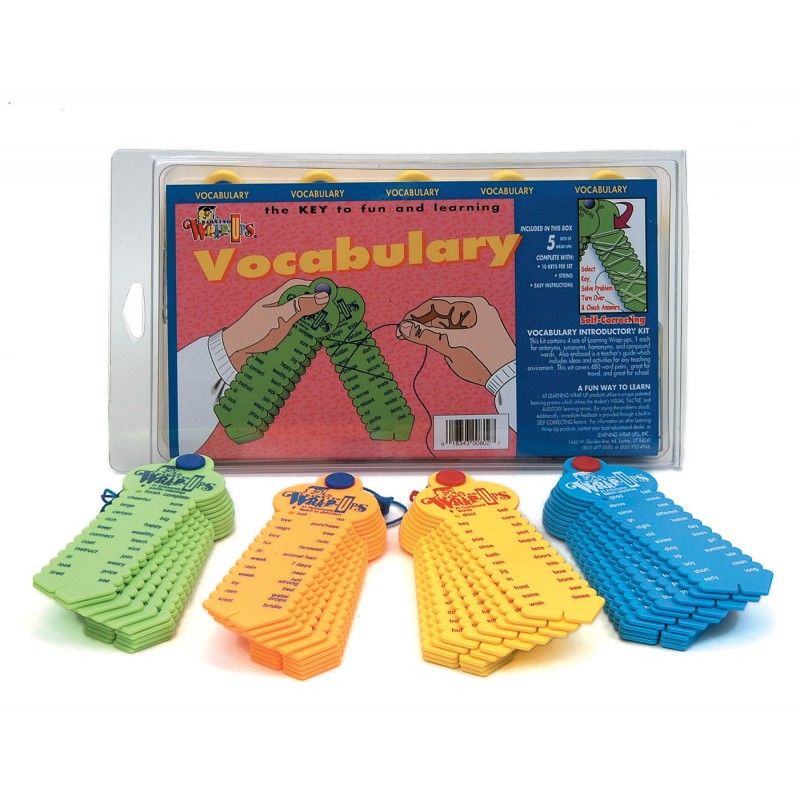 To use the keys, students fan one key out and match whatever is on the left side of the key with something on the right by wrapping a strong around the key. Then, they turn the key over to self-correct by seeing if the string lays atop raised plastic lines.
We kept the Wrap-ups out on our play-and-learning shelves as a choice for our children.
My two younger children enjoyed doing them with my help since they are not independent readers yet. My oldest engaged with the Wrap-ups mostly on his own but sometimes asked for my help in solving particular problems.
I also used the Wrap-ups with a tutoring student of mine who benefited both from the vocabulary building practice and form the fine motor work involved. Wrapping each key encouraged use of the pincer grasp which she struggles with and provided a good concentrated finger work out prior to writing work as well as a fun break from other tutoring activities.
Learning Wrap up Math Intro Kit
The
Learning Wrap up Math Intro Kit is much like the Vocabulary kit in that it contains a set of "keys" that students wrap strings around in order to practice skills.
In it are:
Addition keys

Subtraction keys

Multiplication keys

Division keys

Fractions keys

a reproducible Teacher's Guide with self-graphing charts, activity ideas, certificates and awards.
My older two children engaged in testing their math prowess and reviewing prior learning through using the sets of keys. Sometimes they got frustrated with trying to see certain answers partially hidden by previously wrapped string, but usually they simply enjoyed doing the problems on the Wrap-ups and then self-checking them.
My youngest also enjoyed practicing his fine motor skills by mimicking his big siblings. I love that all the Wrap-ups are so sturdy and inviting!
I like that the keys encourage repetition without complete boredom and that they are portable enough to be used inside, outside and in the car.
I also can see the keys making a great addition to homeschooling styles such as Montessori (especially since they are self-correcting), Workboxing and more.
10 Days to to Multiplication Mastery Workbook and 10 Steps to Addition Mastery Workbook
Both of these 62-page nonreproducible workbooks are meant to be used with corresponding Learning Wrap-ups in order to help children master math skills using the commutative property and practice, practice, practice so that, by the time a child finishes using the workbook, that child will be able to complete a Wrap-up in 30 seconds and a written test in record time.
As workbooks go, these workbooks are strong. They include:
story problems

goal setting

fun pages

challenge and review pages

tests

journal pages

and more.
Unfortunately for my crew, they also contain multiple pages per "step" or "day" and lots or reading and writing. Thus, as soon as I introduced the workbooks to my children, the sparkle left my children's eyes.
I later re-introduced the workbooks going through portions of them verbally, which worked to a greater degree with my children, but still brought more complaints than eager desire to continue on.
Thus, I admit it, I set the workbooks aside for now. For while I feel their approach is sound, I know their use will be more successful with my children later. That is, if I do not use them with one of my tutoring students first. For, in all honesty, while my children scoff at traditional tools like this that are not exciting and hands-on, one of my tutoring students, I believe, would not only love these workbooks, but would also benefit from them.
Different children take to different materials. If your child likes workbooks and likes hands-on elements to go with them, the 10 Steps/Days might be just the thing!
LearningPalette.Com
LearningPalette.com is a fully online version of the physical Learning Palette products, which requires an internet connection and computer for use.
The program includes six levels of Math challenges with 35 titles and four for Reading with 20 titles. Together, these provide, nearly 8,000 different questions for children at K-5 grade levels to review, learn and practice with.
Regardless of learning level, the program runs the same way. Basically, you point and click to move colored discs to the correct spaces on a virtual palette in order to answer questions. Then, you discover if your answers are correct.
After initially introducing LearningPalette.com to my children and sitting beside each of them to show them how to log on, get to appropriate levels and enjoy learning, I was able to let my oldest, who is an independent reader, use the program on his own as requested. My younger two, however, needed their big brother or me to sit next to them when using the program because neither of them are independent readers yet and the program does not provide an audio component to read the questions to users.
All of my children used the program upon request with one child often getting frustrated, but the other two wanting to try card after card after card.
Witnessing their reactions to the program, I felt that there were pros:
There are a wide variety of concepts to work on.

Levels increase logically in difficulty without being tied to strictly tied to grade levels.

Log in and use are simple.

The handy "check answers" button provides instantaneous feedback.

There is a game-like feel to it which helps repetitive and skill-testing materials seem fun.

It is not a loud program with a ton of bells and whistles.
I also appreciated that I could check in on my children's work even if I had not been sitting next to them through using the parent/educator "Progress Reports" feature available with the program.
I also felt there were opportunities to consider for future versions of the product, such as:
Some of the printing on the cards is small and challenging to see.

It was difficult for my children to distinguish between the orange and red discs at times.

Logout and Menu buttons are not visible unless you are on full-screen mode, which confused me at first and regularly frustrated my children.

There were technical glitches, especially when not in full-screen mode, where pieces sometimes would not go completely into the spots they were dragged to but would seem as if they did. Thus, when "check answer" was hit correct answers appeared wrong. This frustrated my middle child especially.
Overall, our family liked the program and I feel it provides a worthwhile supplement to other math work as well as a fun way to assess without actual paper and pencil tests. We will continue to use it within the repertoire of online resources our children may choose from during their limited screentime in order to engage them in reinforcing concepts.
If you'd like to see if the program is a good fit for your family, please watch

a video introduction or try a free demo.
Learn More...
Enjoy a Discount!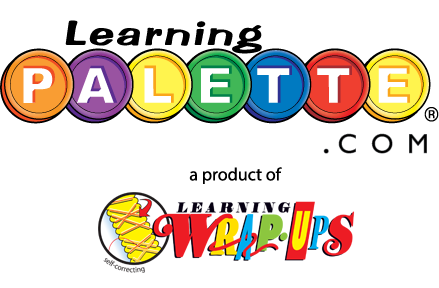 LearningPalette.com is $59.99 for up to 5 users. However, Training Happy Hearts readers may receive a 20% discount using the coupon code HOMESCHOOL through May 31, 2015!