Since we have three young science lovers in the house, when I was offered the opportunity to review the Supercharged Science e-Science Learning Program I did not hesitate before saying, "Yes!"

My children, in turn, did not hesitate before saying "More!" once we began using the program.
In fact, I had to laugh the one night when I was putting my son to bed and he said, "Mommy, can we watch more videos tomorrow? The science ones. I love her. I mean, I love her science videos, not her, Mom. I love you, Mommy. I just love her science."
I think Luke would watch Aurora teach him Science for hours at a time if I let him!
So who is "her"? Aurora Lipper, the literal rocket scientist who aims to excite families about science learning and succeeds!
What is Supercharged Science?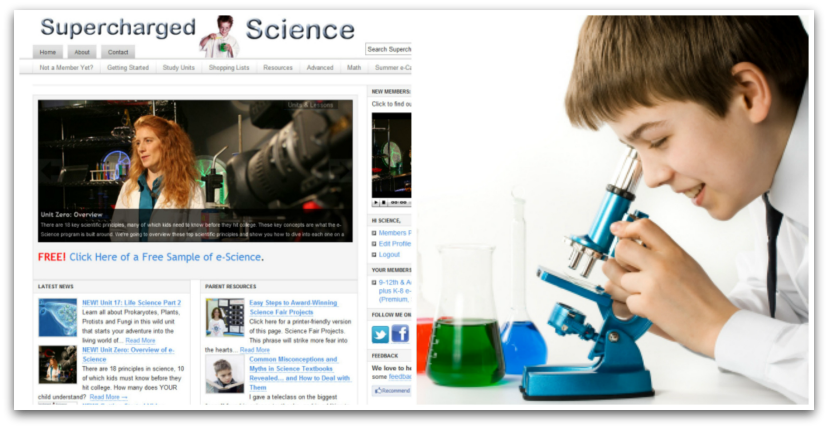 Supercharged Science
is an online science curriculum for grades K-12 that covers 20 units of study and includes:
Self-guiding lessons organized by topic as well as by grade level, so you can your kids can decide what might work best for you at any given time.
Detailed video-based instruction taught by an enthusiastic, personable and knowledgeable Science teacher (Aurora!)
Step-by-step videos that show how to do each experiment, activity and project so you can rest easy about what you are "supposed" to do.
Unlimited support from Aurora, who is available on the website and answers questions and comments directly there.
Clearly written teacher guides and articles

Printable "textbook-style" readings

Exercises and quizzes
For the program to be effective, you will need:
a computer or laptop

speedy internet connection (to support the videos!)

a printer (for worksheets, printable lesson plans, exercises, etc.)

a notebook/journal

household supplies for experiments, as well as money for additional specialty supplies (which Aurora succeeds at keeping as inexpensive and easy-to-find as possible)
Our Experience
Life moves a little too quickly here between planned commitments and unexpected events for me to ever be as organized as I wish to be. So, when I first logged into our e-Science Premium Membership and saw just how much was offered on the Supercharged Science site, I became both excited and overwhelmed. There is A LOT on the site. Part of me was thrilled by this. (There was so much to choose from!) However, another part of me was daunted. (There seemed almost too much to choose from.)
Luckily, Aurora makes choosing easy by organizing materials by topics under one tab and grade levels under another. Plus, she provides a handy getting started tab! So, whew! I felt better right away, and, then, instead of worrying about synthesizing scads of information to tailor everything in an ideal way for my children and me, I decided to just trust and go with the flow.
As the title of this post suggests, the flow took us to catapults and fun.
It wasn't long after diving into the site that the children noticed a catapult image on it. Since they have been knight-crazy this year, they wanted to watch the catapult segment right away. Then, when we realized we did not have any more rubber bands in the house and therefor could not make catapults as suggested, Nina was not going to be stopped. She simply designed her own catapult!
Inspired by Aurora's video lesson, Nina began work on her own catapult design.
Later, of course, we got rubber bands and had fun, fun fun!
Jack used his first Supercharged Science-design catapult with me while his siblings took a class.



Eager kiddoes built more catapults while sitting in the car before a co-op gathering.





The kids tests out catapults with slightly different designs to see which would shoot a paper ball highest or furthest.
They also experimented with "two-spooned" designs and, later, with lengthening the "arm" of the catapult.
Of course, it hasn't all just been catapult fun. We've covered other topics, too. As I flip through snapshots of our experiences, I smile at the :simple moments" that stemmed from science learning.
While viewing videos on science basics, Jack ran over to test out what he could discover from just pushing on a wall. (Aurora had been making a point in the video that expensive equipment was not needed. You learn science in many ways every day.)
One afternoon when one child was grumpy and none wanted "real lessons" I wove science in as we explored inertia using a push car and children's bodies standing at different points instead of using a wagon and a tape measure as suggested on the lesson plan.



As suggested, however, we did try to pile more and more kids on our "wagon" to really demonstrate the concept. So much fun! I love when activities are educational AND amusing!
At odd times, it was so special to witness my boys glued to videos of experiments, deciding which ones to try next while they chatted about what they were viewing.
So, as you can see, we have taken a relaxed, gentle, go with it at home, outside and even in the car sort of approach to using
Supercharged Science so far and it is working for us. Between the videos and printables, we
can weave
our

e-Science Premium Membership into life as it is quite easily.
We also look forward to exploring
Supercharged Science further as our schedule of commitments winds down next month and we can dedicate longer periods of time to exploring
the myriad activities that have piqued my children's interests. For while we have watched many videos and gotten hands-on with numerous experiments, there is so much more there!
In fact, I
love that we are able to be flexible with our
e-Science Premium Membership
, exploring what strikes our fancy and fits our schedules now, while also knowing that there tons of
Supercharged Science awaits future exploration, too. Whether we are in a busy, eclectic, often-out phase or a buckle down at home and be more structured one, the curriculum can work. For it is aligned to many popular homeschool curriculums

and can also stand as its own homeschool science program. Plus, being self-paced, it can work for five minutes a day, or fifteen, or fifty, or more...
Flexible, fun and filled with opportunities to experiment and learn. That's our kind of resource!
Want to Try Supercharged Science?
Prefer to Learn More First?
See how other families are using Supercharged Science:

Visit Supercharged Science: