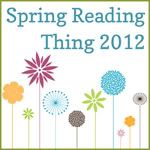 Like many of the piles in my home, my "To Read" one towers. So, this morning, when I ran across mention of the

Spring Reading Fling at In So Many Words, I decided to pop on over to

Callipider Days

to see what it was about. I discovered it's basically

a low-key, yet fun and social way to motivate oneself to read more books this spring while also helping other participants find book titles that could be interesting or relevant for future reading. (You can read

more about the how and why of the challenge
Low key? Encouraging? Sharing? Goal setting and meeting? Whittling down one of my many piles? I am in!
However, I am in with caution.
Well, I want to set myself up for success. Not disappointment. In other words, unlike my usual mode – where I set high goals and, then, discover life as Mom, etc. happens, precluding me from enjoying the high of success –

I am going to start with a small, reachable goal and then simply add to it if I find I the goal has been reached.
Four or five seems a doable number of books for me to read in the 13 weeks of spring. So, bearing the compass of

of

our Family Mission Statement

in line, here's my list: